Amber Heard And Elon Musk Go Public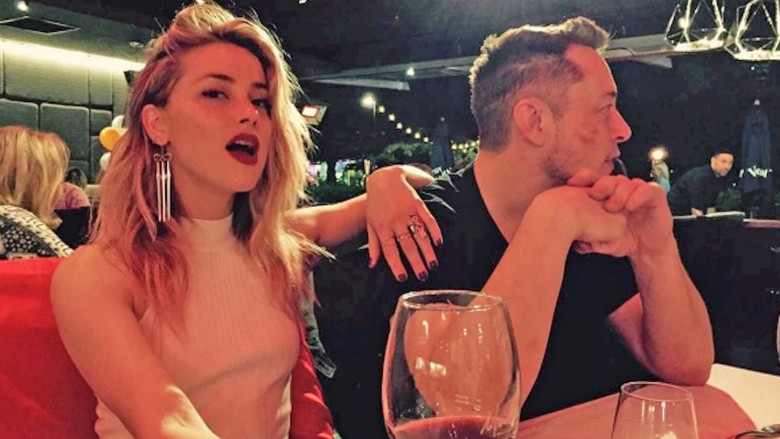 Amber Heard and Elon Musk are Instagram official!
Heard, 31, posted a photo with Musk, 45, on April 23, 2017, captioning the snap—in which Musk has her lip print on his cheek—"cheeky."
Musk posted a photo from the same dinner on his own account with Heard looking adoringly in his direction.
The pair also engaged in mild PDA over the weekend of April 22, 2017, when they were photographed holding hands and zip-lining in Australia, where Heard is staying as she films Aquaman (2018).
The pair have been rumored to be dating since Aug. 2016, when Heard was spotted sharing a hotel room in Miami with the SpaceX founder. At the time, he was still legally married to ex Tallulah Riley; his divorce was finalized in Nov. 2016.
The pair's most recent sighting was in March 2017, when they attended a screening of Al Gore's An Inconvenient Sequel: Truth To Power (2017) together.
According to The Hollywood Reporter, Musk had been desperate to meet Heard for quite a while, reportedly emailing their mutual pal Robert Rodriguez to ask for an introduction while she and ex Depp were still together. "If there is a party or event with Amber, I'd be interested in meeting her just out of curiosity ... Allegedly, she is a fan of George Orwell and Ayn Rand ... most unusual."
Perhaps realizing she was still in a long-term relationship with then-boyfriend (and later husband) Johnny Depp at the time, he allegedly was quick to shoot another message to Rodriguez, clarifying, "[I'm] not angling for a date. I know she's in a long-term relationship, but ... Amber just seems like an interesting person to meet."
Heard and Depp, 53, finalized their bitter divorce, which was rife with abuse and gold digging accusations, in Jan. 2017.
Now that their legal entanglements with their former spouses are done, it seems like they're angling to settle down together. "Amber and Elon are both very serious about each other. She would love to get married," Heard's father told Grazia magazine on April 18, 2017. "One of the things they want to do is settle down and have a family. They are making plans for that."