What Do Other Stars Really Think About Ben Affleck And Jennifer Lopez?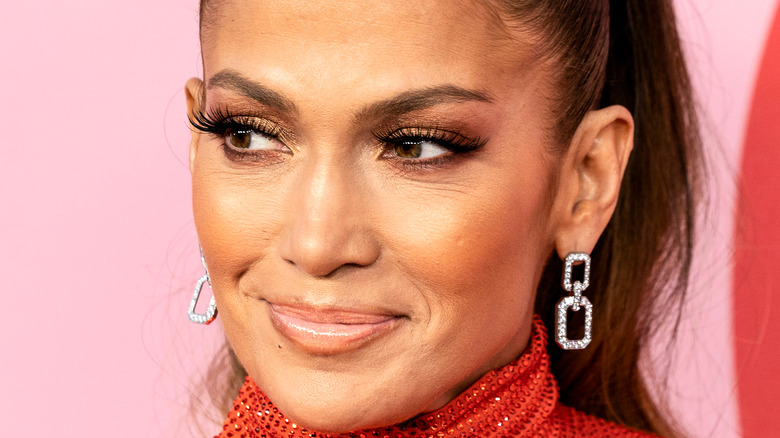 Ovidiu Hrubaru/Shutterstock
Jennifer Lopez and Ben Affleck made their triumphant return to the red carpet after 19 years apart, and it's bringing us back to the days of velvet Juicy Couture pants, visible thongs, and trucker hats (we can smell the Juice Bar Cotton Candy Refreshee Spray now). Jenny from the Block and Benny from the greater Boston area began dating in 2002, long before we tired of coming up with cutesy celebrity couple names.
Halle Berry deserves some credit for Bennifer. She dropped out of the movie "Gigli," and Lopez stepped in to be Affleck's leading lady. During a 2003 interview with "Access Hollywood" host Pat O'Brien, Lopez was asked if she'd thanked the "Monster's Ball" actor. "I should. I could write a little note now that I think about it," she said (via NBC News). Lopez was still married to dancer Chris Judd when she and Affleck were filming the movie, and the co-stars both insisted they were just friends at the time. Judd and Lopez finalized their divorce in 2003, which is the same year she was supposed to marry Affleck. By 2004, Bennifer had already burned out.
But like the phoenix tattoo on Affleck's back, the couple rose from the ashes this April. Affleck was spotted at Lopez's home in Los Angeles, sparking speculation that the couple was back on. And on September 10, they walked their first post-reunion red carpet at the Venice Film Festival. One star had something to say about the big moment.
Kim Kardashian weighs in on Bennifer 2.0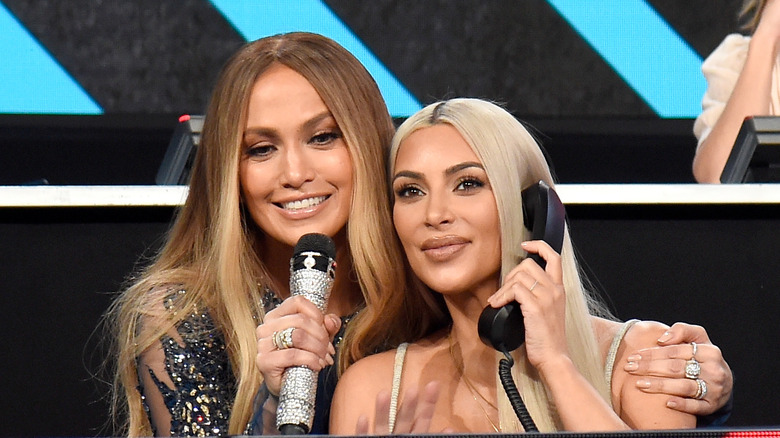 Kevin Mazur/one Voice: Somos Live!/Getty Images
Jennifer Lopez was at the Venice Film Festival to support her man. They posed for photos ahead of the premiere of Ben Affleck's new movie, "The Last Duel." Affleck plays King Charles VI in the film, and his date certainly looked like a queen. She wore a form-fitting white Georges Hobeika mermaid gown with a plunging neckline designed to look like a massive diamond necklace. As reported by USA Today, the couple's regal red carpet reconciliation pics captured the attention of Kim Kardashian, who is rooting for their second chance at romance just like the rest of us. She shared a photo of the couple on her Instagram Stories along with the words, "Long Live Bennifer."
Kardashian and Lopez are actually pals, so if a Bennifer wedding happens, she just might get an invite. It was actually Lopez's ex Alex Rodriguez who revealed just how good of friends the two women are. "Kim and Jennifer are very, very close, and she's almost like a mentee of Jennifer, and Jennifer's mentored her a lot over the years," he told People, adding that what they have is a "beautiful relationship." He dished that they and their families even met up for karaoke nights, and now we're imagining Lopez performing "Jam (Turn It Up)."
Kim Kardashian isn't the only celebrity who caught the Bennifer bug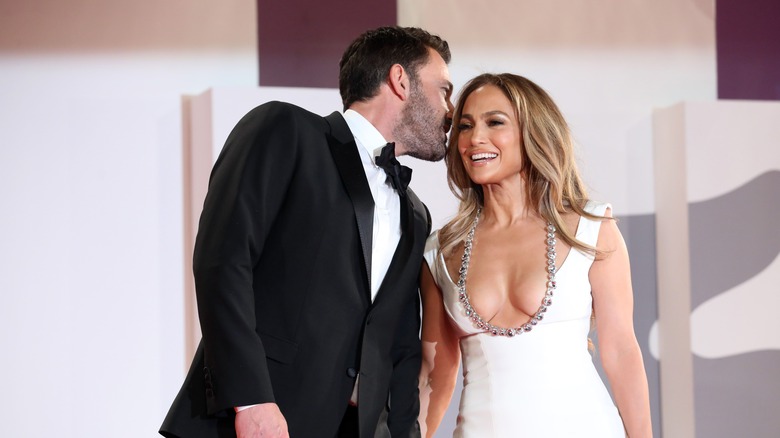 Elisabetta A. Villa/Getty Images
Hollywood is just as awestruck by the Bennifer reunion as the rest of us. Maybe it's the way they impeccably recreated that bootylicious yacht scene from Jennifer Lopez's 2002 "Jenny from the Block" music video, or maybe celebs also need a welcome distraction from the pandemic and other worldly woes. Whatever it is, they can't seem to stop talking about Bennifer. In May, Jennifer Lawrence brought them up on "The B***h Bible" podcast. "I'm so excited," she said. "I'm so happy for them."
Comedian Michelle Collins shared a photo of the smitten couple on Instagram, and Sharon Stone responded to it by taking a dig at Lopez's ex. "Yeah I mean wtf A rod?" she wrote. Even Affleck's ex Gwyneth Paltrow isn't immune to the nostalgia-inducing couple's charm. "Okay, this is cute," she wrote in response to an IG pic of the pair gazing adoringly at each other at the Venice Film Festival. Affleck's BFF Matt Damon is also a fan. "They're both great," he said on "The Carlos Watson Show." I just want for their happiness."
There is at least one celeb who hasn't been following their love story. "I've never read about Jennifer in my life. What are these questions?" Kate Winslet said when asked about Bennifer during a New York Times interview. Looks like the "Titanic" star has been living under one of those rocks that Jenny got.