Why Conor McGregor Tried To Pummel Machine Gun Kelly At The VMAs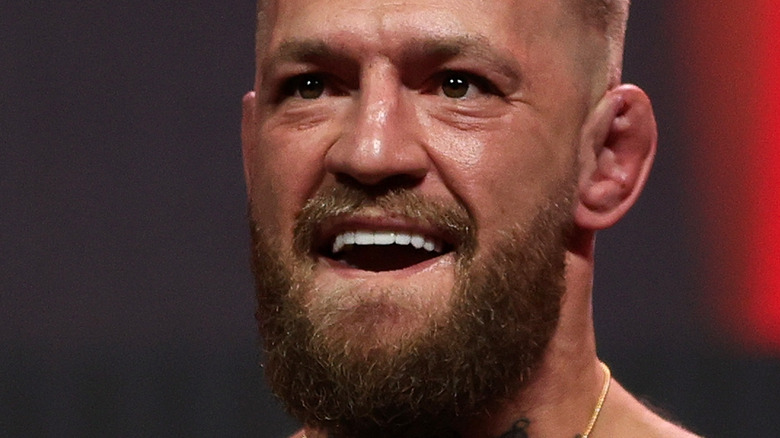 Stacy Revere/Getty Images
Conor McGregor may be recovering, but that doesn't stop him from wanting a little fist action — even out of the cage. McGregor touched down in New York City on Sept. 11 for the annual MTV VMAs, the first in-person award show since the pandemic began. 
The Irish MMA fighter has been residing in Los Angeles and undergoing rehabilitation since July after suffering a horrific leg break following his fight against Dustin Poirer at UFC 264, per MMA Fighting. But when McGregor isn't showing off his strength in the ring, he's posing with his fiancee and mother of his three kids, Dee Devlin, on the red carpet.
McGregor attended music videos' biggest night with Devlin by his side at Brooklyn's Barclays Center on Sept. 12. The 33-year-old was there to present the VMA for artist of the year, which ended up going to Justin Bieber. But prior to hitting the stage, he "nearly got into a brawl," as People put it. And no, it wasn't a promotional stunt. McGregor can be seen in a video that has since gone viral on Twitter with more than 1.6 million views, taking a swing at Machine Gun Kelly, of all people, on the red carpet. Here's what happened.
Conor McGregor apparently got rejected for a photo with Machine Gun Kelly
Noam Galai/Getty Images
Conor McGregor loves a celeb selfie just as much as the rest of us. Aside from the usual glitz and glamour of red carpets, the VMAs pre-show got a little more heated than usual, and not by way of provocative outfits. According to People, McGregor requested to take a photo with Machine Gun Kelly. But after his team denied it, the MMA fighter lashed out at him. Photos and videos show McGregor lunge toward Kelly and shout as security guards held him back. 
Meanwhile, Kelly's girlfriend, Megan Fox, was pulled away from the situation. Despite McGregor looking like the instigator, TMZ says it was Kelly who began "physical confrontation" as he reportedly pushed McGregor after the photo request. McGregor, who spilled his drink in the process, then reportedly threw the remainder of it at the 31-year-old.
Sources told Page Six that the pair "had to be pulled apart" after "Conor went for him again." While it would seem the paparazzi would love the real-life drama, insiders claimed that photographers "weren't happy" and were "saying they were going to boycott Conor because they were worried MGK and Megan wouldn't walk." Fortunately, they did, and Kelly also composed himself for his performance of "Papercuts." It's unclear why Kelly rejected the photo, given he's attended McGregor's fights before. When asked to comment on it during a Variety interview, he declined. Fox instead responded, saying the couple was "not allowed" to comment.
Conor McGregor had some harsh words for Machine Gun Kelly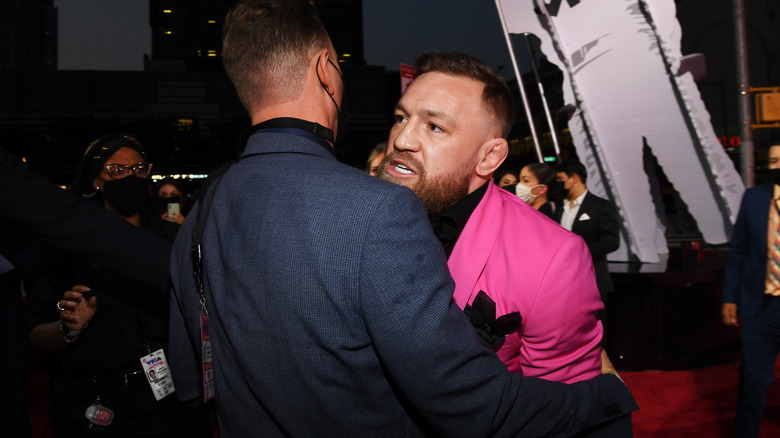 Kevin Mazur/mtv Vmas 2021/Getty Images
Machine Gun Kelly declined Variety's request for comment on his apparent scuffle with Conor McGregor at the 2021 VMAs. But the MMA fighter was less tight-lipped about the award show mishap. When ET Online asked McGregor about the incident, he downplayed it, telling the outlet it was, "Absolutely nothing. I don't know. He showed up, and I don't know. I don't know the guy."
McGregor went on to say, "Nothing happened with me, I only fight real fighters, people that actually fight, you know what I mean. I certainly don't fight little vanilla boy rappers. I don't even know the guy. I don't know anything about him, except that he's with Megan Fox."
A rep for McGregor issued a similar statement to Page Six, saying, "Conor only fights fighters." Still, the videos from the Sept. 12 award show would beg to differ.