Inside Jennifer Aniston's Life Before Friends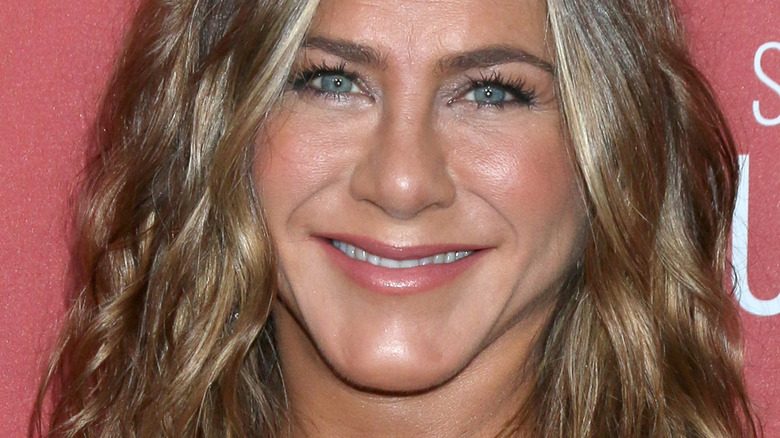 Kathy Hutchins/Shutterstock
Before Jennifer Aniston scored the life-changing role of Rachel on "Friends," she was just like any other actor balancing odd jobs while trying to make a name for themselves.
Aniston was not ashamed of her life before fame, telling PopSugar in June 2011, "The toughest job I've ever had was being a bike messenger in New York City. I was 19." She noted that her worst day on the job was when she pedaled into an open door. "I'm just very uncoordinated and extraordinarily klutzy," she continued. "And I just never should have been allowed on a bicycle with cylinders." She only lasted two days on the job, as she told Collider in February 2015, "It was really wrong to put me on a bike in New York City with taxi cabs."
The budding actor eventually left New York City and moved to Los Angeles, but her early days on the West Coast were more low-key than you think. Keep reading for more details.
Jennifer Aniston had an interesting job before 'Friends'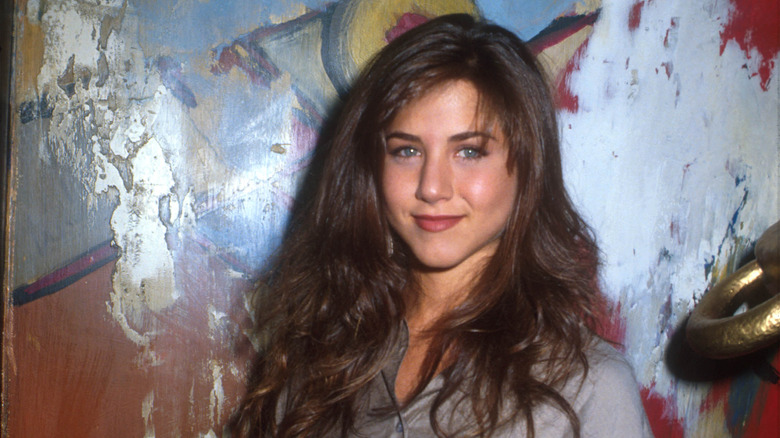 Barry King/Getty Images
Jennifer Aniston got candid with Drew Barrymore on the September 13 episode of "The Drew Barrymore Show" where she touched on her early days in Los Angeles. "I had a job at a telemarketing company selling Pocono timeshares," she explained. "I did get a job. I moved from Studio City, [where I met this group of people] and they all had rentals on this street in Laurel Canyon called Beachknoll Road. There was one house where everyone congregated in." Aniston then explained that one house was available for rent and once she got it, everyone called them "the hill people." She lived there for a few years while she did jobs "here and there" before "Friends."
"Then 'Friends' happened, which I thought I kind of manifested," Aniston said. "I thought this is sort of the way I live on the hill. This is very familiar to me."
Aniston skyrocketed to fame on the show, which ran from 1994 to 2004 for a total of 10 seasons, according to IMDb. The stars of the show gathered for a reunion on May 27, much to the delight of fans. Keep reading to see how she really felt about getting back together with her co-stars.
Jennifer Aniston can't get over the 'Friends' reunion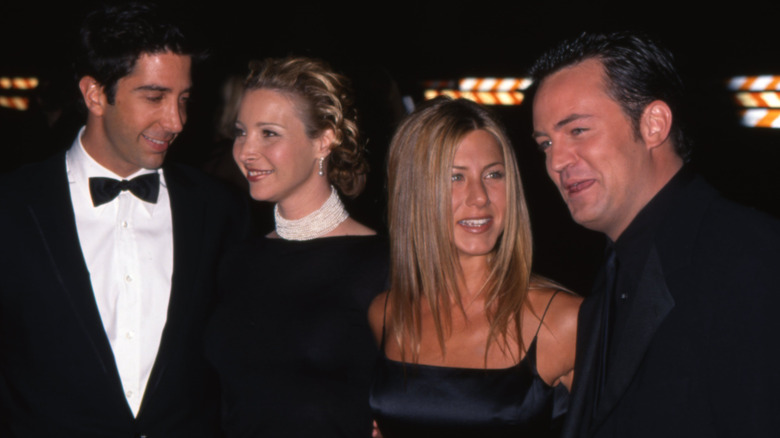 Michael Ochs Archives/Getty Images
Jennifer Aniston is still getting by with a little help from her "Friends," more than 20 years since the show first premiered on NBC in 1994.
The actor continued to gush over the reunion after it aired and posted several fun snapshots on Instagram highlighting the event. "Still basking in all the love from the #FriendsReunion. Thank you each and every one of you," she wrote on Instagram in June. She even became emotional when she arrived on-set to film the reunion, as she said on a May episode of Gayle King's "In The House" podcast (via Us Weekly), "It was a sucker punch in the heart in a way ... It was for all of us, I think. Even Courteney [Cox] we got tears out of."
Seeing all of the original props from the series took Aniston back in time. "We romanticized it, but you also have to remember we haven't been there [since the series finale]," she told the outlet. "And that time was a very specific time, when we were saying goodbye to something that we didn't want to, we cared deeply about, but we knew it was the time to say goodbye. Our lives were ahead of us. We had our future ahead of us." Aniston concluded, "It almost felt like time had stopped and we time traveled. And there's good in that, and then there's heartbreak in that."