The True Meaning Behind 'Ok Ok' By Kanye West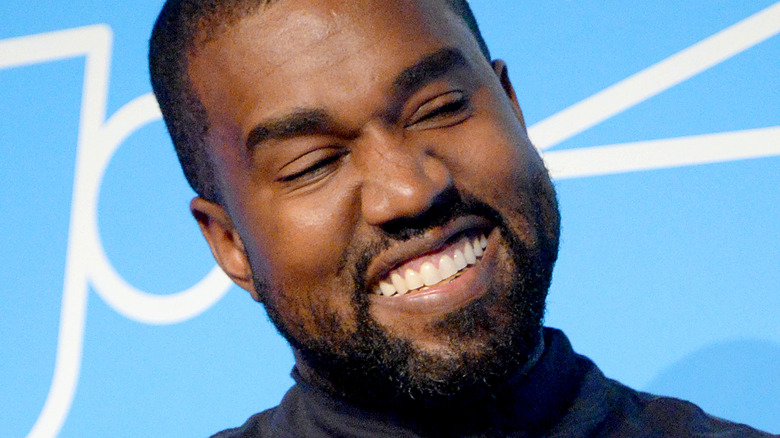 Brad Barket/Getty Images
Kanye West's "Donda" has taken the music world by storm since its release in late August. With collaborations from artists such as Playboi Carti, Baby Keem, Fivio Foreign, and Rooga, West has cultivated a remarkable album that arguably not only cements his legacy, but also helps in ushering the next generation of hip-hop talent. Moreover, the record also features legends and established talents such as Jay-Z, Young Thug, Chris Brown, and Kid Cudi — further demonstrating Kanye's extensive influence across the hip-hop playing field.
With bangers such as "Jail," "Hurricane," and "Junya," "Donda" represents one of Kanye's most eclectic works yet. Alongside the sonic experience, Kanye hosted a multitude of "Donda" listening parties — twice at Atlanta's Mercedes-Benz Stadium and once at Chicago's Soldier Field — ahead of the release (per Billboard). Taking up residency at the Mercedes-Benz Stadium for the latter part of the album's production, Kanye reportedly spent upwards of $1 million a day to live in the stadium (per HotNewHipHop) — a budget cost that surely paid off for the artist.
Amidst a hefty catalog of 27 songs, there's one specific track from "Donda" that we need to talk about; "Ok Ok." Though the tune boasts a simple title, plenty goes on within this track, which features Fivio Foreign, Lil Yachty, and Rooga. With its raw lyrics and delivery, let's take a look into Kanye West's "Ok Ok"!
'Ok Ok' tells a story of betrayal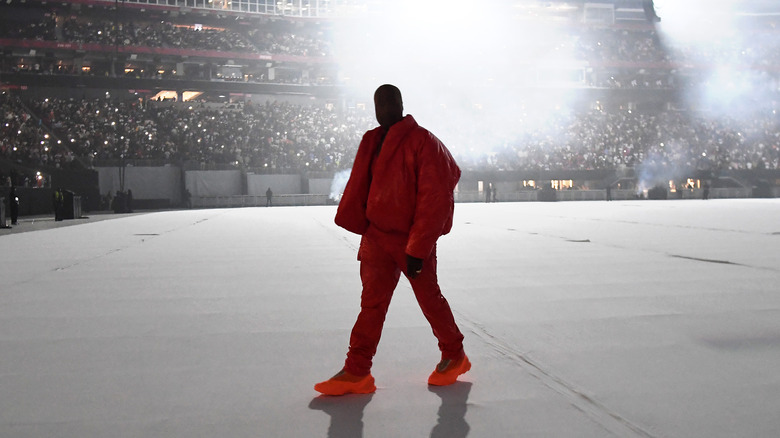 Kevin Mazur/Getty Images
With a quartet of talented musicians, Kanye West, Lil Yachty, Fivio Foreign, and Rooga all add to the mystique of "Ok Ok" — which is rounded out by Boi-1da (whose credits include Drake and Rihanna) and Louis Bell's (the man responsible for Post Malone's "rockstar") impeccable production. Accompanied by a cloudy instrumental underneath, Kanye comes out swinging with his not-so-subtle commentary on the music industry and his overall surroundings.
Punctuated by Foreign's charismatic adlibs, Kanye comes in with an internal rhyme, stating, "Okay, now they got me, wanna rap again / Heal the wound and then you stab me in my back again" — immediately putting listeners on notice on the song's story (per Genius). The verse continues with more verbal lambasting from Kanye as he raps: "You the type to play the joke and try to hide your hand / Not the type to come around and try to play your friend / You the type to cut the grass and snake your bestest man / I'm the type to close the deal and cut my **** in."
While it's never revealed who the "you" that Kanye keeps referring to, Genius speculates that the quartet lament on having "personally felt betrayed and/or demonized by the media and the music industry," alongside the "people that are simply around to take advantage of their situations." Lil Yachty and Rooga further go in later in the track — keep reading to learn more!
Reacting to hostility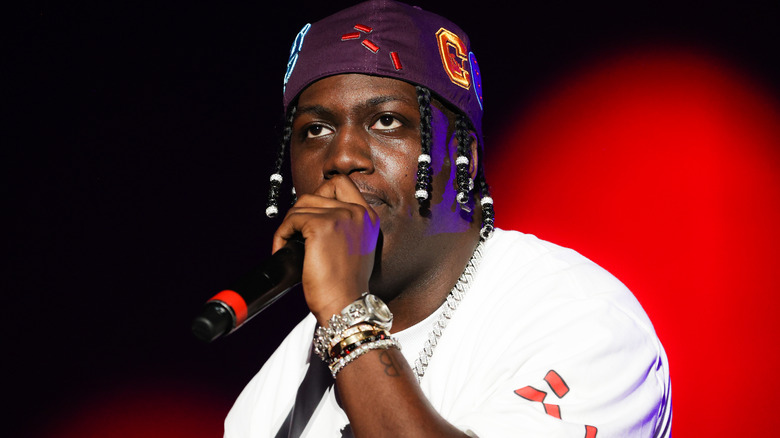 Rich Fury/Getty Images
"Who said I did what? What did they do? / Why the hell you hatin' so damn hard? Someone must pay you" are the first two lines of Lil Yachty's verse on "Ok Ok' — noting that he has a plethora of naysayers at the helm (per Genius). In fact, Yachty has a storied history with his detractors. 
In a 2016 interview at the BET Hip-Hop Awards, Yachty said, "N***** don't know how to accept change. They old and washed up. I said it" (per XXL). The comments came after legendary hip-hop artist Pete Rock's comments on mumble rap — a style Yachty helped popularize. In his criticism, Rock stated (via Instagram), "​​[I] can clearly see yall dont care about the culture so why you in it? Yall not gonna last doing dat!"
Rooga, on the other hand, experienced hostility through a completely different lens. The lines "I'm done with all the fake s***, I had enough of that, yeah / I done had too many **** stab me in the back" all stem from Rooga's traumatic upbringing in Chicago. Per Rooga's website, the artist has dealt with "several incidents where gun fire took the lives of his friends and Family members," while noting homicide is a "new normal event" for children in Chicago. After the slaying of his cousin, rapper FBG Duck, however, Rooga "made a vow to stop talking about others negatively in his songs" which "changed everything about him achieving success as [an] artist."