The Real Meaning Behind Kanye West's 'Hurricane' Featuring The Weeknd & Lil Baby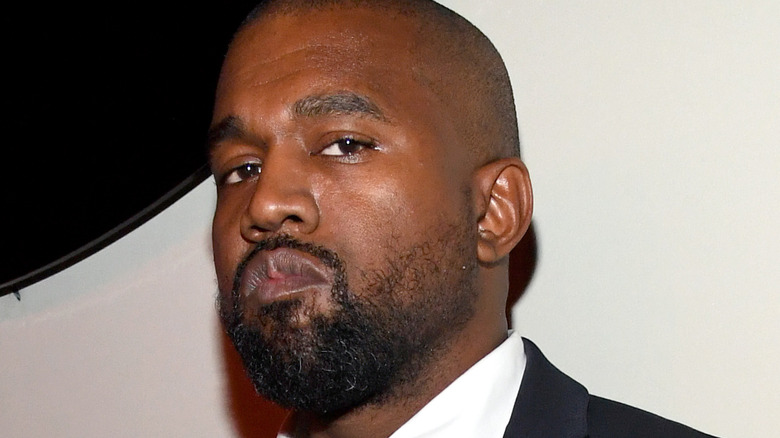 Kevin Mazur/Getty Images
Kanye West's much-anticipated new album, "Donda," was released on August 29. After being postponed several times, the project was scheduled to drop on September 3, but was then moved up — possibly because his nemesis Drake planned for "Certified Lover Boy" to release that same day.
West's latest album features Jay-Z, Playboi Carti, 21 Savage, Baby Keem, Fivio Foreign, and many more. "Donda" was expected to include a verse from DaBaby on "Jail," which was previewed at a Chicago listening party on August 27. However, DaBaby's manager decided not to clear his verse, per Page Six, so West had to scrap it and keep the original version (which was probably for the better, given all the controversy). And although "Donda" was released less than 24 hours ago, the album might break records very soon. 
Chart Data has estimated that, thanks to "Donda," West will be smashing the record for having the most No. 1 albums to debut on Billboard's 200 chart in the whole century. Given Twitter's current reviews of the album, it's easy to see why. "Didnt go to church today but kanye took me there anyway #DONDA," one fan tweeted. "Why Is Donda getting better and better on each listen, Kanye Really is the greatest," another one wrote. "Kanye West you beautiful psychotic bald b*****d thank you for dropping Donda," a third fan joked. Based on all the social media reactions, fans seem to be particularly enjoying the song "Hurricane," featuring The Weeknd and Lil Baby.
Kanye West addresses his marital issues on 'Hurricane'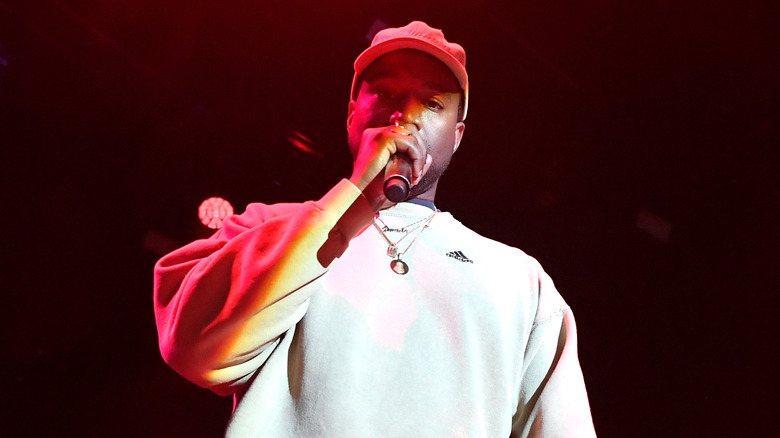 Neilson Barnard/Getty Images
Not long after Kanye West's "Donda" dropped on August 29, fans flocked to social media to share their favorite tracks from the album. And, based on all the tweets, "Hurricane," featuring Lil Baby and The Weeknd, seems to be a favorite. "Mane that song Kanye feat lilbaby & the Weeknd is so Groovy," rapper Juicy J tweeted. "Adding The Weeknd and Lil Baby to Hurricane is the best thing Kanye could've done to that song," one fan commented. 
In the track, West and Lil Baby rap about their personal struggles, from relationship issues to deaths in the family. West, for example, addresses some of his shortcomings as a husband. "Architectural Digest, but I needed home improvement," he raps (via Genius). "Sixty-million-dollar home, never went home to it." Elsewhere in the same verse, 'Ye seems to be referencing his rumored relationship with Irina Shayk: "Here I go actin' too rich, here I go with a new chick."
Meanwhile, Baby raps about losing three of his friends in the same month. "Yeah, walkin' on the bridge, I threw my sins over the deep end / Sippin' 'til my stomach hurt, this month I done lost three friends." Some have pointed out that he also may be referencing West's 2018 rant, when he walked under a bridge and discussed, among other things, his wife, Kim Kardashian. This is also the first time West and Lil Baby have collaborated — and it was a long time coming.
Lil Baby was surprised Kanye West wanted to work with him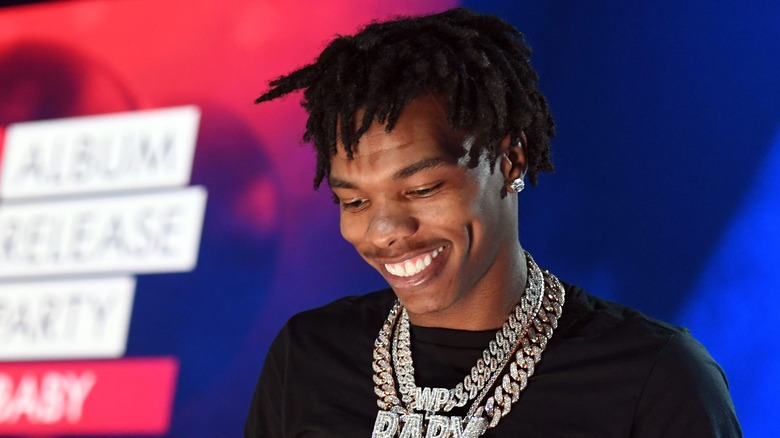 Kevin Winter/Getty Images
Although Kanye West's "Hurricane" dropped in 2021, the song was meant to release a few years ago. In September 2018, West took to social media to announce the arrival of his album "YANDHI" (which never came out) by teasing a snippet of "Hurricane." "YANDHI 9 29 18," the rapper tweeted, sharing a preview of the track. "YANDHI IS RELEASING THIS SATURDAY."
Then, in 2020, West teased the arrival of "Donda," which included "Hurricane" in the tracklist. Though the song didn't have any features at first, the rapper revealed that he previously tried to collaborate with Lil Baby in a series of now-deleted tweets. "They tried to fly in with 2 doctors to 51/50 me I been trying to get divorced since Kim met with Meek at the Warldolf for "prison reform" I got 200 more to go," West wrote (via Newsweek). "This my lady tweet of the night ... Kris Jong-Un Lil baby my favorite rapper but won't do a song wit me."
Apparently, Lil Baby never got that memo, as he didn't even know West was interested in working with him. "Nobody told me ye was trying to get me on a song," he tweeted soon after. "that's f****d up." Now, one year later, the two have finally made their dream collaboration happen. Per Genius, past versions of "Hurricane" included verses from Young Thug, Ty Dolla Sign, 6ix9ine, and more. We're happy he chose Lil Baby and The Weeknd!