Does Prince Andrew Really Want To Marry Sarah Ferguson Again?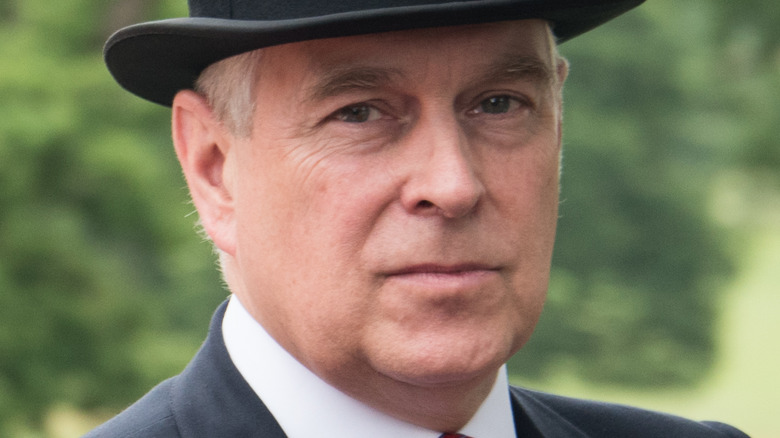 Chris Allan/Shutterstock
Prince Andrew and Sarah Ferguson were childhood friends way before they ever became romantically involved. In their 1986 engagement interview, Andrew shared (via AP News), "We have known each other since we were [four] or [five], but we only really noticed each other fairly recently." He continued,  "We met up again in 1983 at a house party and became very good friends." When the future Duchess of York was asked what she liked about Andrew, she divulged, "Wit, charm ... looks." Replying to the same question, Andrew quipped, "The same ... and the red hair."
Andrew presented her with a prized Burmese ruby engagement ring, per Metro. The smitten groom-to-be reportedly designed the band himself and surrounded the precious gem with ten pear-cut diamonds. Apparently, the prince had chosen the fiery stone because it complemented the vivid color of Fergie's tresses. Their wedding was spectacular, per Independent, but their marriage was on the rocks soon after they tied the knot. Andrew only spent about 40 days per year with his wife because he was in the Royal Navy.
As she told Harper's Bazaar, that she spent her "entire first pregnancy alone." Fergie added, "Andrew got 10 days of shore leave" when Princess Beatrice was born in 1988. In 1992, the infamous toe-sucking scandal rocked the monarchy and the couple separated. Four years later, they officially divorced. Andrew and his former spouse raised their daughters together and remain rather close. Here's why many believe he may pop the question again.
A source said they could 'see a second wedding happening' for Prince Andrew and Sarah Ferguson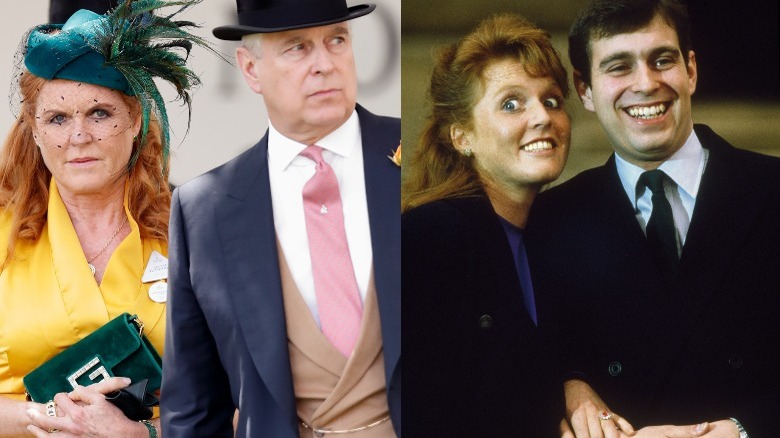 Max Mumby/Indigo and Max Mumby/indigo, Tom Stoddart Archive/Getty
Prince Andrew is currently undergoing the test of his royal career. Prince William is allegedly anxious about the scandal around his uncle, and others believe that Andrew's future in the royal family is dodgy at best. Through it all, Sarah Ferguson has stuck by his side. The Duchess of York recently spoke about her devotion to her ex-husband in an interview with Polsat News while visiting Poland. "I made a commitment that I will always live up to," she revealed. "I kept my commitment, no matter what," she said, before adding, "People said: you got divorced. I'm divorced, not divorced ... they don't know how I feel." She then declaratively added, "Divorce is one thing, but my heart is my oath, my obligation." 
On September 10, Vanity Fair reported that Andrew may also not be apathetic toward his ex. "Sarah and Andrew have been closer than ever in the past year," a source told the outlet. "They still love and care for each other a great deal and have been living together during the pandemic," they divulged about their living arrangements. The insider then shared, "It has rekindled something and I can see a second wedding happening if it all goes Andrew's way." 
How could Andrew ever top the ruby and diamond engagement ring? Let's see if he can get Sarah to say yes first. Wild stuff over in the royal world.