Why Has Kim Kardashian Been Completely Covering Her Face Lately?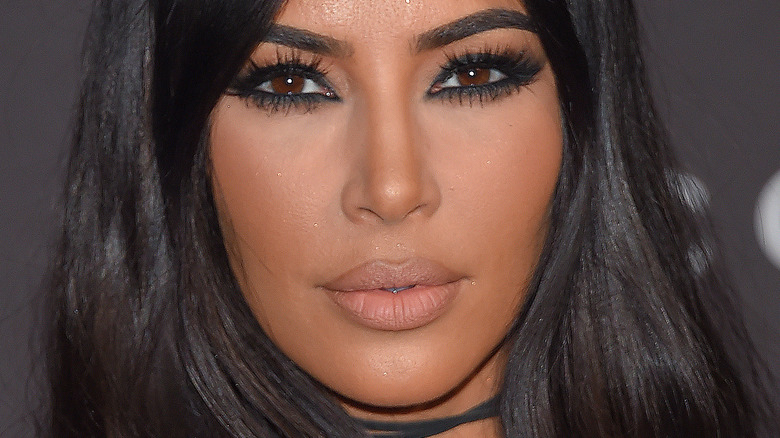 DFree/Shutterstock
In the words of former New Jersey Housewife Danielle Staub, "PAY ATTENTION PUH-LEASE," because we have SO much to unpack here...
As reported by the Daily Mail, Kim Kardashian arrived at the highly anticipated 2021 Met Gala wearing what was essentially an all-black disguise complete with a fancy ski mask — though the correct term for said ski mask is actually "balaclava." Oh, and it was all designed by Balenciaga. Think: Mickey D's nostalgic Hamburglar get up, but make it fashion. While many were busy soaking up every detail of the mysterious ensemble, others could not help but wonder why Kim would opt to cover up entirely after quite literally baring almost all, time and time again at various red carpet events and for high-end fashion campaigns. (We know we will never forget that infamous Paper magazine cover shoot.)
As you may recall, however, this is not the first time Kim has been photographed walking around in a full-on mask. Per TMZ, in the days leading up to the Met Gala, she was also spotted in New York City walking into the Ritz Carlton once again dressed from head to toe in black leather with a black leather face mask to boot. So what's the deal behind one of the world's biggest beauty and fashion icons covering her famous face? Keep reading after the jump to learn everything we know!
Perhaps Kim Kardashian is channeling her inner 'Donda'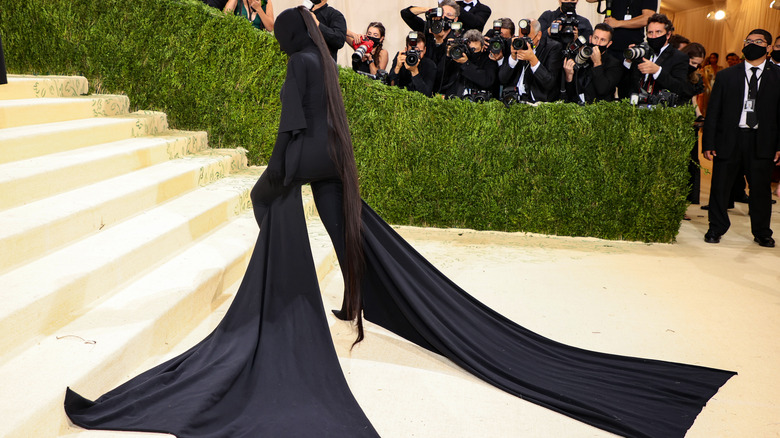 Dimitrios Kambouris/Getty Images
While we cannot be exactly sure why Kim Kardashian has opted to cover her face lately, many believe that she has been inspired by the father of her children, aka her estranged husband, Kanye West. In a piece by Forbes, contributor Nadja Sayej makes the case that perhaps Kim's Met Gala look might have been a by-product of Kanye's new album, "Donda," which features nothing more than a black square on its cover art — and it appears the masses would tend to agree. One Twitter user wrote, "Kim K cosplaying as Donda cover," about Kim's curious Met get up. 
Still, others couldn't help but poke fun at the rather, um, interesting fashion choice. One user compared Kim's look to that of a "dementor." YIKES!
In another intriguing turn of pop culture events, after what appeared to a very Kanye West-inspired fashion step on Kim's part, many pointed towards a Kimye reconciliation. "Tell me you're back with Kanye without telling me you're back with Kanye," one Twitter user penned, while another hopeless romantic simply wrote, "Kim is not leaving that man." One thing's for sure — Kimmy loves to keep us guessing!
Did Kanye West call in a stunt double?
Dimitrios Kambouris/Getty Images
Kim Kardashian's all-black Met Gala ensemble, however, was not the only thing keeping the masses guessing. While many were convinced that Kim's mysterious date — also covered in head-to-toe black — was really Kanye West, that was later proven to be untrue. As reported by E! Online, the person under the mask was actually Balenciaga's creative director, Demna Gvasalia, who flanked Kim on the star-studded red carpet. However, a source told E! ahead of the event that, though Kanye would not be in attendance at the annual fundraising gala, "His presence will be felt on the carpet." 
It was also reported that it was Kanye who called for the meeting between the mother of his children and the acclaimed creative director in the first place. "It was him who introduced Kim to Demna and was instrumental in the newly formed relationship between her and Balenciaga," the source divulged. "This look on Kim is like a new subculture and fashion statement. No logo, no face, but everyone knows it's her," they added.
As the saying goes, "The devil works hard but Kris Jenner Kanye West works harder."