Charlie Sheen And Denise Richards' Daughter Sami Makes A Disturbing Claim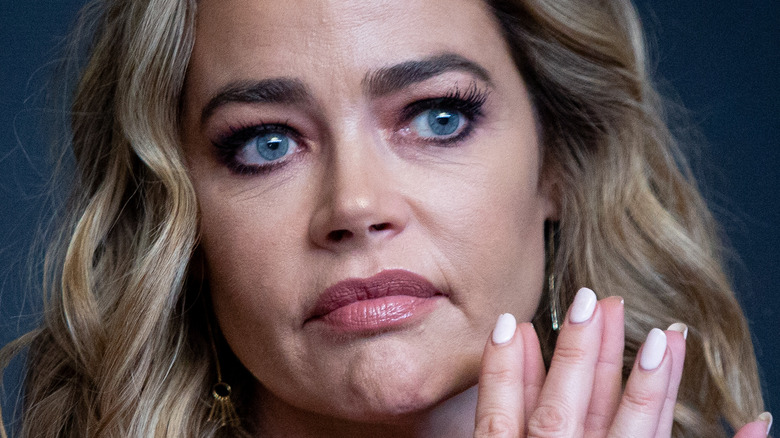 Pablo Cuadra/Getty Images
The relationship between Charlie Sheen and Denise Richards has always attracted media attention — and all too often, that attention has fueled tabloid headlines. They met on the set of "Good Advice" in 2000 and were married just two years later, according to Women's Health. Their first daughter, Sami, was born two years later in 2004, and they filed for divorce in the following year while Richards was pregnant with their second daughter, Lola.
"I just feel like I f***ed up a lot with their dad. I don't want them to look back at their childhood and remember [arguments]," Richards said in an April 2018 episode of "The Real Housewives of Beverly Hills" (via US Weekly). "My girls have been through a lot. How I chose to relate to the dysfunction that was going on with their father was to hide it from the kids. I don't know if I did a disservice or not. ... It just made me realize how fast it goes. Life is so short and their childhood is so short."
Her new husband, Aaron Phypers, responded to Richards in the episode, saying, "You protected them from a lot. You did the best you could." However, it seems Richards' oldest daughter, Sami, disagrees. Read on to learn about the disturbing claim Sami has made about Denise Richards.
Sami Sheen claims she lived in an "abusive household"
In a TikTok video that has since been made private, Denise Richards and Charlie Sheen's 17-year-old daughter Sami claims that she was "trapped in an abusive household," according to Page Six. The video showed her looking tearful and was captioned, "1 year ago today: trapped in an abusive household, hated myself, would go days without eating or sleeping, insanely depressed, hated school, etc..." This cut to another video of her smiling and dancing, which was captioned "now: finally moved out of the hell house, had a spiritual awakening, own 2 cats, happy single, full of self love, and dropped out of high school
"
While Sami doesn't mention which parent she was referring to, her father told Us Weekly that Sami had previously been living with her mother and had now moved in with him. Through his publicist, Jeff Ballard, Charlie said, "Sam's amazing. I love her and all my children unconditionally. We're having a ball. GED here we come!"
However, Denise was not without her defenders. "Denise set normal rules that any parent would be setting. She's a mom and a parent and there are rules. She didn't want to follow the rules," a source told People. "Charlie didn't support implementing Denise's rules. He has a different way of parenting and Sami decided to live with her dad. Denise loves her daughter very much and she's saddened by the situation."
If you or someone you know is dealing with domestic abuse, you can call the National Domestic Violence Hotline at 1−800−799−7233 or TTY 1−800−787−3224. You can also find more information, resources, and support at www.thehotline.org.