Who Is Norm Macdonald's Son, Dylan?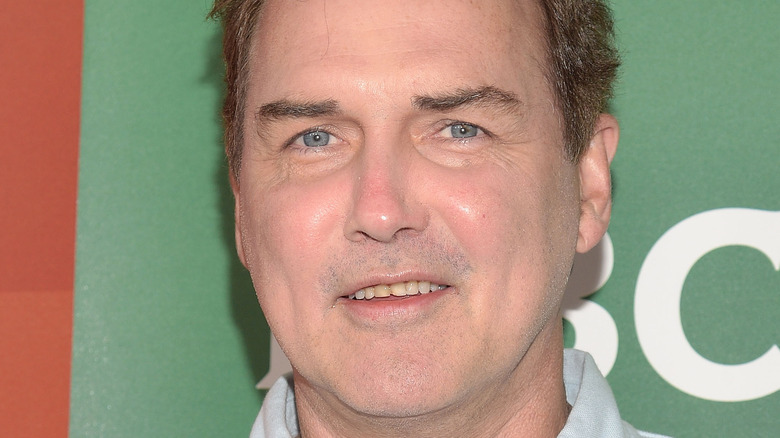 Jason Kempin/Getty Images
The comedy world momentarily stopped laughing on September 14 when it was reported that former "Saturday Night Live" writer and performer Norm Macdonald had died of cancer. The Canadian-native first made the stand-up rounds in 1992 before joining the cast of "SNL," per Deadline. The 61-year-old was known for his dead-pan jokes and impressions, which saw him host the politically-charged Weekend Update segment. During his time on the show, the trial of OJ Simpson was a popular and controversial topic of conversation, and Macdonald often made fun of the disgraced star. This eventually led to Macdonald's being fired from the show in 1998 after NBC Entertainment executive Don Ohlmeyer, a friend of Simpson's, complained, per ABC.
While his "SNL" firing fundamentally changed his career and public presence, he continued to perform stand-up across the US and appear on talk shows. His love for comedy was also the reason why he chose to keep his nine-year cancer battle private. "He never wanted the diagnosis to affect the way the audience or any of his loved ones saw him," Macdonald's longtime producing partner Lori Jo Hoekstra said. Comedy fans, industry veterans and even the Canadian president also paid tributes to his talents on social media. Jim Carrey called him "an honest and courageous comedy genius" on Twitter while Sarah Silverman requested fans to do themselves a "favor and watch his stuff." Adam Sandler also honoured his comedic prowess but credited him as "an incredible dad." Macdonald had one son Dylan with his ex-wife Connie Macdonald.
Norm MacDonald family moved to Los Angeles following his divorce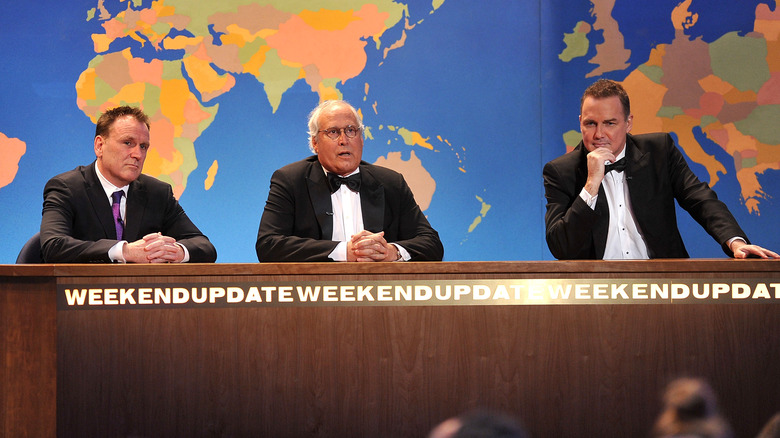 Theo Wargo/Getty Images
While Norm's family has yet to publicly speak about his death, the "SNL" star is survived by his ex-wife Connie Macdonald and 29-year-old son Dylan. Similar to keeping his health problems private, Norm also remained tight-lipped about his family. According to Heavy, Norm married family therapist Connie in 1988 with the pair welcoming their only son Dylan in 1992 — the same year he joined "SNL." Eleven years later, they divorced and Connie reportedly moved to Los Angeles with Dylan. During a 2016 profile piece by The Washington Post, the publication noted that while Norm doesn't talk about his family and ex-wife, he did call her a "great" and "fine person."
Like his wife, Norm also hasn't shared too much insight into his relationship with his son. But when Dylan was just three years old, Norm did briefly mention him to Conan O'Brien when he said, "he's the greatest." The 61-year-old also joked about his custody arrangements during his 2018 Netflix show "Norm Macdonald Has a Show" after David Letterman asked (via Distractify), "Did you worry that this was an impediment to [your son's] development?" Norm responded, "A little bit .... but I used his pain as coal for my furnace of ambition." And he has somewhat. Norm introduced Dylan as one of his "twins" during an early comedy sketch he did with Tom Green. But this wasn't the only time Norm's son has shown off his own fun-loving attitude. 
Dylan Macdonald has previously followed in his father's comedic footsteps
Dylan Macdonald appears to have inherited his father's funny bone. Like Norm, Dylan has also kept his private life tightly under wraps with a low social media presence, but he has starred in a number of online comedy sketches. Dylan and his friends founded a YouTube channel called 3rd Triumvirate in 2011, which sees them star in self-written segments such as "Spelling Bee" and "Channing Tatum's Biggest Fan." While it hasn't been updated since 2015, it's amassed over 520,000 views. Dylan's Facebook also hasn't been active since 2015, so it's unclear whether he's still pursuing comedy... or is a journalist. His old Facebook description says he works at TheLead — "a news/media company that provides a daily newsletter to sports fans."
What we do know about Dylan, however, is that he's a big fan of actor, writer, and comedian B.J. Novak. In 2016, Norm tweeted "The Office" star, thanking him for recommending his best-selling memoir "Based on a True Story." He wrote: "Thank you, B.J. Both my son and I are great admirers of your writing." But whatever Dylan is doing these days, we certainly hope he's finding some solace in his dad's old work.