What Really Happened To Miley Cyrus' Voice?
DFree/Shutterstock
Former Disney darling Miley Cyrus is known for many things: her daring sense of style, her headline-making relationship with Liam Hemsworth, and her powerhouse vocals. Over the years, Cyrus has transformed from her squeaky clean "Hannah Montana" character into a bonafide star, and she's developed the raspy, throaty voice to go along with it. 
While fans pointed out how her voice had matured from its high-pitched, girlish range to a huskier tone, Cyrus herself also seemed aware of the change. In fact, the "Midnight Sky" singer attributed her new sound to the trauma of losing her home to a California wildfire in 2018. "It's coming out in a whole other way," Cyrus said of her voice during a 2020 appearance on the "Joe Rogan Experience" podcast. "You know, I look at things different[ly]. I'm very different, and honestly, my voice changed a lot after the fire. I could sing better after the fire. It was almost like it unleashed something."
The experience may have brought out a different aspect of her voice, but Cyrus' vocals have primarily fluctuated due to a medical condition. Opening up about her Reinke's edema diagnosis — what's known as fluid build up in the vocal chords, per The Voice Foundation — Cyrus spoke about how the setback has helped her reframe her perspective on singing. Keep reading for her take!
Miley Cyrus didn't know how to properly take care of her voice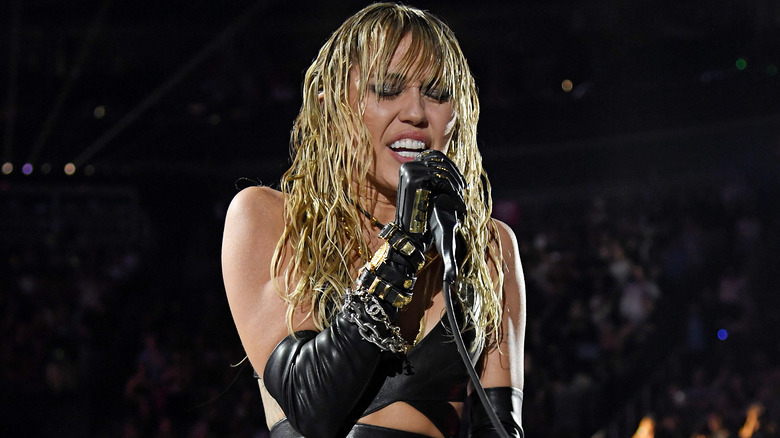 Kevin Mazur/Getty Images
Host Joe Rogan immediately commented on Miley Cyrus' speaking voice when she appeared on a September 2020 episode of his podcast. "You have a fantastic voice, not just a singing voice, but your talking voice — it's very unusual," he said, prompting Cyrus to agree that "it's a heavy voice." But after the two got to talking about how her voice hadn't always held as much depth, the "Wrecking Ball" singer got candid about undergoing surgery in November 2019 to correct her swollen vocal chords. She added that they'd swollen as a result of Reinke's edema, which, according to The Voice Foundation, features "the build-up of gelatinous fluid within the vocal chords."
"Over the last year I noticed a really big change to my voice, kind of a heaviness to it," Cyrus explained. "And I experienced some heavy things. I feel like it is a reflection. It is kind of a scar in a sense. But also kind of having the surgery was a gift because I was able to understand my instrument." That instrument is something she hadn't previously known how to protect, as she explained she never learned how to. As someone who started her career in showbiz as a preteen, the songbird unintentionally began a years-long pattern of unhealthy voice abuse — and now, she's doing what she can to fix things.
Miley Cyrus is prioritizing her voice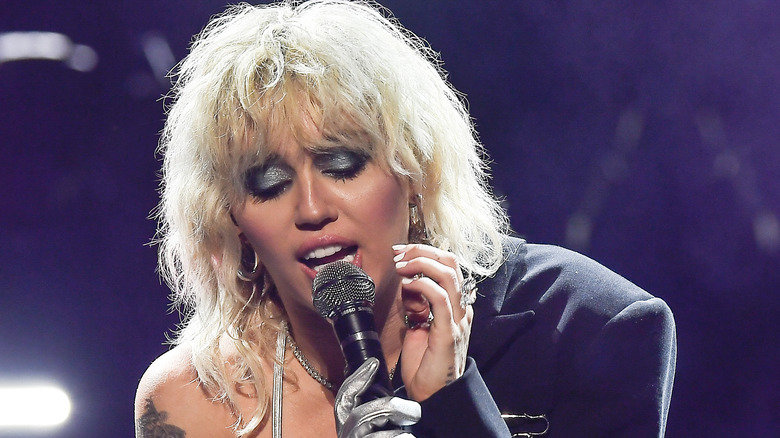 Steve Jennings/Getty Images
Because Miley Cyrus was a child star, the years quickly took a toll on her vocal chords, and that showed up in her singing. "I started touring at probably 12 or 13," she recalled, speaking on Joe Rogan's podcast. "The adrenaline that you have after a show — it's not really the singing that affects your voice as much. It's afterwards, you're totally on and it's really hard to get that sleep. You stay up, talking all night. Later, the talking all night turned into smoking all night. And now, this is kinda where we're at."
As she reflects on that period of voice abuse, Cyrus' perspective seems indicative of the mature place she's reached in her life. To hear her tell it, the voice "collects wrinkles and it tells a story." Now that she's older and wiser, she's determined that her story can be a positive one, and that means prioritizing self-care in a way she didn't before. "I don't smoke anymore, and I'm sober," she revealed to Rogan. "I've been sober, pretty much the vocal surgery kind of did it for me because I just learned so much about the effects." 
Since the interview, Cyrus has fallen off the wagon a few times, and worried fans after she was spotted taking shots with rapper Yungblud in March. Even still, she seems to be moving forward in a positive direction.