The Truth About Diddy And Jermaine Dupri's Friendship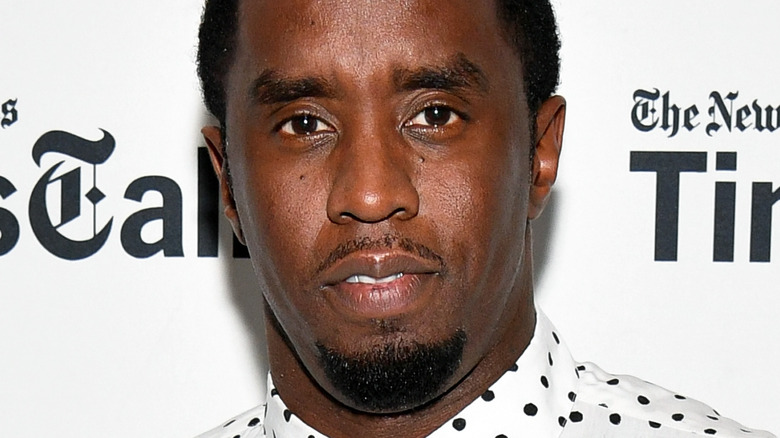 Dia Dipasupil/Getty Images
Diddy (or "Love," per his latest name change) and Jermaine Dupri have been friends for decades. In the '90s and '00s, Dupri's record label So So Def and Diddy's Bad Boy Records were dropping some of the hottest tracks around, like Xscape's "Just Kickin' It" and The Notorious B.I.G.'s "Juicy," so it was inevitable that the two would cross paths. And, apparently, they used to party together a lot back then.
According to event planner Jessica Rosenblum, Diddy and Dupri kind of invented the concept of bottle service at the club. In the '90s, the two used to go out every week and order endless bottles of champagne. "They were buying out champagne at the bar, and we had to serve it to them in rubber busboy trays, because we had nothing to put champagne in," Rosenblum recalled (via Elite Daily). "It wasn't like now, when somebody buys a parade of Dom Pérignon or Moët Rosé, and it comes out all lovely at your table with sparklers and s***—that didn't exist."
Partying aside, the two friends frequently worked together as well, producing smash hits like "Welcome to Atlanta (Remix)" in 2002. More recently, in 2018, Dupri received the Breaking Barriers Award at the Global Spin Awards, and gave a special live performance of the 2002 song alongside Diddy and Ludacris. And now, Puff and JD could have another on-stage reunion, courtesy of "Verzuz." Find out more below.
Jermaine Dupri challenged Diddy to a Verzuz battle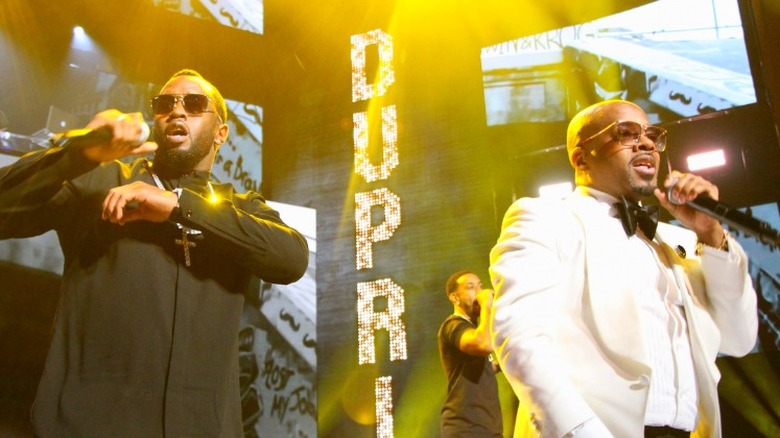 Johnny Nunez/Getty Images
The latest "Verzuz" installment, on September 14, saw Fat Joe competing against fellow New York rapper Ja Rule at Madison Square Garden. Special guests included long-time collaborators such as Remy Ma and Ashanti, who performed tracks like "Mesmerize" and "Lean Back." That same night, Jermaine Dupri took the opportunity to challenge Diddy for a "Verzuz" battle.
"Somebody let @Diddy know I'm @thegarden right now," JD tweeted, posting a selfie standing in front of the NYC venue. "And he gon need some training for me," he warned. The next day, Diddy politely declined Dupri's duel invite, claiming that they're not on the same level. "Beloved you my n**** but your arms too short to box with God," he wrote under Dupri's tweet. "You aiint got enough hits. I'll smash you with just biggie n Mary." 
Apparently, Diddy will only agree to a "Verzuz" if it's against Dr. Dre. "But I do have the u[t]most respect on you as a musical legend," he continued. "Dre the only one can get in the ring w me . – LOVE." Following Diddy's response, Dupri sent out yet another warning. "Don't nothin' get straightenin' but straightenin," JD replied, referencing Migos' song "Straightenin'." Though it's unclear if a So So Def vs. Bad Boy Records "Verzuz" will ever happen, fans on Twitter had a lot to say on who would win the musical battle. 
Who would win between Diddy and Jermaine Dupri?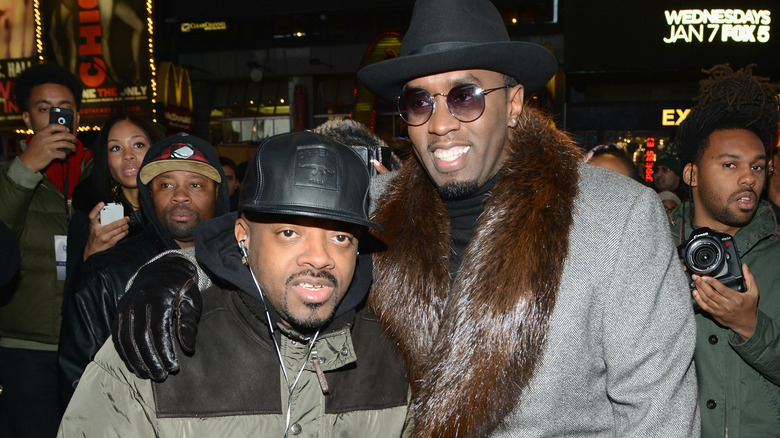 Michael N. Todaro/Getty Images
Once Diddy claimed that he would crush Jermaine Dupri on "Verzuz," fans took to Twitter to share their thoughts ... and many don't seem to agree with him. "Diddy done lost his mind," one person tweeted. "JD got Mariah, Usher, Xscape, Janet, Bow Wow...that's a pretty decent match up." 
"I ain't gon lie Diddy...ya wrong," another added. "He made Bow Wow. 'Money Ain't A Thang' was CRAZY. Xscape. Let's Get Married Remix. Welcome to Atlanta was the 2000s Old Town Road (16 remixes jk) Kris Kross. Ushers 'You Make Me Wanna'..Bruh I could keep goin. JD is certified steppa." Meanwhile, others are reminding Diddy of his reported unpaid checks to former Bad Boy artists. "Well that may be true, but let's make a rule that you can't use any records of artists you still owe a check to and let's see who wins," one fan wrote. Ouch.
Despite all the current chatter, this isn't the first time that Dupri has mentioned wanting to go against Diddy. In March 2020, JD discussed going against his longtime friend in an interview with Fat Joe. "So So Def, Bad Boy, will we ever see that in a Verzuz? Or will we see So So Def versus somebody else?" Joe asked (via HipHopDX). "Whatever the culture wants," JD replied. "We gonna break the f***** internet. You know, the internet is broken that day... That's what people want to see. That's the thing everybody keep talkin' about."