What's It Like To Work With Evan Peters?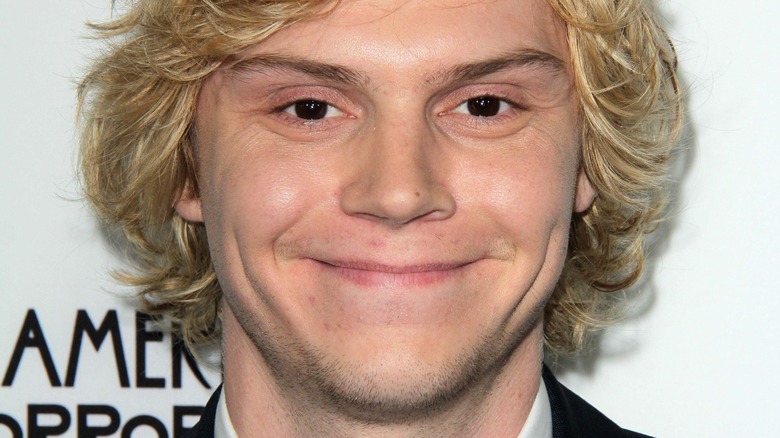 s_bukley/Shutterstock
Not only is Evan Peters a massive Hollywood heartthrob, but he is also arguably one of the greatest gifts to modern television today. The "American Horror Story" veteran, who has appeared in nine out of 10 seasons, has portrayed a swath of emotionally challenging characters over the course of the show's history, from the troubled Tate Langdon in "Murder House" to the undead Kyle Spencer in "Coven." In fact, Peters has even gone on record to discuss the unfortunate toll that playing these characters has taken on him since the show's inception in 2011.
Regarding the "sinister stuff" required of Peters' roles, the actor opined that "It's just exhausting. It's really mentally draining, and you don't want to go to those places ever in your life" to GQ. The actor also noted that venturing into the mental headspace required for those traumatic scenes "ends up integrating it somehow into your life," noting that "you're in traffic and you find yourself screaming and you're like, 'What the hell? This isn't who I am.'"
Despite the toll it takes on Peters, the actor always remains professional and does what is required of the art form put forth in front of him. So now you're probably wondering what it's like to work with the talented star. Well, you're in luck. Read on to find out!
Evan Peters keeps it professional, despite being 'goofy' in real life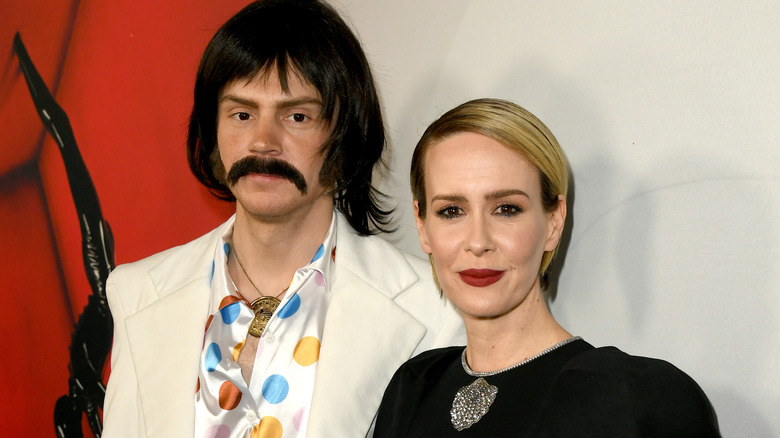 Kevin Winter/Getty Images
In his 2018 interview with GQ, Evan Peters talked about his personality and approach to acting and revealed that he is nothing like the characters he plays on TV — in fact, he's the polar opposite of them. "I'm goofy, I'm silly, I like to have fun," Peters told the outlet. "I don't like to yell and scream. I actually hate it. I think it's disgusting and really awful, and it's been a challenge for me," he also revealed. "["American Horror Story"] sort of demanded that of me," he further added.
Despite his feelings, Peters mentioned that he has never said no to anything show creator Ryan Murphy has asked him to do. "I trust him and his vision and his writing and directing and sort of him overseeing everything," Peters said on his decision to cede control to Murphy. "I know there's a bigger plan, and so I always throw it up to him, and I say, 'I'm in your hands. Let's do this. Whatever you need me to do,'" he continued, owing up to his true professionalism on set.
Peters did note, however, that Murphy can get "dictatorial ... when things are off," but is "really funny and hilarious and loving [while] looking out for everybody and making sure everybody's comfortable" for the most part.
Evan Peters is adored by Sarah Paulson
Kathy Hutchins/Shutterstock
After experiencing severe mental stress from the show, Evan Peters decided to step away from the show, telling GQ, "I just made a decision. I said to myself, 'I can't do it anymore.' It's not me. It's not who I am!" After that, Peters opted not to appear in the show's ninth season, 2019's "1984," before returning for Season 10, this year's "Double Feature." Peters' departure coincided with fellow series stalwart Sarah Paulson, who seemingly truly enjoyed working alongside him. Speaking to TV Guide in 2019, Paulson revealed that she would love to return to the series (which she ultimately did this year), stating, "I miss Evan and I miss acting with Evan. So I'd love to have that experience again... If he'll come back, I'm back."
Furthermore, series creator Ryan Murphy opened up to Entertainment Weekly about his favorite "American Horror Story" episodes and had incredibly high praise for Peters' performance in Season 7, "Cult." In discussing Episode 11, "Great Again," Murphy said, "I really loved Evan's performance so much, and so did Sarah. We still talk about it. Like once a week about how good he is? Evan is criminally underrated in this role. He really suffered while making it, it took him I don't know... two years to recover?" — referring to the toll it took on Peters' mental state. "I really admired the dedication and the discipline he delivered," Murphy further added.