The Truth About Ryan Murphy's Relationship With Sarah Paulson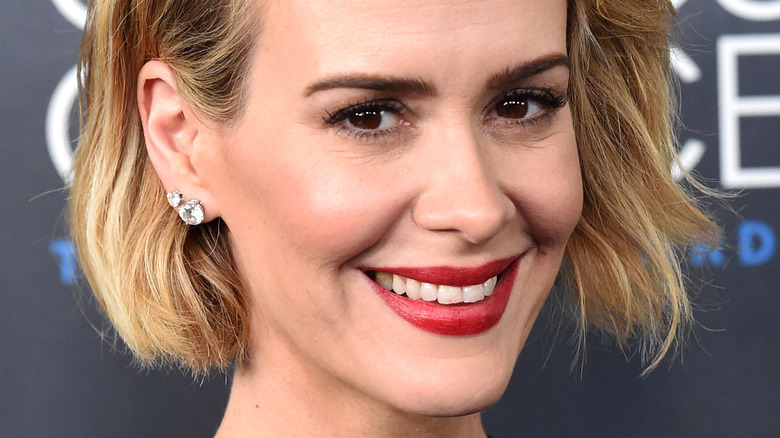 Jason Merritt/term/Getty Images
When it comes to acting, who does it better than Sarah Paulson? Never one to shy away from a challenge, Paulson is an actor's actor. The incredibly malleable, chameleonic performer, best known for her performances in "American Horror Story," always finds a way to constantly reinvent herself at the turn of every season. From "Murder House's" Billie Dean Howard to "Coven's" Cordelia Goode, Paulson has proven her versatility time and time again on-screen. Of course, none of this would be possible without television mastermind, Ryan Murphy, at the helm.
Murphy, alongside Brad Falchuk, helped create the iconic anthology series that is so revered by fans around the world — and did you know they also created "Glee?!" Talk about versatility! (Okay, you may have known). However, together with Paulson, we've truly gotten some of the most innovative and surreal television in the past decade. Murphy has posed a plethora of acting challenges for Paulson over their storied career together, yet the actor always finds a way to step up to the plate and deliver widely-acclaimed performances by fans and critics alike.
With that being said, let's take a deeper look into Ryan Murphy's professional relationship with Sarah Paulson!
The two come from similar backgrounds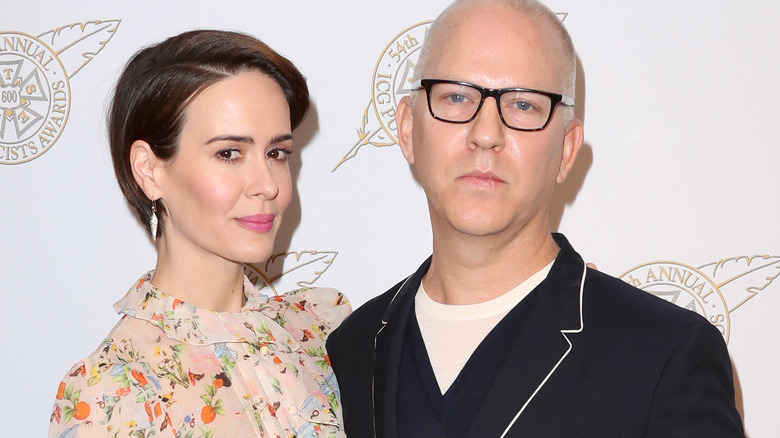 Frederick M. Brown/Getty Images
In a 2017 interview with Elle, Sarah Paulson and Ryan Murphy talked about their humble career beginnings and noted that they both were employed by the same network at a point in time — ultimately leading to their fateful professional union. Upon meeting in 2004, the two were both "coming off WB shows" — Murphy had created the dramedy "Popular," while Paulson starred in "Jack & Jill" — at the turn of the century. The two, however, professionally united when Paulson was cast in an episode of Murphy's FX series, "Nip/Tuck."
Paulson's 2004 role in the acclaimed FX series was a small one, but her performance was big enough and impressed Murphy beyond belief. Murphy took note of Paulson's student-like qualities, stating that she was "very obsessed and worried about everything" on the show. And while that might've been to the detriment for most, Murphy recalled thinking "she seems like my cup of tea" and that she's "[s]omebody who I feel has an attention to detail, like me."
When it came time to cast Paulson in "Glee," the actor noted that Murphy "was a little mad at" her, as she passed up on the role due to her loyalty to prior Broadway commitments. "I must have been snippy for, like, six months," Murphy added.
Sarah Paulson and Ryan Murphy take on the world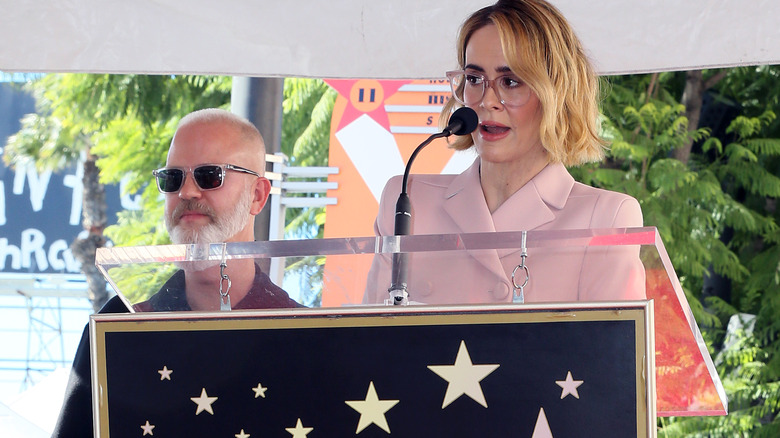 David Livingston/Getty Images
Though Sarah Paulson and Ryan Murphy developed a burgeoning professional relationship in the mid-2000s, there's one other actor we have to thank for bringing Paulson onboard to "American Horror Story" — Jessica Lange. The superstar actor — another "American Horror Story" stalwart — initially vouched for Paulson to appear on Season 1 ("Murder House") after a pivotal 2011 encounter on Broadway. 
Lange, who starred alongside Paulson in Broadway's "The Glass Menagerie," noted Murphy's presence in the audience and asked the television writer (via Elle), "Can't you find something for Paulson?" and the rest was history. Paulson would go on to star as psychic medium Billie Dean Howard alongside the conniving and pesky Constance Langdon, portrayed by Lange.
Following her initial role on "American Horror Story," Paulson has appeared in the majority of Murphy's productions outside of the famous horror series — including a role as Marcia Clark in "The People v. O. J. Simpson: American Crime Story" and the titular character in "Ratched." "I don't know why I got this opportunity. I don't know why I was gifted with [Paulson]," Murphy told Elle, "[b]ut I know we're on the highway, and we're not getting off until there's a crash."