JoJo Siwa's Beef With Nickelodeon Explained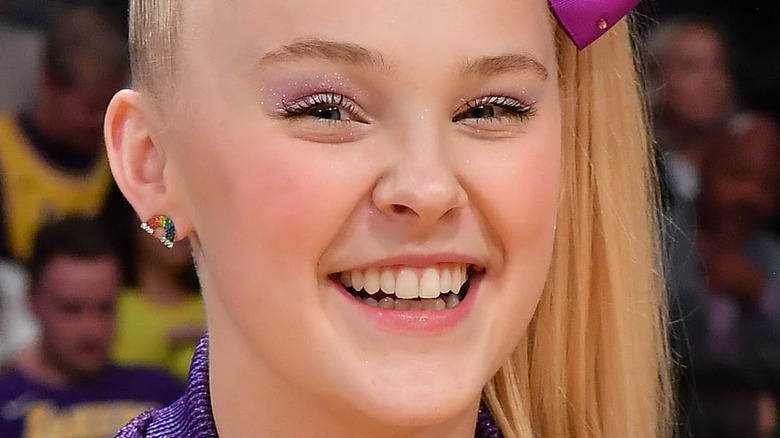 Allen Berezovsky/Getty Images
JoJo Siwa has slammed Nickelodeon for silencing her ahead of her upcoming U.S. tour. The children's entertainer, known for her vibrant outfits and oversized bows, told fans on social media about her restrictive contract with the youth-oriented network. Siwa started out on the popular reality series "Dance Moms" opposite Maddie Ziegler in 2015 when she was only 9 years old. Despite starring in just two seasons, the Lifetime show catapulted Siwa to worldwide fame and led her to launch an extremely successful YouTube channel, per US Weekly. Eventually, Nickelodeon came knocking and she signed with them in 2017. The now-18-year-old has since starred in "The JoJo and BowBow Show Show," gone on international tours with Nickelodeon, and released three EPs through Viacom, Nickelodeon's parent company, per Insider. Recently, Siwa was also announced as a contestant on "Dancing with the Stars," in which she will be the first competitor ever to have a same-sex partner. Siwa came out in January and on September 5 she made her red carpet debut with girlfriend Kylie Prew (via People). 
While Siwa has her own management team, the performer's extremely lucrative brand — which Forbes says is worth "millions of dollars" — is closely aligned with Nickelodeon. With such strong ties to the company, Siwa says she has little say in some of her business decisions, including her 37-city D.R.E.A.M tour. On September 15, she wrote that Nickelodeon (which sponsors the national tour) has blocked her from performing music from her new movie-musical. Here's what we learned.
JoJo Siwa criticized Nickelodeon for treating her as a 'brand'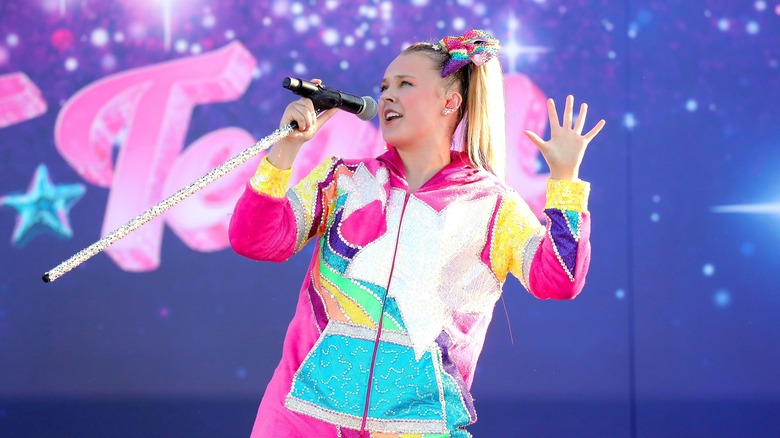 Leon Bennett/Getty Images
She may be one of the most famous influencers in the world, but apparently JoJo Siwa cannot sway her management. The Nebraska native has more than 12 million subscribers on YouTube, and was named one of the most influential people in the world by Time in 2020, so it's no surprise she's using her strong social media presence to take a stand against Nickelodeon. Siwa told her fans on Twitter that the company gave her a set song list for her upcoming D.R.E.A.M tour. "I go out on tour in January. My movie musical was just released (with 6 new original songs)... Nickelodeon told me today that I'm not allowed to perform/add any of the songs from the film into my show." Siwa also shared her tweets to Instagram, where she has nearly 11 million followers. "These are MY songs, MY voice, MY writing. Does this seem fair???"
Back in February, Siwa excitedly revealed on "The Tonight Show with Jimmy Fallon" that she initially wrote 27 songs for "The J Team" before narrowing the list down to six. Despite being streamed on Paramount+, the film is also a Nickelodeon production, which perhaps explains why Siwa also tweeted: "there is no reason that this music should not be included." Siwa emphasized the decision to include her new music was "important" as fans "have been waiting to hear" it for two years. "I wish it was important to Nickelodeon. Remember I'm a human, not just a brand."