The Strange Thing Kim Kardashian Just Shared About North West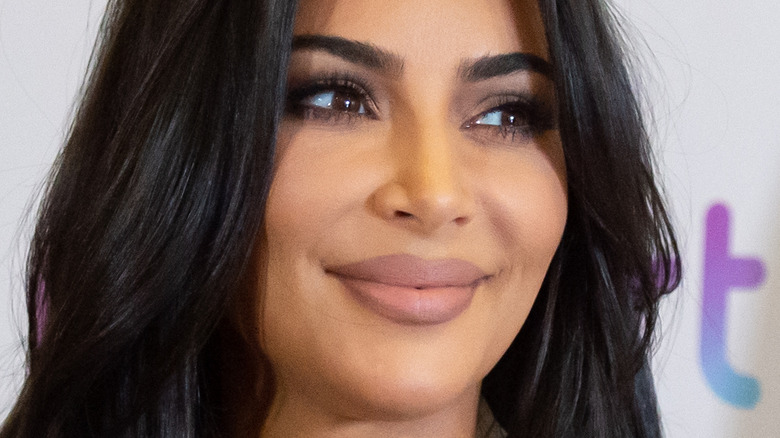 Asatur Yesayants/Shutterstock
Kim Kardashian and her first-born daughter North West seem to have a pretty strong (and sometimes funny) bond. Recently, on September 8, the 8-year-old hilariously called out her mother for talking different on social media. As Kim filmed a video showing off some new makeup, North interjected by asking her why her voice sounded like that. "Why do you talk different?" North asked (via E! News). 
"Why do I talk different from what?" Kim replied. "From your videos," the child said. "From my videos? I'm the same human being. I don't talk different," Kim continued. Then, North proceeded to make an impression of Kim's speaking voice, causing some pretty hilarious social media reactions. "one think about north, shes gonna interrupt kim's video to call her out," one fan tweeted. "NORTH is most definitely Kanye's child, " another added. "She is sent to humble KIM." Others, meanwhile, think North's behavior proves that she's a true Gemini. "At the end of the day North is literally a Gemini and she will continue to stay on Kim's neck," a third fan commented. "calling out the libra behavior and I have no choice but to applaud her." 
As fans pointed out, this isn't the first time that North made fun of her mother for everyone to see. Earlier this year, she even called out Kim for posing as a true Olivia Rodrigo fan. And, as Kim has just revealed, little North is full of even more surprises. Read more below.
Kim Kardashian says North West is a 'full goth girl'
On Thursday, September 16, Kim Kardashian stopped by "The Ellen DeGeneres Show" to talk about her four children with ex-husband Kanye West. As Kim revealed, they're all very different from each other. Three-year-old Chicago West, for example, loves everything girly. "She is my girliest girl that loves pink and purple and makeup," Kim said. "All my kids are so different." 
Meanwhile, North West is the total opposite. "North is like goth—she's into Hot Topic," she revealed. "She puts fake tattoos on her face, and she listens to Black Sabbath, and she's just like a full goth girl." What's more, Kim admitted that North acts like an only child. "I thought she was gonna grow out of this like, 'I want to be an only child' phase," the former "Keeping Up With The Kardashians" star told DeGeneres. "She hasn't."
As Kim put it, North's "only child" mentality can be hard to handle sometimes. "It's a struggle even to go to school," she admitted. "There'll be times when she's like, 'I'm not riding in the car with my brother.'" Kim did find a way to work around North's requests: bribes. "So I have to trade off. It's always a thing—bribes." What about Psalm and Saint, though? One is a bit of a nerd, while the other is obsessed with cartoons. "Saint is like video game, tech wiz—like, amazing. And Psalm is really into 'Paw Patrol' and 'Cars'."