The True Meaning Behind 'N 2 Deep' By Drake Featuring Future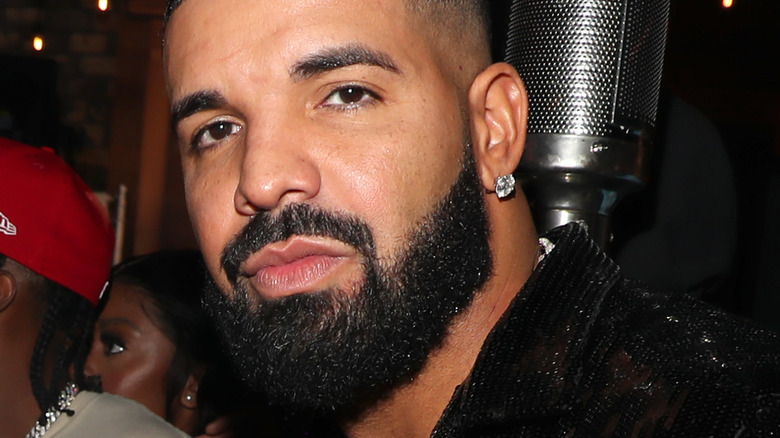 Jerritt Clark/Getty Images
For every 10 Drake songs, probably nine of them deal with strong sexual content. With his lustful bars and amorous attitude, the Canadian-born artist raps like he's been down bad for a century and a half. But don't get us wrong — Drake most certainly churns out absolute bangers, as evidenced by the appropriately titled "Certified Lover Boy." The album, which dropped in September, has dominated the charts — with nine out of the top 10 spots on the Billboard Hot 100 being occupied by tracks from the album at one point.
With songs like "Champagne Poetry," "Knife Talk," and "Way 2 Sexy" featuring Future, Drake further cemented his legacy as a certified hitmaker with his latest release. After a decade-plus atop the mountain of hip-hop, the former "Degrassi" star is still going strong — with Billboard noting that "Way 2 Sexy" is his ninth no. 1 single to date. However, there's one song on the record that we need to discuss: "N 2 Deep."
In another collaboration with Future, the power duo continue to show off why they are one of the most formidable tag-teams in all of hip-hop with "N 2 Deep." Displaying a sonic dichotomy with a guitar riff that ultimately descends into a reverb-drenched atmosphere, the two demonstrate their versatility that harkens back to their "What a Time to Be Alive" days. With that being said, let's take a look into Drake and Future's "N 2 Deep"!
Drake sings to a woman who 'knew [him] back then'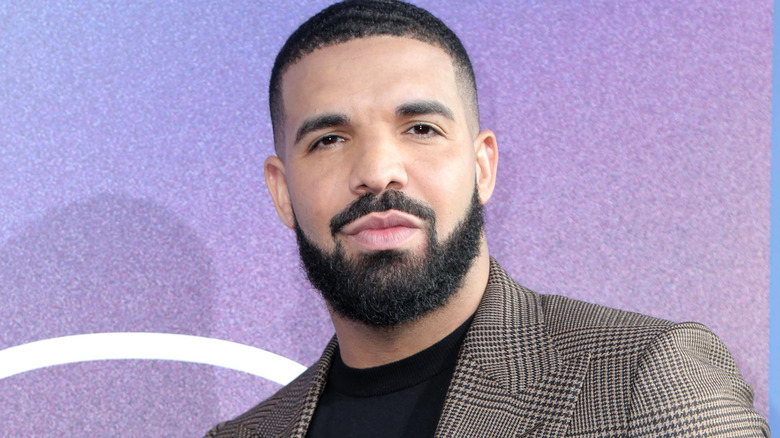 Kathy Hutchins/Shutterstock
"N 2 Deep" begins with Drake laying out the setting and theme of the track. A standard Drake love song, the rapper prefaces that he "Kept the Galleria open 'til 10 for you and your friends," adding, "You know how I spend in H-O-U-S-T-O-N" (per Genius). The upcoming four bars — "We stay good friends, we get too wavy / All I know is that when this cup ends, the next one begins / My bae, you know me and you knew me back then / And you know how it goes when I see you again" — indicate that Drake and an unnamed female companion are set to descend into promiscuous territory after a few drinks.
In the second verse, Drake laments, "Dirtied up a cup, I'm on the Northside / Text you, but I know you probably courtside," indicating that she's playing hard-to-get with him. He then tries to convince her that, despite his fame, he is still an honest man ("Me and you been on a first name basis / Why you think I hate it when you talk that Drake s**t?").
The chorus continues this same message, as Drake states, "Outside of the club, outside the things that a man like me does / Outside of the things that would cause you to judge / Outside of the club / Show you just who I was" — relaying that his behavior in the club does not reflect him as a man.
Drake and Future switch it up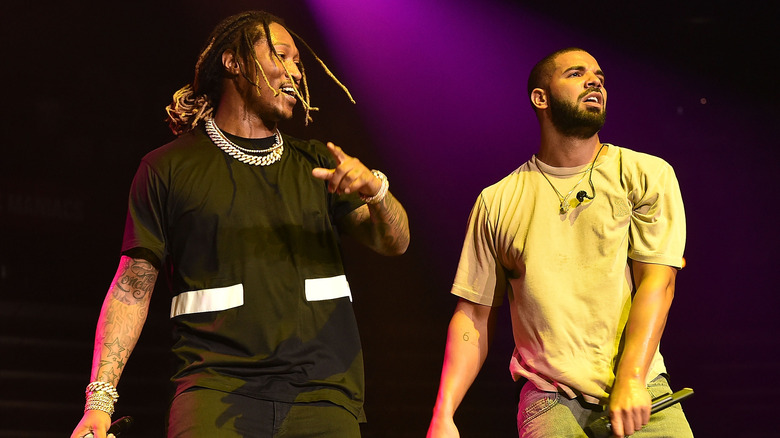 Paras Griffin/Getty Images
Characterized by an electric guitar riff and noodly synths, the first half of "N 2 Deep" soon comes to a close as it traverses into new sonic territory. The second half of the song is then embodied by a wavy dreamscape (think a more hype version of "Drama" by Roy Woods and Drake) that sees Drake lyrically and thematically do a 180. With a Travis Scott-level of reverb and echo drowning out Drake's voice, the rapper then enters demon time with his incoming hook.
"Pop that s**t, pop that s**t / Baby, that p***y was so worth the wait / I wasn't in love with none of them anyway / Yeah, pop that s**t, pop that s**t," pervades the frequency spectrum as the cloudy second half emanates a massive club vibe (per Genius). After Drake finally gets what he wants, he laments about catching feelings, noting that he's become "in too deep."
Future's following verse ("Got some bad b***hes / That's gon' f**k me for that AP / F**k me for that AP, F**k me for that AP / If I wasn't rappin', baby, I would still be trappin', baby"), while thematically the same, adds a little more bravado and showmanship and emphasizes his affinity for Audemars Piguet (AP) — a luxury watch manufacturer based in Switzerland. The bars also reference the iconic 2018 "She belongs to the streets" video featuring Future and Young Thug. Just another day in the lives of Drake and Future!