Johnny Depp Makes Surprise Appearance At Disneyland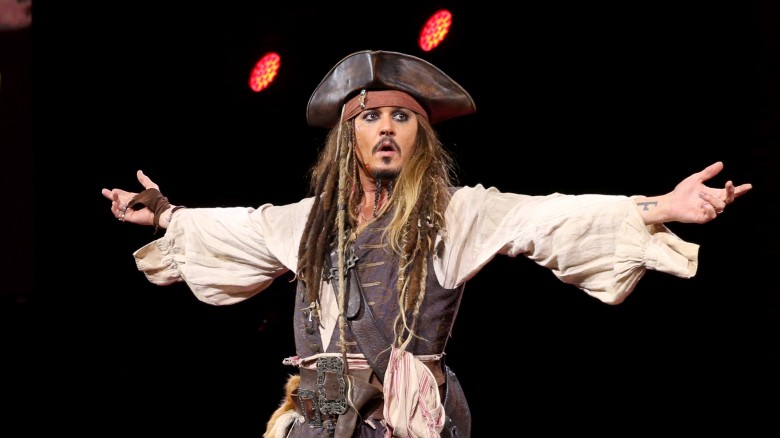 Getty Images
Dreams really do come true—at least for some of Disneyland's guests.
Us Weekly reports that Johnny Depp surprised Disneyland visitors with an appearance on the Pirates of the Caribbean ride. Dressed as his Pirates character, Captain Jack Sparrow, Depp greeted guests in Anaheim, Calif. on April 26, 2017.
Depp, 53, reportedly made appearances all throughout the ride, standing among the animatronics and even talking to people in line. Inside, he recited lines from the Pirates films and theatrically waved around his sword. He also spoke with the ride's guests, asking for their names.
While this could just be promotion for the next film of the franchise, Pirates of the Caribbean: Dead Men Tell No Tales (due out on May 26, 2017), we hope his public appearance is also a sign that things are looking up for the actor—though, to be honest, we kind of doubt it.
Earlier this week, as Nicki Swift reported, Depp spoke with The Wall Street Journal, blaming his ex-managers for his $40 million debt and reasserting that he's allowed to spend his money how he pleases. He currently has a lawsuit against his former management firm, The Management Group, accusing them of negligence and fraud. TMG has, expectedly, filed a cross-complaint, alleging that Depp's extravagant lifestyle is to blame for the state of his finances.
And, as if that weren't enough to stress poor Depp out, his ex-wife Amber Heard, 31, has been making headlines for her relationship with billionaire Tesla CEO Elon Musk, which recently became Instagram official.
Our bet? Regardless of why Depp put on a show for Disneyland visitors, it was probably a welcome distraction from everything else going on in his life.