Carmelo Anthony Wants La La Back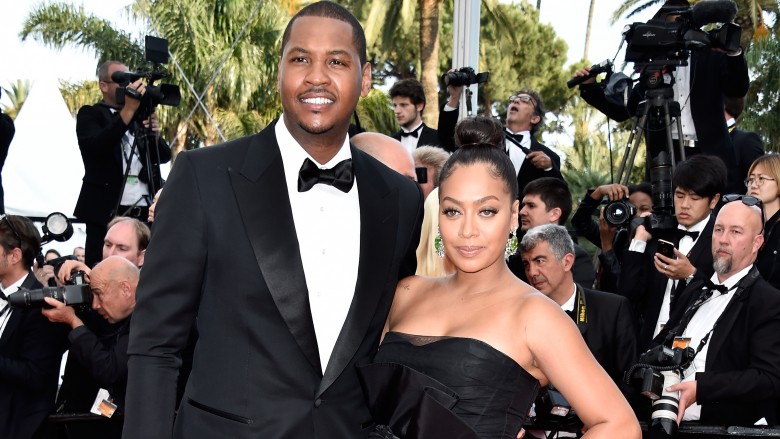 Getty Images
Carmelo Anthony is singing La La's tune again.
As Nicki Swift previously reported, Carmelo, 32, and La La, 37, separated after he reportedly got another woman pregnant during their marriage. The pair had been married for seven years and together for nearly 13, sharing 10-year-old son Kiyan.
Now, TMZ reports that the New York Knick is desperate to get La La back after she kicked him to the curb.
Sources close to the couple told the site that he's been bombarding her with texts, begging for another chance, apologizing, and saying he's still madly in love with her. He's also been on a "like" spree on her social media accounts, which he reportedly has never done before. He's telling those close to him that La La is the only woman on the planet for him and that he doesn't want anyone else ... especially not his alleged baby mama, Mia Angel Burks.
There's no telling how La La has reacted just yet, but it may not be easy to get La La to come back around.
A source previously told E! News, "They are done. He got this woman pregnant. La La was really upset. She knew he was messing around and they had a moment where they were going to call it quits, but Carmelo wanted to save it ... Carmelo did not tell La La [about the pregnancy]. She found out on her own, and at that point it was too late and Carmelo could not dig himself out of it. She still doesn't know the whole truth."
Also questionable may be Carmelo's ability to commit to his promises. An insider previously revealed to Page Six that Carmelo cheated on La La quite a bit during their marriage. "Melo's tagline was 'She's married, I'm not,'" the source said. "That's how he would justify [cheating]. His attitude is that all professional athletes do it, and many of them do. La La has put up with a lot. She knew it was going on, but I guess this time she's had enough."