Carmelo Anthony's Mistress Is Pregnant, But Not A Stripper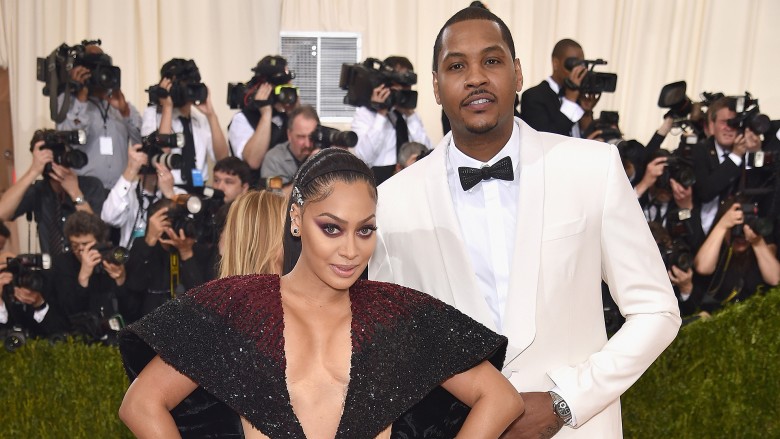 Getty Images
Call it a technical foul.
New reports claim that Carmelo Anthony did get another woman pregnant while married to wife La La Anthony, leading to their separation after seven years of marriage—but that the other woman actually isn't a stripper, as TMZ Sports previously rumored.
The other woman in question is actually a normal young lady from Chicago named Mia Angel Burks. Burks, 24, is reportedly a Northwestern University graduate with a master's degree in health communication.
Burks' identity was revealed when a former pal, Anthony Jacobs, spilled to Chicago radio station WGCI-FM's Morning Takeover, "Mia met Carmelo at Room Seven, a club in Chicago when he was here for the NBA draft doing press. She's not a stripper ... she doesn't know how to get money from guys ... she works in education setting up programs ... I've known that [they've been hooking up] for some months now."
Jacobs added, "Carmelo wasn't taking her serious [sic] to the point where she started to buy her own plane tickets to go see him ... She was more giddy about [the pregnancy and relationship] than anything. When those type of girls talk to those kind of guys, I don't think that's the premise in the back of their head, 'I'm gonna go destroy this happy home.' It's fun. It's perks."
Jacobs' revelation also gives a bit more credence to the careful wording of a source close to Carmelo who previously told Page Six, "The stripper pregnancy rumor is not true. Yes he's not been perfect, but the baby with a stripper isn't true."
A source previously told E! News, "They are done. He got this woman pregnant. La La was really upset. She knew he was messing around and they had a moment where they were going to call it quits, but Carmelo wanted to save it ... Carmelo did not tell La La [about the pregnancy]. She found out on her own, and at that point it was too late and Carmelo could not dig himself out of it. She still doesn't know the whole truth."
What's more, an insider dished to Page Six that Carmelo had been unfaithful to La La more than once—as Jacobs confirmed with his Burks tale. "Melo's tagline was 'She's married, I'm not.' That's how he would justify [cheating]," the insider said. "His attitude is that all professional athletes do it, and many of them do. La La has put up with a lot. She knew it was going on, but I guess this time she's had enough."
Since separating, the pair have agreed that La La will maintain temporary primary custody of their 10-year-old son, Kiyan, in New York. Kiyan will spend "a few days a week" with Carmelo, TMZ Sports reports. Despite the couple's issues with one another, sources told the site that La La is adamant that Carmelo is a good father—but that divorce is absolutely imminent, even though no papers have been officially filed yet.
Bet he's glad he signed that prenup before tying the knot.