Who Is Willie Garson's Son, Nathen?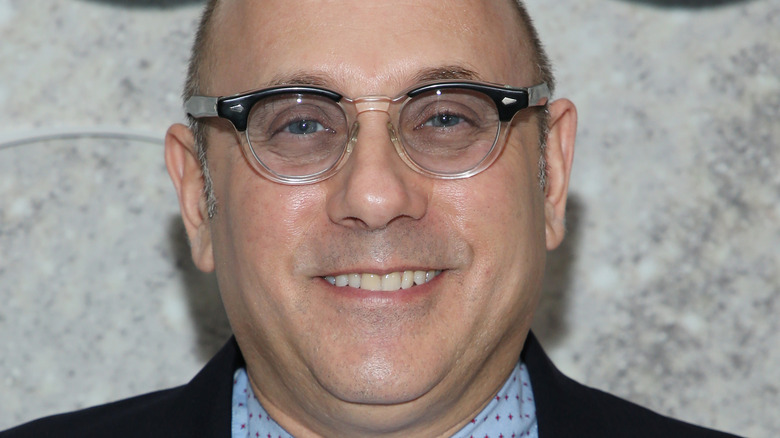 Phillip Faraone/Getty Images
Celebrity tributes have flooded social media since the news broke of Willie Garson's death on September 21. The beloved actor, who famously starred as Carrie's gay best friend Stanford Blatch on the "Sex and the City" series, films and upcoming reboot "And Just Like That..." died from pancreatic cancer, per People. While we've yet to hear from his TV "best-man" and Manolo-donning sidekick Sarah Jessica Parker, his other "SATC" co-stars have already honored him on Twitter. His husband on the show Mario Cantone (Antony Marantino) wrote he was "devastated and just overwhelmed with sadness" to hear of his passing. Meanwhile, Cynthia Nixon (Miranda) said: "We all loved him and adored working with him," and Kim Cattrall (Samantha) — who infamously turned down her role reprisal — called Garson's death "a terribly sad loss to the SATC family." Other messages of condolences include "White Collar" co-star Matt Bomer and "Seinfeld" actor Jason Alexander.
While they all applauded him for being a "delightful actor," Ben Stiller acknowledged his most important role: being a father. "Sending love to @WillieGarson's son Nathen," Stiller tweeted. "Your dad was strong and respected in his community of fellow actors and his philanthropy was constant and committed. I'm grateful I knew him." And it was his son, Nathen Garson, whose endearing Instagram post touched the hearts of "SATC" fans the most.
Nathen Garson wrote he was 'glad you shared your love with me' to his adopted father
Nathen Garson was the only child to a single dad and honored his father and their close relationship after his death. Uploading a number of sentimental pictures of Willie Garson to Instagram, Nathen called him the "toughest and funniest and smartest person I've known." He also wrote: "Rest In Peace and I'm so glad you got to share all your adventures with me and were able to accomplish so much ... I'm glad you shared you're [sic] love with me." 
Willie adopted a seven-year-old Nathen back in 2009. He explained that he "always wanted to have a child" and when he hit his mid-40s he decided to make it happen. "I had a long relationship, off and on, for like 20 years and she never wanted to have a child, which is fine," Willie told Page Six. "And it was like my mid-life crisis, I really wanted a child more than anything else." After doing some charity work for the adoption advocacy group You Gotta Believe, Willie attended an adoption fair and came across Nathen. "When I met Nathen ... I knew I wanted to adopt him, and I told my social worker how special and amazing he was. I quickly found out that seven other families wanted Nathen too." While being a celebrity has its benefits, Willie told Authority Magazine it didn't help his case — but Nathen's social worker was perhaps a "little bit nicer" having seen "Sex and the City." 
Willie Garson previously said that Nathen had only seen 'two episodes' of 'Sex and the City'
While Willie Garson's role of the sassy and sweet Stanford Blatch may have given him some brownie points during adoption, he suggested his son wasn't a "Sex and the City" fan. The actor told Authority Magazine Nathen had only seen "two episodes" of the cult show as he was a little "uncomfortable" with it. "I think my role and the series in general made him uncomfortable because the story lines had to do a lot with sexuality," Willie confided. Nathen has, however, binged "every episode" of "White Collar" and "Hawaii Five-O." But as a 20-year-old college student, Willie expected his views on "Sex and the City" to change, as "I hear the girls watch it."
Nathen currently studies in Ohio and is apparently quite the tennis player, as Willie said he "cannot get a point out of him." Willie glowed, "Nathan plays for his college team he is so good at the sport!" The father has also gushed about his "best friend" on numerous occasions, saying the pair "play a lot of cards" and "watch movies" together. "We do not call it Father/Son night because every night is like that," he explained. And if Nathen's Instagram is anything to go by, he loves to travel and has a heart of gold like his father (and Stanford). One of his posts shows that he had raised funds for AIDS Walk Los Angeles in 2018. We're sure Nathen will continue to make his dad proud.