The Truth About Robin Roberts' Health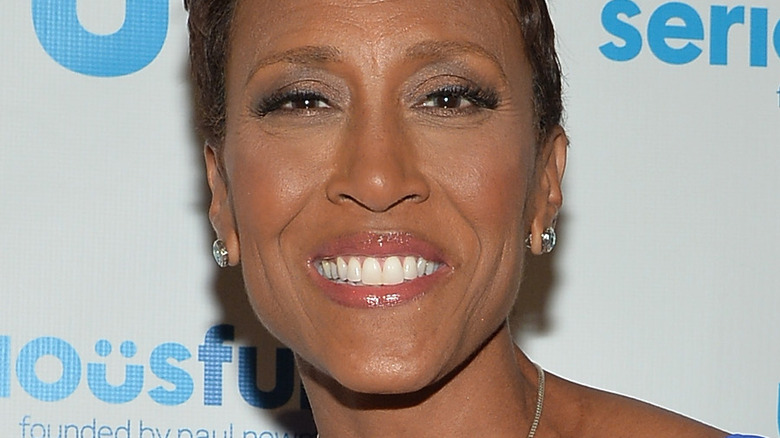 Mike Coppola/Getty Images
Television host and journalist Robin Roberts is celebrating a special day, but it's not what you're thinking. The "Good Morning America" star took to Instagram to celebrate another year passing since her life-changing and life-saving procedure in 2012. The journalist has had quite the health journey, surviving breast cancer in 2007 and a bone-marrow transplant just five years later.
"Quiet dinner at home w/ sweet Amber & @lil_man_lukas to mark 9 years since my bone marrow transplant," wrote Roberts in the caption for a photo of her holding up 9 fingers. "Everybody's got something and I'm hopeful to be a reminder that this too shall pass." The celeb closed out the post with the hashtag #lightlovepowerpresence and was met with the same level of support she received the first day she revealed to the world she had a blood disorder called myelodysplastic syndrome.
Looking back at the anchor's journey, Robert's health coincided with some career highs, and her anniversary celebration comes with memories of the love she got the day of her surgery.
Robin Roberts' sister saved her life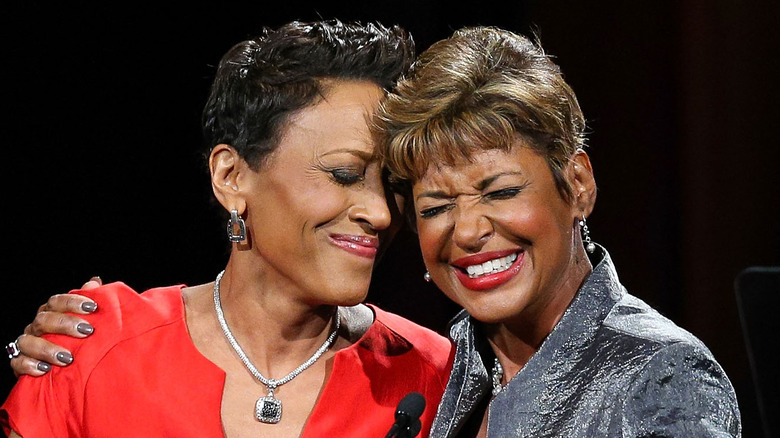 Imeh Akpanudosen/Getty Images
Although Robin Roberts chose to spend the ninth anniversary since the bone marrow transplant that saved her life with her partner, Amber Laign, the "Good Morning America" host has her sister to thank for granting her another year around the sun. Appearing on "Rachael Ray" around the anniversary, Roberts came to tears thinking back at her sister Sally-Ann's discovery that she was a match for the bone marrow transplant back in 2012.
"My doctor told me I had a year or two to live if I didn't have a successful transplant," said Roberts. "It came down to my sister Sally-Ann." The journalist went on to reveal details behind the moment she called her sister to tell her the good news, and how finding a match was a moment of "exhale" for the star. "I got a chance," thought Roberts. "I remember calling my sister because then I had to say to her, 'You are a match. Do you want to go through with this?' Because sometimes, people will put themselves on the list and say they want to be a donor, and then it gets to that point and they have second thoughts." The TV anchor continued, "My sister said, 'Not only is this something I want to do, I feel I was born to be [your donor].'"
The memory of that moment has stuck with Roberts for years, with the celeb opting for positivity each year she is given that "chance."
Robin Roberts celebrates her surgery anniversary every year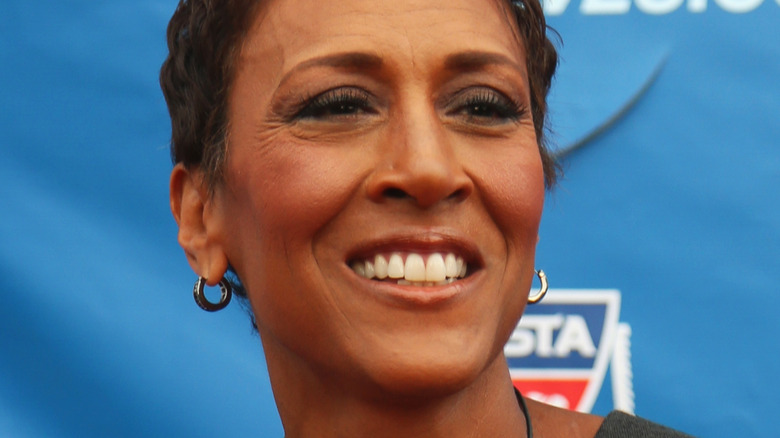 Leonard Zhukovsky/Shutterstock
Fans of "Good Morning America" host Robin Roberts may remember the day the star broke the news to the public that she had myelodysplastic syndrome. For Roberts, the diagnosis came just as her hit morning show beat competitor "Today" for the first time in 16 years.
"[Five] years ago I beat breast cancer. I've always been a fighter, and with all of your prayers and support, a winner," wrote Roberts in a June 2012 ABC News op-ed. "Sometimes the treatment for cancer can cause other serious medical problems. Today, I want to let you know that I've been diagnosed with MDS or myelodysplastic syndrome. It's a disease of the blood and bone marrow and was once known as preleukemia. My doctors tell me I'm going to beat this — and I know it's true."
It was indeed true for Roberts, who took "GMA" viewers behind the scenes of her surgery day with a video message telling fans, "This journey is as much about the mind as it is the body" (via E! News). The journalist added, "Thoughts are so powerful. You've got to change the way you think in order to change the way you feel. And let me just say this lastly, I feel the love and I thank you for it."
Roberts thanks friends and family each year on the anniversary of her transplant, noting in 2018 how the surgery was a "rebirth" and how she "chose to thrive, not just survive."