This Is Why Stevie Nicks Doesn't Have Any Children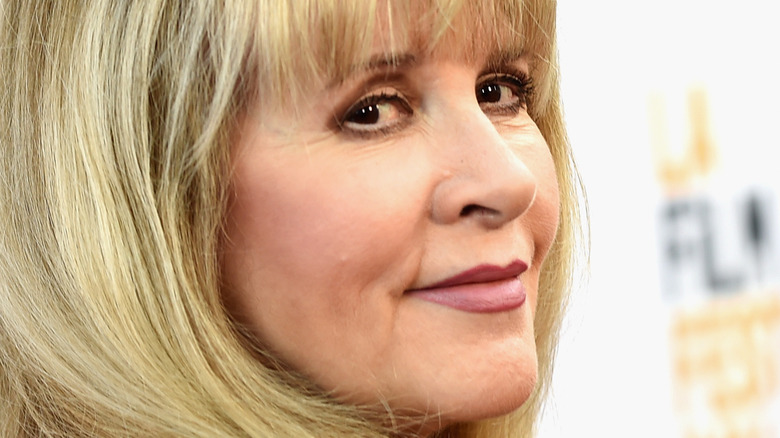 Kevin Winter/Getty Images
Stevie Nicks is a living legend in the rock world — and the music industry in general. Since the 1970s, she has enjoyed an incredibly successful music career with her band, Fleetwood Mac. But the two-time Grammy Award winner has made sacrifices to get to where she is today, and that includes deciding to not have her own children. While she calls herself the "Rock and Roll Mama," per her close friend, Dixie Chicks singer Natalie Maines, being a mom wasn't in the cards for Nicks. Instead, she is an honorary mother to female musicians everywhere.
"She's a mom to all women in music," Maines told InStyle of Nicks. As the only woman who has been inducted to the Hall of Fame twice, Nicks told CBS (via NME) that she feels she "broke a big rock 'n' roll glass ceiling." The singer added how difficult it was to achieve such a feat: "It's 22 men that are in twice for their solo work and being in a big band and no women," she said.
When she joined Fleetwood Mac with fellow female musician Christine McVie, they made a pact that they would fight for women in music. "We just made that promise to each other that we would do everything we could do for women, that we would fight for everything that we wanted and get it," she told Rolling Stone in 2019. Part of that fight, though, meant not having a family. Here's why Stevie Nicks doesn't have any children.
Stevie Nicks made the conscious choice not to have children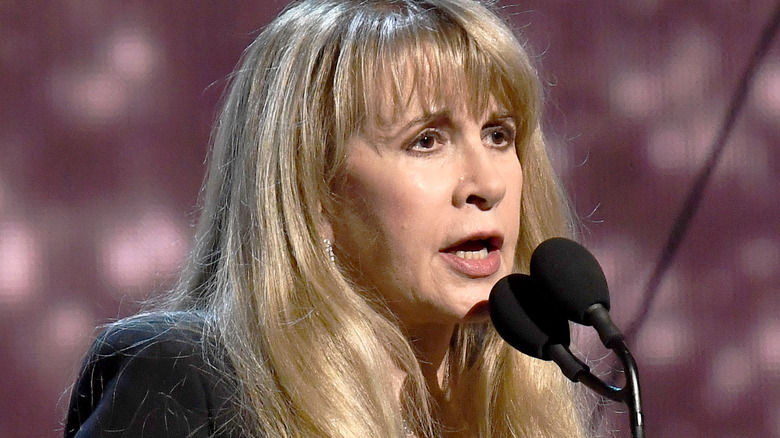 Dimitrios Kambouris/Getty Images
Stevie Nicks' passion for her craft is nothing but admirable. But it's also the reason why she didn't have a traditional family. According to Natalie Maines in her 2002 interview with InStyle, music is the love of Nicks' life and that meant letting go of everything else and focusing on it alone.
"It's like, do you want to be an artist and a writer, or a wife and a lover? With kids, your focus changes. I don't want to go to PTA meetings," Nicks told InStyle. She also added that dating hasn't exactly been the easiest thing in the world for her. "You know, that black limousine drives up and I get in and I go away," she shared. "There are very few men who don't get that glowy look, who can rise above the rock star thing and go, 'I'm not going to look at her as Stevie Nicks, but instead as a nice woman.'" Still, this didn't stop her from believing that love is out there. "I still believe in love. You never know when it is going to walk through your door."
While Nicks admitted she didn't want to add the stereotypical list of things as a mom to elementary-aged kids to her to-do list, she also revealed that she didn't believe she could be the artist that she is if she had kids. Read on to find out more.
Stevie Nicks said having kids would have severely impacted Fleetwood Mac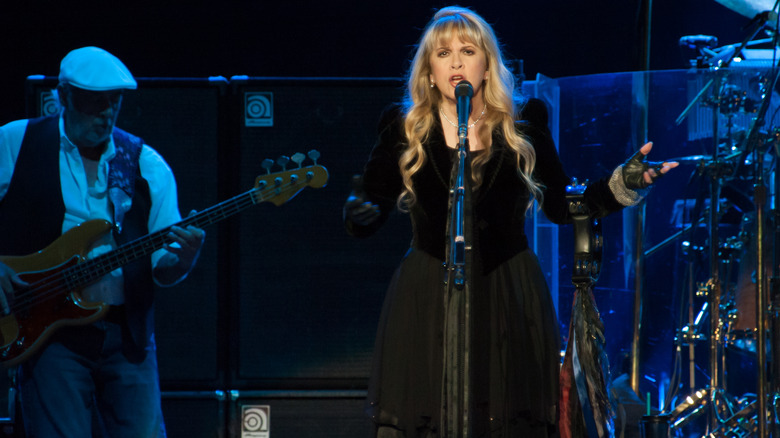 Randy Miramontez/Shutterstock
In October 2020, right after U.S. Supreme Court Justice Ruth Bader Ginsburg died, Stevie Nicks opened up about a past pregnancy she had. Ginsburg was one of her heroes, largely in part because of her work in protecting women's abortion rights. In an interview with The Guardian, Nicks made the revelation that if she hadn't chosen to have an abortion back then, Fleetwood Mac may not have been as successful as it was.
In 1979, back in the band's heyday, Nicks terminated a pregnancy when she was dating Eagles frontman Don Henley. She was glad that she even had that choice. "If I had not had that abortion, I'm pretty sure there would have been no Fleetwood Mac. There's just no way that I could have had a child then, working as hard as we worked constantly. And there were a lot of drugs," she divulged.
Ultimately, she had to make decision: to be a mother and raise a family or fulfill her mission of bringing joy to people around the world with her music. She chose the latter. "I knew that the music we were going to bring to the world was going to heal so many people's hearts and make people so happy," Nicks continued. "And I thought: you know what? That's really important. There's not another band in the world that has two lead women singers, two lead women writers. That was my world's mission."