The Real Reason Prince William Hated Living With Harry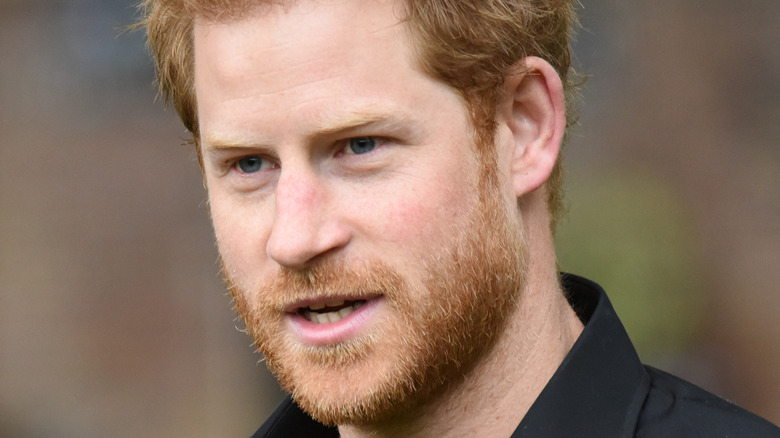 Bart Lenoir/Shutterstock
We may receive a commission on purchases made from links.
The relationship between Prince William and Prince Harry has been consistently making headlines ever since 2018 when the two brothers reportedly began to drift apart over the British royal family's efforts (or lack thereof) to make Meghan Markle feel included, per Cosmopolitan. Things have reportedly only gone downhill since the 2018 Christmas video that showed William intensely adjusting his scarf while Duchess Meghan apparently attempted to engage him in conversation. That particular incident has become popularly known as the time the Duke of Cambridge "scarfed" Meghan.
In the following years, William and Harry attended several public events in which they allegedly refrained from even addressing each other, with the 2019 Easter service being a prime example, as People noted. Harry appeared to confirm some "stuff" happened between him and William in the ITV documentary about his and Meghan's 2019 trip to Africa. "Part of this role and part of this job and this family being under the pressure that it's under, inevitably stuff happens," he said at the time, adding, "We're certainly on different paths at the moment ... We don't see each other as much as we used to because we're so busy, but I love him dearly. The majority of stuff is created out of nothing, but as brothers, you have good days, you have bad days."
But nearly a decade before their supposed royal feud even began, the brothers had already gone through an interesting experience while living together. Keep reading to learn why Harry and William vowed to never do it again.
Prince William and Prince Harry lived together in 2009 during their helicopter training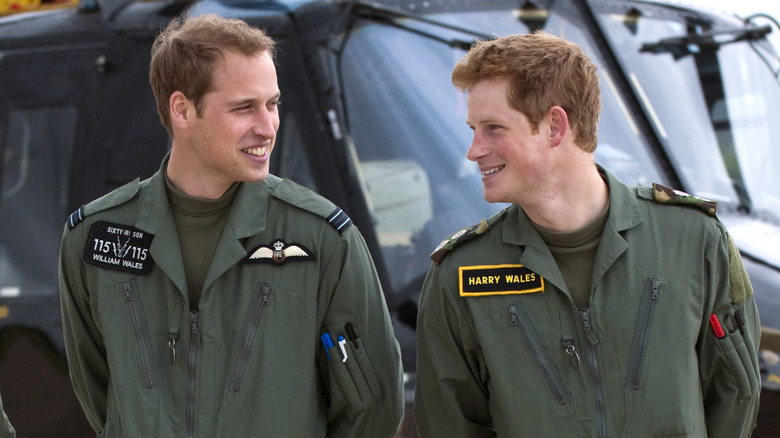 Antony Jones/Getty Images
In 2009, Prince Harry joined his older brother at RAF Shawbury for Defense Helicopter Flying School, per the royal family's official website. In June of that year, Prince William, then 27, and Harry, then 25, gave a rare joint interview to the BBC in which they discussed their living arrangements. "First time, last time we'll be living together. I assure you of that," Harry told the reporter, jokingly. 
William pretty much echoed his brother's sentiment. "It's been a fairly emotional experience," William quipped. The second-in-line to the throne went on to claim he was the one doing all the chores around their shared home. "Bearing in mind I cook — I feed him every day — I think he's done very well," the older brother said, words that royal biographer Robert Lacey noted in his 2020 book, "Battle of Brothers," were said "jokingly — or half-jokingly," according to the Mirror. William added that even though Harry was supposed to wash the dishes, the younger brother "leaves most of it in the sink and then he comes back in the morning and I have to wash it up," he said, to which Harry replied, laughing, "Oh, the lies."
William also noted that Harry is a snorer, adding that it disturbs his sleep. At this point, Harry jumped in to tease his brother for making it sound like they were sleeping together. "People will start thinking we're sharing a bed," Harry joked.
Before their fallout, Prince William often teased Harry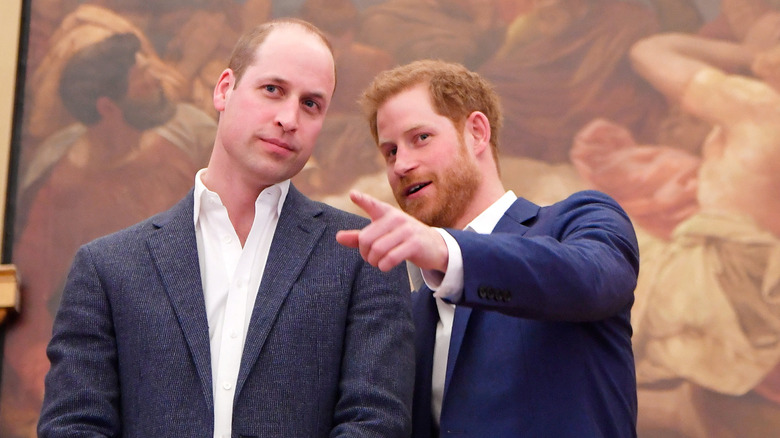 Wpa Pool/Getty Images
Up until the royal wedding of Prince Harry to Meghan Markle in May 2018, Harry continued to be close with William, who often teased him in a brotherly manner. In November 2017, when Harry and Meghan announced their engagement, Prince William joked that he hoped Harry would finally stop eating his food. "For me personally, I hope it means he stays out of my fridge and will stop him scrounging my food, which he's done for the last few years," William told a reporter in a clip shared by the Duke and Duchess of Cambridge on Twitter.
Despite his teasing, William also opened up about how close he felt to Harry and why they really bonded. "My brother and I's relationship is closer than it's been because of the situations we've been through. Losing our mother at a young age has kind of helped us sort of travel through that difficult patch together," he said in 2018, according to ABC News
Even if they had always counted on each other, the brothers spent much of their late adolescence and early adulthood apart. "We never really spend any time together as we have both got separate jobs going on at the moment. So it is going to be great fun," Harry said in 2008 about joining William for a charity motorbike trek in South Africa, per the Daily Mail. They've had ups and downs, but roommates? Probably never again.