Did Prince William Really Say This About Meghan Markle?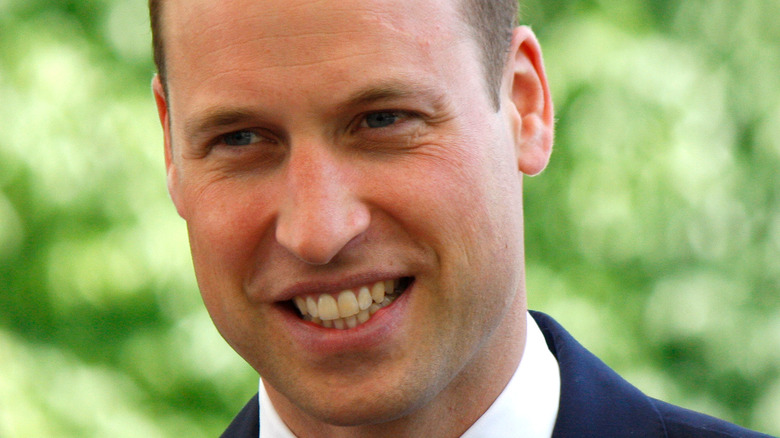 Shutterstock
We may receive a commission on purchases made from links.
Royal expert Robert Lacey wrote a column for the Daily Mail that has raised a few eyebrows. The author of "Battle of Brothers: William and Harry – The Inside Story of a Family in Tumult" promoted his book about Prince William and Prince Harry's feud as the brothers prepare to honor Princess Diana on July 1, 2021. But Lacey's latest reveal shocked royal watchers because of something that William supposedly said about his sister-in-law Meghan Markle.
In his Daily Mail column, Lacey revealed more about Prince William and Prince Harry's group of friends who make up their support system outside the royal family. Lacey claims the brothers shared many of the same close friends. The royal biographer described the friend group as a "discreet but concerned support system is made up of a blend of schoolmates, playmates, fellow revellers at 'Club H' (the brothers' discotheque in the basement at Highgrove), companions from the Armed forces, royal mentors and aides."
According to Lacey, William and Harry's close friends "have despaired about the continued animosity" between the famous brothers. However, there is a tiny ray of hope in the supposed feud between the royal brothers because the brothers' circle of friends did not take sides. The royal biographer said the tight-knit group of friends sees both sides of William and Harry's argument; they understand William's support of the British monarchy and they also understand Harry's support for his wife.
Despite that glimmer of hope, things don't seem to be all rainbows and sunshine. Keep reading to learn what Prince William reportedly said about his sister-in-law Meghan — and buckle up, because it's surprising.
Prince William reportedly slammed Meghan Markle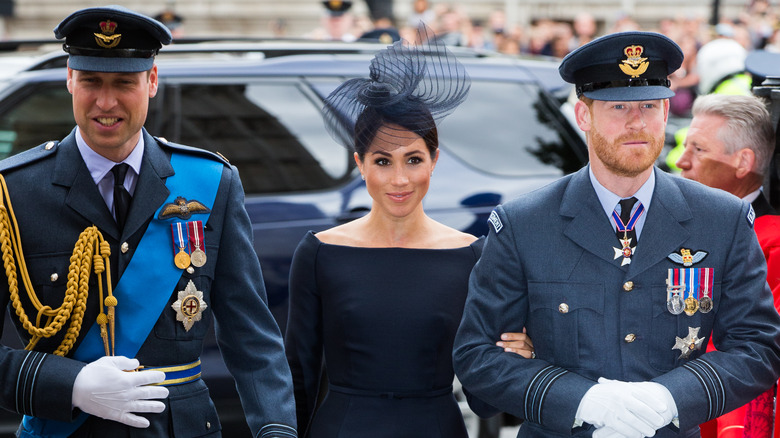 Anwar Hussein/Getty Images
According to Robert Lacey's column in the Daily Mail published on June 25, Prince William went off about Meghan Markle when his friends told him that many people have a sister-in-law problem. Lacey claims that William said, "The way that bloody woman treated my staff was merciless!" William was apparently "enraged" when he learned of bullying allegations from his staff. But William calling Meghan "that bloody woman" seems surprising and does not exactly bode well for a reconciliation between the royal brothers.
As Lacey wrote about the close friend group Harry and William share, some revealed, "'Meghan can be a 500 percent nightmare,' some close friends of Harry are among the first to admit. 'The never-ending PR. She's just so ... American!'" Lacey also reported that their friends understand why "the bizarre combination of self-promotion and self-pity that characterizes Meghan" upsets William. But Lacey says the friends "are willing to concede the jealousy the Cambridges once felt at being overshadowed by the megawatt younger brother and his wife."
Lacey claims that Harry and William's friends have urged the brothers to compromise, and says the younger brother has earned the nickname "Homesick Harry" because he has been calling the U.K., upset over the fallout from his recent remarks about Prince Charles. As a quick refresher, Harry spoke about his strained relationship with Prince Charles on Dax Shepard's "The Armchair Expert" podcast in mid-May. He didn't paint his father in the best light, saying his wished to "break that cycle" of "genetic pain and suffering" in his own parenting.
When Charles was asked about Harry's comments, he reportedly ignored the question. Sounds like a tense time all around for the royal family's men, huh?