The Real Reason Prince Harry And Meghan Markle Are Taping Their NYC Trip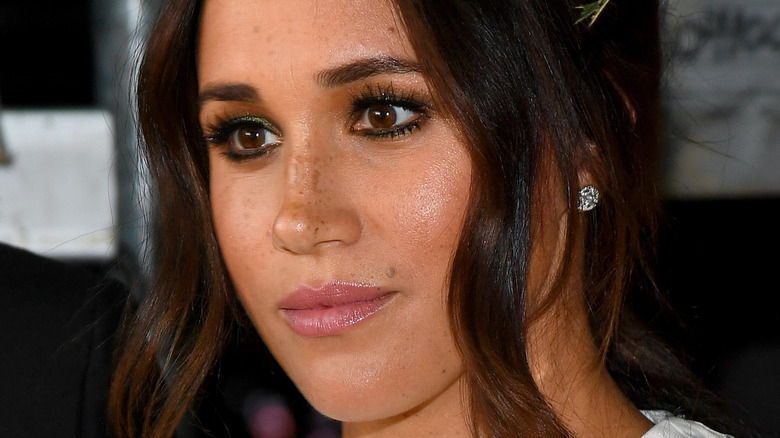 Kevin Mazur/Getty Images
Prince Harry and Meghan Markle seemed very happy when they appeared at the New York event for Global Citizen Live at the Great Lawn in Central Park. The couple spent a week in NYC that culminated in a joint appeal for a worthy cause. Their invigorating speech urged world pharmaceutical giants and global leaders to consider the COVID-19 vaccines as "basic human rights," per Harper's Bazaar. 
The Duchess of Sussex stated, "Every single person on this planet has a fundamental right to get this vaccine. That's the point. But that's not happening. And while in this country and many others you can go almost anywhere and get vaccinated, billions of people around the world cannot." The duke added that many countries have the capacity to manufacture the vaccine, but were unable to do so "because ultra wealthy pharmaceutical companies are not sharing the recipes to make them." He continued, "All they are waiting for is the vaccine intellectual property to be waived and for the vaccine technology to be transferred over."
Meghan reminded the audience of the "millions of vaccines that have been discarded this year. That's like throwing away life vests, when those around you are drowning." Harry concluded their speech by getting personal: "My wife and I believe that where you're born should not dictate your ability to survive." While the Global Citizen event was certainly the focus of their trip, there may be another reason they reportedly taped their trip to the Big Apple. Here's why.
Prince Harry and Meghan Markle are on their own mission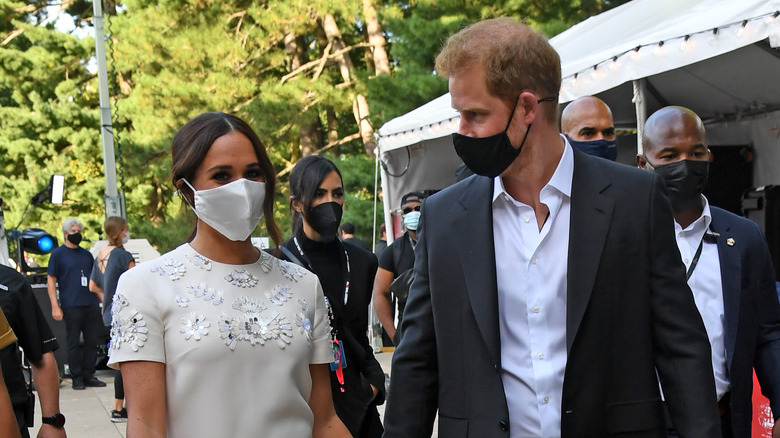 Kevin Mazur/Getty Images
Prince Harry and Meghan Markle visited New York without their small children in late September. This is also the couple's first public appearance together after the birth of Lilibet Diana in June. Us Weekly reported that the Duke and Duchess of Sussex used their time to promote some charities. Among others, they visited the One World Trade Center observatory, the 9/11 Museum and memorial, as well as the P.S. 123 Mahalia Jackson School in Harlem. They even took some time to relax, per Page Six. Harry and Meghan were spotted out on a double date at the Bemelmans Bar in the Carlyle Hotel. Apparently, Meghan did most of the talking with Harry pulling out his phone at some point during the conversation.
But Page Six reported that the couple has been traipsing around New York with a videographer and their own photographer, Matt Sayles. Apparently, Harry and Meghan are collecting footage for a behind-the-scenes documentary about their lives. Remember that multi-million-dollar Netflix deal the couple signed in 2020? It seems as if Archewell Productions may be gearing up to make the long-awaited doc. The outlet reports that Harry was wearing a mic on numerous occasions including on a trip to Harlem's legendary soul food restaurant Melba Friday, where he hugged owner Melba Wilson. It seems as if the New York trip may have served two purposes. Either way, we get to see more of the iconic couple.