What's Really Going On With Angelina Jolie And The Weeknd?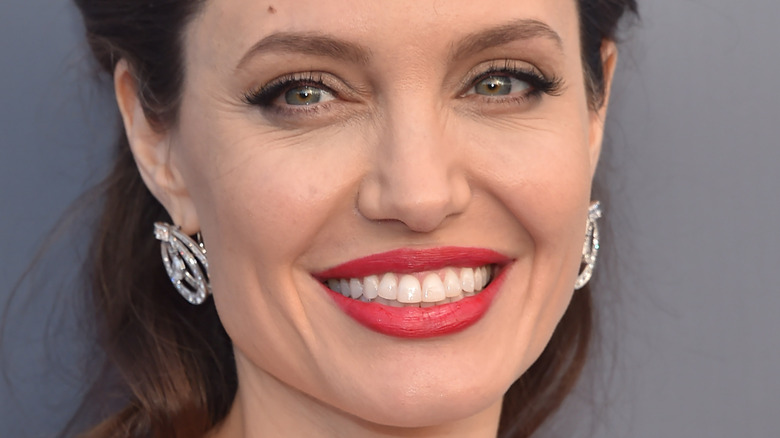 DFree/Shutterstock
The Weeknd and Angelina Jolie exist in different spheres within the entertainment universe, but they have something in common when it comes to their love lives: They both seem drawn to other celebrities, and they have both reconnected with exes.
The Weeknd has been in relationships with a few famous women. In 2015, the "Blinding Lights" singer was presumably blinded by the beauty of model Bella Hadid after spending time with her at Coachella. The couple dated until November 2016, per People. His next romantic move raised a lot of eyebrows. For 10 months, he dated Selena Gomez, who had hung out with Hadid before. (Awkward!) After he and Gomez broke up, Hadid seemingly forgave him for dating an acquaintance of hers, because they gave their romance a second chance in 2017. Insiders told E! News that their busy schedules were to blame when they called it quits again one year later.
As for Jolie, she's been married to fellow actors Jonny Lee Miller, Billy Bob Thornton, and Brad Pitt. All three relationships ended in divorce, and she and Pitt became embroiled in an ugly custody battle. She has not had the nicest things to say about the father of her six children, but she and Miller remained on such good terms that she was spotted visiting his apartment in New York in June. An insider told The Sun that "she wanted to spend some time reconnecting" with her ex, but she's also been seen spending time with The Weeknd.
Why The Weeknd and Angelina Jolie are sparking dating rumors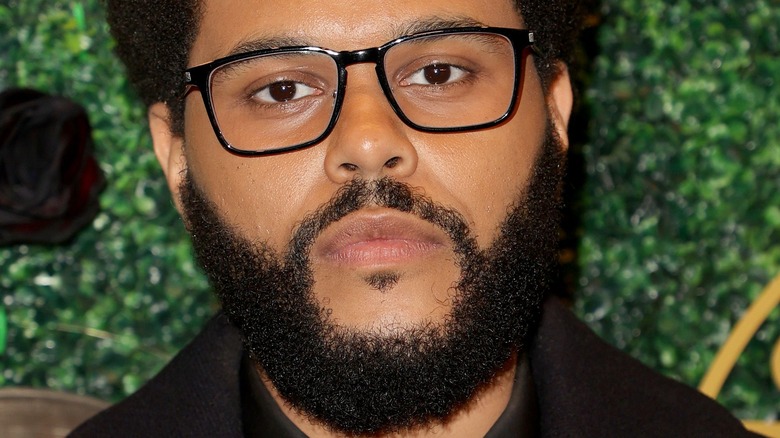 Kevin Winter/Getty Images
Ladies and gentlemen, The Weeknd and Angelina Jolie have been spied together on multiple different occasions, and their latest outing reportedly ended with a trip back to the "Starboy" singer's mansion in Bel Air. According to the Daily Mail, they kicked off their Saturday night at Giorgio Baldi in Santa Monica. They arrived at the swanky Italian restaurant separately, but left together in The Weeknd's SUV after spending over two hours in a private section of the establishment. Photos showed the pair strolling down the sidewalk in coordinating all-black ensembles, including matching face masks.
The Weeknd walked in front of Jolie and they both kept their hands in their pockets, so their body language didn't exactly scream that they were a couple. However, the amount of time they've spent together is beginning to make fans wonder about the nature of their relationship. After all, The Weeknd did mention Jolie in "Party Monster," the 2016 single that also seems to include a reference to Selena Gomez. "Angelina, lips like Angelina / like Selena, a** shaped like Selena," he sang before going public with Gomez. (Maybe he's a lyrical clairvoyant when it comes to his love life?)
The Weeknd and Jolie were first seen dining together at Giorgio Baldi in late June. At the time, Page Six reported their relationship might be purely professional. "They're clearly not trying to hide," an insider said. "He's definitely focused on getting to the movie business."
One of The Weeknd's ex-girlfriends has a crush on Brad Pitt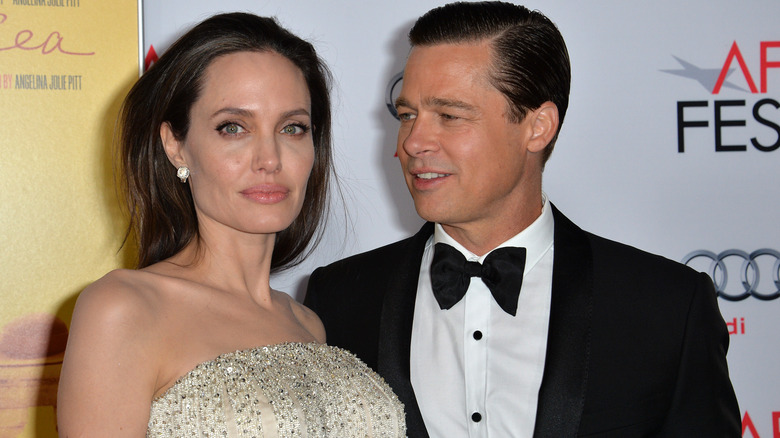 Jaguar PS/Shutterstock
It's no secret that The Weeknd's ex Selena Gomez is a huge fan of Brad Pitt. In 2013, she met Angelina Jolie's then-husband at the MTV Movie Awards, where Pitt actually asked if he could meet her in her dressing room. "As soon as he walked out, I ran and I hid under the craft services table for like two minutes because I couldn't believe it was happening," Gomez recalled on "The Ellen DeGeneres Show."
Gomez actually got to work with Pitt when she made a cameo in his 2015 movie "The Big Short" and photos of the two celebs hanging out at the 2016 Golden Globes sparked rumors that Jolie flew into a jealous rage after she saw them together. "Angie blew a gasket when she saw Selena's Instagram, and heard through friends about how Brad and Selena flirted so shamelessly," a source told The National Enquirer, via the Daily Mail. "Selena is going around jokingly calling Brad 'my future husband,' and Angie is obviously none too pleased." 
However, according to Jolie, her focus was on her kids — not other women — when she and Pitt started their messy divorce process in 2016. "I separated for the wellbeing of my family," she said during a 2020 Vogue interview. An insider told Radar Online that Jolie's "kids are huge fans" of The Weeknd, so if he is romantically interested in the actor, he's already scored some major points there.