Teen Mom: The Truth About Maci Bookout's PTSD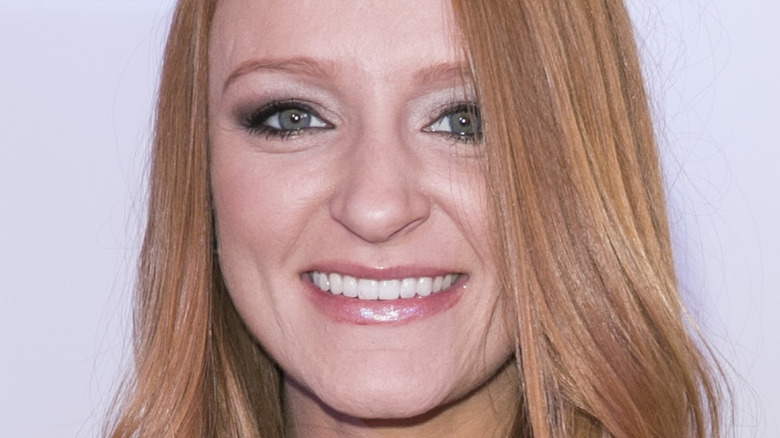 John Phillips/Getty Images
"Teen Mom OG" star Maci Bookout has matured so much in the decade since she first made her television debut. The reality star with the gentle temperament has had quite the journey ever since she first made her appearance on "16 and Pregnant."
At the time, she was only a junior in high school when she fell pregnant with Ryan Edwards' baby. Per People, she was a "total overachiever" before her life changed, and she gave birth to Bentley Cadence in 2008. The couple's romance came to a screeching halt in 2010, and they have struggled in their co-parenting relationship since then. Later, she met and married Taylor McKinney, the father of her two youngest children, who has been by her side since 2012.
Taylor has also supported Maci through one of the biggest challenges of her life. In 2020, she had a traumatic experience and he has stood by her as she has tried to process everything that has happened. Maci broke down in an episode of "Teen Mom" while she described what went down in October of last year. Here's why Maci is seeing a therapist to deal with PTSD, and here's why Taylor is stepping up in his role as husband and protector. 
Maci Bookout witnessed a fatal shooting
According to WRCBtv.com, the facts of the case are dramatic. Police officers responded to a motor vehicle accident when a person ran away from the scene. Brandon Davis fled to a gas station, where all hell broke loose. The 27-year-old allegedly drew a gun and fired three shots at a policeman. The officer then took action and purportedly returned fire, fatally wounding Davis. Nobody else was injured at the scene, at least physically.
Coincidentally, at the time of the shooting incident, Maci Bookout was shooting footage for "Teen Mom OG," per HITC. On her way to pick up her son Bentley, she stopped at a gas station. Upon hearing the gunshots, the mom-of-three ran to the bathroom because she thought she would be safer there. In the "Teen Mom" video clip, she said, "I didn't think I was gonna survive," explaining the reason she decided to call her husband Taylor McKinney rather than 911. She continued, "I literally thought I was going to die." Taylor wasted no time and rushed to the gas station where the shooting had taken place. He asked the producers to stop filming because of the trauma Maci was going through.
Even though it has been more than a year since the incident, Maci still is experiencing the effects of that fateful night. She suffers from PTSD and is seeking professional help. Here's what she has said about her mental health since then.
Maci Bookout faces her fears with Taylor McKinney by her side
In an episode of "Teem Mom OG," Maci Bookout explains how her life has changed since a gas station shooting in October 2020. In a video clip confessional, she becomes tearful as she talks about her PTSD. Maci shared that she still has nightmares three to four times a week after the incident, and that she is triggered by certain things such as tiled floors. She also has not been able to fill up her own car at the gas station. Her husband Taylor McKinney has taken over the small task for her. 
Per Pop Culture, Maci told her therapist about her anxiety about gas stations. The professional counseled Maci not to force herself to do anything that she wasn't comfortable with and told her to only go to a gas station if she wanted to. After discussing it with Taylor, Maci decided she wanted to confront her fears. At a later date, she and her husband decided to visit a gas station. Maci was driving the car as Taylor sat next to her and tried to soothe her the closer they got to their destination. The reality star became visibly agitated as they approached the gas station. 
It seems as if Maci is still dealing with the events of the shooting. Luckily, Taylor is stepping up and supporting his wife every step of the way. 
If you or someone you know is struggling with mental health, please contact the Crisis Text Line by texting HOME to 741741, call the National Alliance on Mental Illness helpline at 1-800-950-NAMI (6264), or visit the National Institute of Mental Health website.