The Truth About Liz And Mary Cheney's Relationship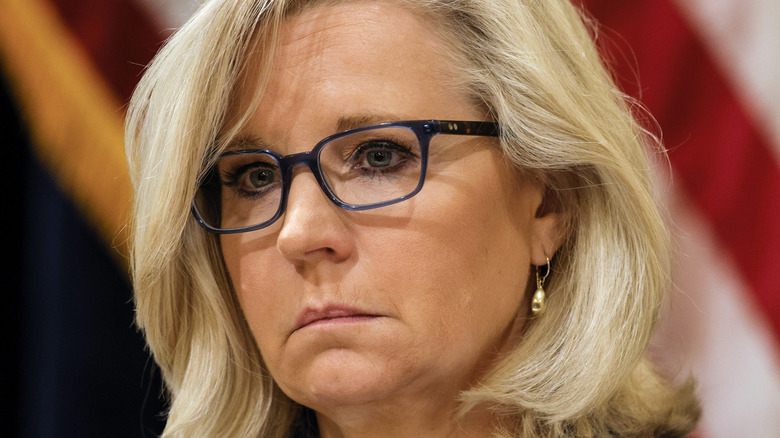 Pool/Getty Images
Liz Cheney, the daughter of former Vice President Dick Cheney and a current member of Congress, may be one of the Democrats' favorite Republicans these days, as she is one of the few Conservatives in government who voted to impeach former President Donald Trump. But it wasn't long ago when she was viewed with, let's say, extreme suspicion by many liberals in the country. One reason she wasn't perhaps a fan-favorite with people whose politics lean left was her stance on gay marriage and LGBTQ+ rights (via USA Today) — especially considering the fact that her sister, Mary Cheney, is gay herself.
However the rest of the country felt about Liz and her dad's anti-LGBTQ+ stances over the years, it's a bit more complicated when it comes to family. Now that Liz has become an unlikely left-wing ally, have her views on LGBTQ+ rights evolved? And where does her relationship with her sister stand today? If we're honest, it would seem pretty fair if Mary didn't feel quite as forgiving of her sister as the Democratic party. But read on to see what's new. Because there's a lot.
Liz Cheney's anti-marriage equality stance once caused tension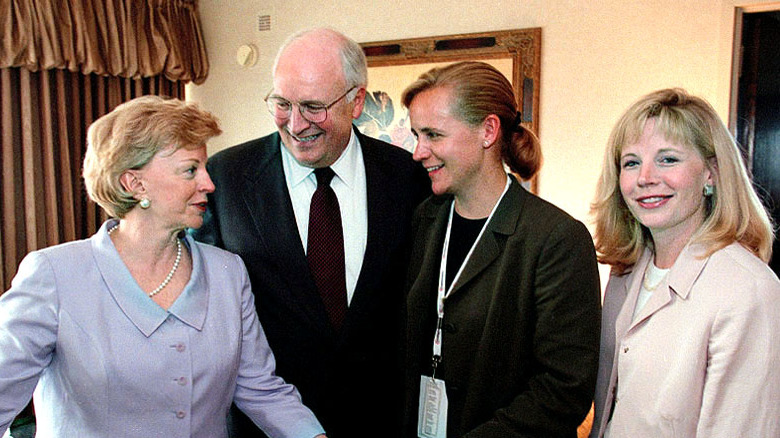 David Hume Kennerly/Getty Images
Back when Dick Cheney was still Vice President, it didn't seem like the politician's opposition to gay marriage caused any major family tensions (at least publicly), even though one of his daughters, Mary, was openly gay. And in her 2006 memoir, per People, Mary wrote that she and her sister Liz had always been "as close as sisters could be." That changed in 2013 when Liz was running for Senator in Wyoming. Responding to an attack ad that said she was "aggressively" promoting gay marriage, Liz said, "I am strongly pro-life and I am not pro-gay marriage," (via The Hill) and said on a Fox News interview around the same time, per People, "I love Mary very much, I love her family very much. This is just an issue on which we disagree."
But Mary wasn't having it, and responded on Facebook, via People, "Liz — this isn't just an issue on which we disagree, you're just wrong — and on the wrong side of history." Mary's wife, Heather Poe, also expressed a sense of betrayal, writing on Facebook (via Town & Country), "I can't help but wonder how Liz would feel if, as she moved from state to state, she discovered that her family was protected in one but not the other." The sisters apparently hadn't spoken in months, and Liz hadn't even attended Mary's wedding.
So where do things stand now? Let's just say times have changed.
Liz and Mary Cheney seem to have mended fences based on Liz's change of heart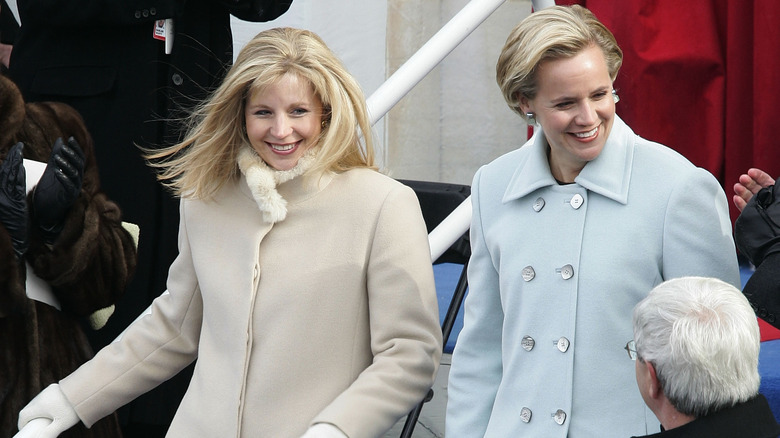 Alex Wong/Getty Images
It looks like Liz Cheney has had something of a change of heart, going by a "60 Minutes" interview she did with Leslie Stahl on September 26. "I love my sister very much. I love her family very much. And I was wrong," she said (via People). "It's a very personal issue, and very personal for my family. I believe that my dad was right, and my sister and I have had that conversation."
Well, well, well! We love a happy ending, and going by Mary's response, this is pretty legit. "I love my sister very much and am so proud of her. It took a ton of courage to admit that she was wrong back in 2013 when she opposed marriage equality," Mary wrote in a new Facebook post on September 26. "That is something few politicians would ever do. I have nothing but respect and admiration for the strength of character she continues to show on a daily basis." And because sisters will be sisters, she added cheekily, "And as her sister — I have one more thing that I just have to say: I told you so."
Whoever their family counselor is, maybe send their number to Prince Harry and Prince William to help them work out their issues, too.