How Much Money Did Sutton Stracke Get In Her Divorce Settlement?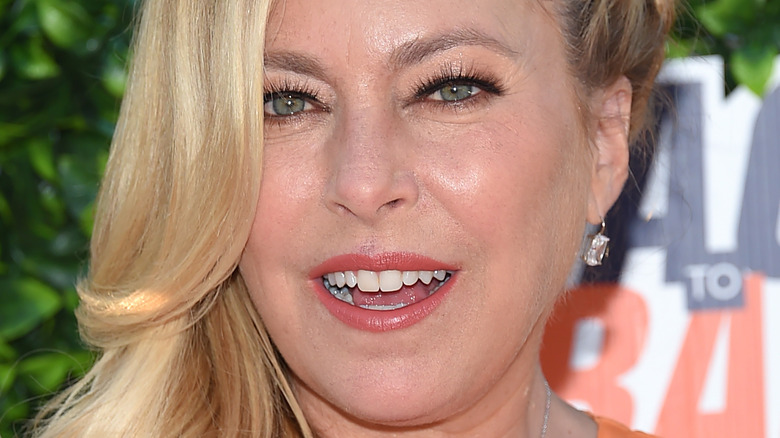 DFree/Shutterstock
"Real Housewives of Beverly Hills" star Sutton Stracke may hail from a small town (as disgraced housewife Erika Girardi all too eagerly pointed out during a nasty "Housewives" squabble), but make no mistake about it: Her pockets are large! Never forget those $2,000 fuzzy slippers she casually strolled around in during a cast trip to Lake Tahoe. Alas, we digress...
Sutton first burst on to the "Housewives" scene during Season 10 of the popular franchise as a divorcée with the world at her fingertips. But now that some deets surrounding her divorce and the windfall she reportedly received after it was all said and done have come to light, it looks like her future is even brighter — or at least greener — than before. 
But just how much did the Augusta, Georgia native receive from her high profile split from Thibeault "Christian" Stracke? Keep reading after the jump to find out.
Sutton Stracke reportedly won big in her divorce settlement
In the famous words of OG Atlanta housewife Nene Leakes, Sutton Stracke is "very rich." 
During her inaugural season on "Real Housewives of Beverly Hills" in 2020, Sutton famously announced that she was blindsided when her husband filed for divorce a few years prior. "I had a birthday party, a dinner, and he came," Sutton recalled about the heartbreaking ordeal, per Reality Tea. "I had no idea he filed and then the next day, he called me. He was flying to Florida and he said, 'You need to get an attorney.'" YIKES. Still, we think it's probably safe to say that the amount she was eventually awarded in spousal support alone probably helped to soften the blow just a bit. 
In a bombshell revelatory post by an investigative fan account for Bravo, it was reported that Sutton Stracke walked away with a staggering $300,000 in spousal support each month, $1,235,000 in cash, the couple's Los Angeles home, their Augusta home, and an apartment in Venice, Italy. But that's only the tip of the iceberg. She also allegedly pocketed a couple of vehicles, a Vespa, partial ownership of two minor league baseball teams, a 44% stake in a lumber company, countless investment shares, and the AMEX reward points. Hey, she earned those points fair and square!
The masses are stunned at Sutton Stracke's alleged divorce settlement deets
Shortly after the alleged details surrounding Sutton Stracke's high-profile divorce surfaced, many were left gobsmacked trying to fathom that kind of money. 
"Wow. With that amount of cash coming in, she would have to literally burn cash to ever be broke," one user wrote on a Reddit thread cleverly titled, "Sutton's Fortune." Another couldn't help but do the math and reference Erika Girardi's penchant for what some might consider excessive and frivolous spending, writing, "That's 7.5 Erika Jayne glam squads!" Another user simply nodded to all of the investment shares Sutton walked away with. "Sutton is fast asleep right now making money," they wrote. 
It should be noted, however, that neither Sutton nor her former husband have confirmed or denied the alleged divorce settlement deets that are currently circulating the internet like wildfire. If you need us, we'll be doing the math on just how many more six-figure Bentleys Sutton can buy with all that wealth!