Inside Alan Jackson's Heartbreaking Health Diagnosis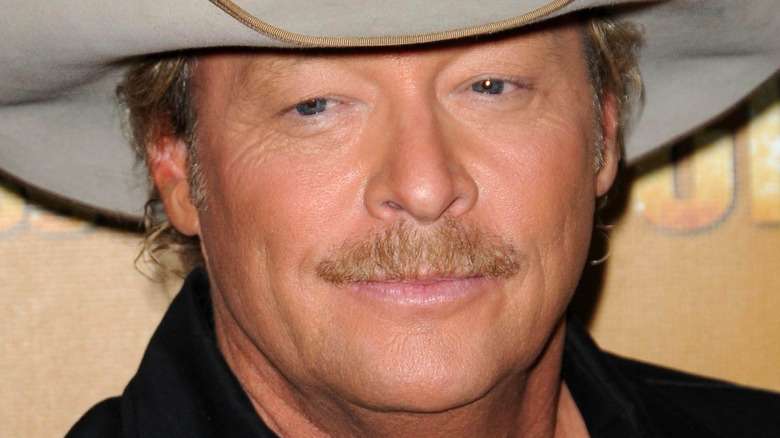 s_bukley/Shutterstock
Today, country music's biggest stars consist of Carrie Underwood, Jason Aldean, Thomas Rhett, Blake Shelton, and Miranda Lambert. But those who paved the way are some of the most notable honky-tonk hitmakers, including Loretta Lynn, Dolly Parton, George Strait, Reba McEntire, and late icon Kenny Rogers. Alan Jackson is also considered to be one of country music's classic crooners, having effortlessly wowed fans with his traditional tunes and mainstream sounds. Out of the 20-plus albums he's recorded throughout his career, Jackson's most famous hits include "Don't Rock the Jukebox," "Drive (for Daddy Gene)," "Chasin' That Neon Rainbow," and tons more.
The Georgia native has been a heavyweight in the music scene for more than 30 years, breaking out in the business when he released his debut album, "Here in the Real World," in 1989, per Britannica. Since then, he's earned countless prestigious accolades including Grammys, Academy of Country Music Awards, and CMA Awards, according to his official website. He may have been dominating the country music charts for decades, but Jackson said he doesn't see himself slowing down. "I never wanted to do the big retirement tour, like people do, then take a year off and then come back," Jackson said during an appearance on "Today" on September 28. "I think that's kinda cheesy." 
Though Jackson said he'll "try to do as much as [he] can," he revealed a heartbreaking health diagnosis during his appearance on the NBC morning show. For more on the singer's condition, keep scrolling.
Alan Jackson reveals neurological disease diagnosis
Country music lovers are huddling around Alan Jackson after the artist revealed he was diagnosed with Charcot-Marie-Tooth disease, a degenerative nerve condition. The Grammy-winning singer opened up about his heartbreaking condition to "Today" on September 28, telling host Jenna Bush Hager he was diagnosed with "this neuropathy and neurological disease" 10 years ago. "It's genetic that I inherited from my daddy ... it's been affecting me for years," Jackson candidly shared, saying his condition is "getting more and more obvious" now that he's "having a little trouble balancing."
Though Jackson clarified CMT is "not going to kill" him, he's going to live with the disease for the rest of his life. "There's no cure for it," he shared. "It's not deadly. But it's related (to) muscular dystrophy and Parkinson's disease." According to the Mayo Clinic, CMT is an "inherited, genetic condition" that "occurs when there are mutations in the genes" and "affect the nerves in your feet, legs, hands, and arms. As Jackson noticed, he's begun "stumbling around on stage" and "even in front of the microphone," which has caused him to "feel very comfortable" performing. Despite the challenges that come along with CMT, Jackson said writing tunes and keeping traditional country music alive will continue to be his focus. "I've always believed that the music is the most important thing," he shared. "That's what I'd like to (leave) if I had a legacy."
Of course, many fans sent messages of support following the interview. "Alan Jackson is very brave," one person tweeted.
Alan Jackson's family is just as important as his music
Alan Jackson is beloved by millions for his talents of writing and singing some of the best melodies in all of country music. But to his wife, Denise Jackson, and their three daughters, the "Chattahoochee" artist is a dedicated family man. During a joint appearance on "Today" on September 28, Alan's wife praised her spouse for helping maintain their blissful marriage. "When I'm down, he lifts me up. When he's down, I try to lift him up," she gushed. "The happy side of that is we've had a fairy-tale life."
The ACM Award winner and Denise have been married for more than four decades, having said "I do" in 1979. The couple started their family when they welcomed their first daughter, Mattie, in 1990, followed by Alexandra in 1993. Their youngest child, Dani, arrived in 1997. Alan juggled his role as a devoted husband and father with his hectic schedule as a country star, but his dedication to all his responsibilities never wavered.
Speaking with host Jenna Bush Hager on "Today," Denise said she's not only grateful to have been along for the ride, but she feels blessed that Alan's legacy will be forever etched into their future generations. "He'll have so many songs for our grandchildren and our great-grandchildren to hear and know who he was," Denise marveled. "To know what was important to him. To get a little touch of our lives together through his music."