Brandi Glanville And Kim Richards' Feud Explained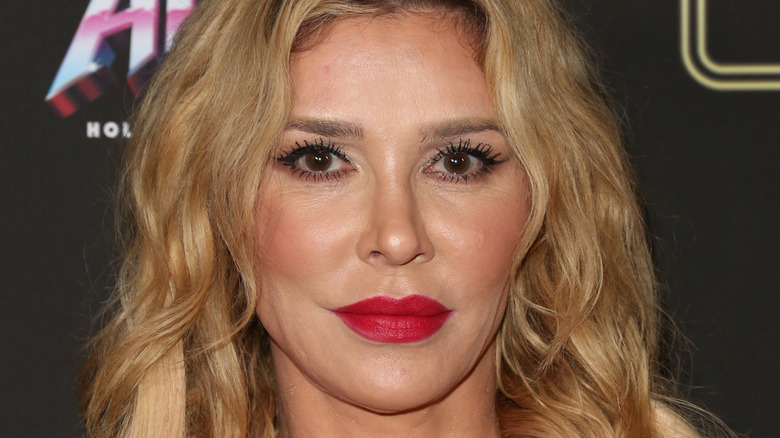 Paul Archuleta/Getty Images
Uh-oh... they're at it again, folks.
Reality television star turned podcast host Brandi Glanville stunned the masses on an episode of "Bravo's Chat Room" when she revealed that she and fellow "Real Housewives of Beverly Hills" alum and famous frenemy Kim Richards were not on speaking terms. "Kim and I are not speaking at the moment and I have zero idea why," Brandi confessed to the show's co-hosts Gizelle Bryant and Porsha Williams (via People). "This happens very often with us. But I'm talking to [her sister] Kyle [Richards]. We take breaks because we will murder each other." Still, it appears that Brandi will always be quite fond of her long-time gal pal. "I love her, I have nothing but love for her," she emphatically declared.
While the news that the pair are currently on the outs isn't really a shocker, listeners of the show were gobsmacked to learn Brandi's account of what went down between the former reality television co-stars. But what exactly happened? Keep reading after the jump to find out.
Brandi Glanville claims that she and Kim Richards engaged in a 'hot tub fight'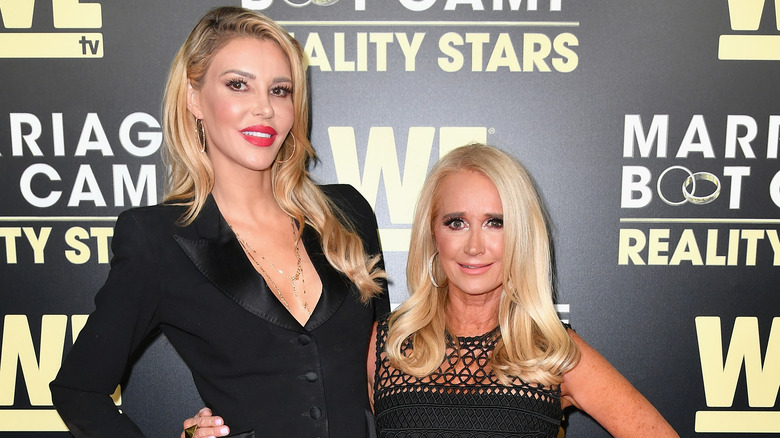 Earl Gibson Iii/Getty Images
During an episode of "Bravo's Chat Room," Brandi Glanville alleged that things got physical during a heated disagreement between her and Kim Richards. Cue the waterworks. No, really...
According to Brandi, the story goes that the on-again-off-again pals were in a hot tub when things took a turn for the worse. "Kim and I, [we were] best friends and we will be again," she said (via People). "We just had, like, a hot tub fight and I don't know what happened — I know what happened — but we're not talking at the moment," Brandi divulged before adding, "the hot tub fight, literally, I was like, 'Where are the cameras?' She was drowning me." Brandi was adamant, however, that the jacuzzi brawl wasn't too serious. "We were having fun," she maintained.
Alas, this appears to be a well-established pattern for the dueling divas. During a November 2020 episode of Brandi's podcast aptly titled "Brandi Glanville Unfiltered," the podcast host told her listeners that Kim was still not talking to her due to a rumor that they and former Beverly Hills Housewife Carlton Gebbia engaged in a threesome. "She said that she was upset about this threesome rumor. And I said, 'Are you joking?'" Brandi dished (via People).
Perhaps next time the two should settle their differences in a foam pit, complete with all the proper safety equipment and no risks of drowning.
Brandi Glanville and Kim Richard's past is riddled with many ups and downs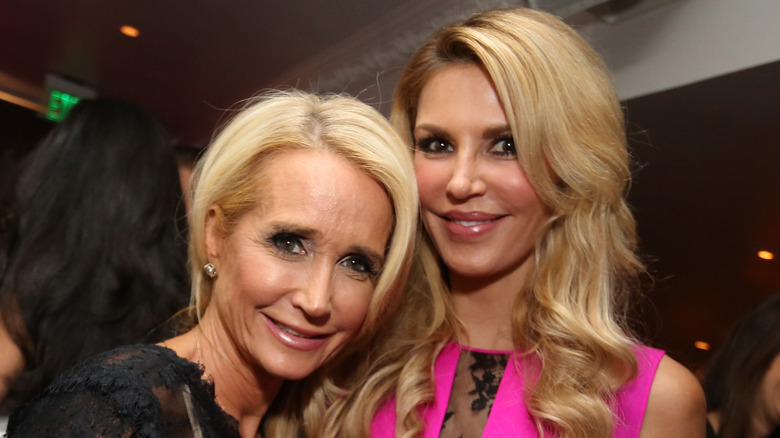 Rachel Murray/Getty Images
As "Real Housewives of Beverly Hills" stans may recall, Brandi Glanville and Kim Richards didn't exactly get off on the best foot to begin with. 
Brandi joined the cast of "Real Housewives of Beverly Hills" in a blaze of glory during what appeared to be an innocent game night for the cast members. After sister act Kyle and Kim Richards opted to engage in a few high school mean girl antics, including stealing the very crutches newbie Brandi hobbled in on, Brandi got even by uttering the infamous words at Kim: "At least I don't do crystal meth in the bathroom all night, b****." Never forget.
Still, while many viewers thought that the chance of reconciliation — let alone a full-blown friendship — between the pair was completely off the table after Brandi's unsavory on-air accusation, the duo shocked everyone when they did just that. In 2017 when one curious fan asked Brandi on Twitter about the validity of her friendship with Kim she was adamant that their friendship was "legit." "Well @KimRichards11 just came to my son's birthday party where there were no cameras & weve [sic] been friends years after the show. It's legit!" she tweeted back. Maybe Brandi and Kim just need some time to cool off after the alleged hot tub debacle.