Why Pamela Anderson Has Regrets About Her Plastic Surgery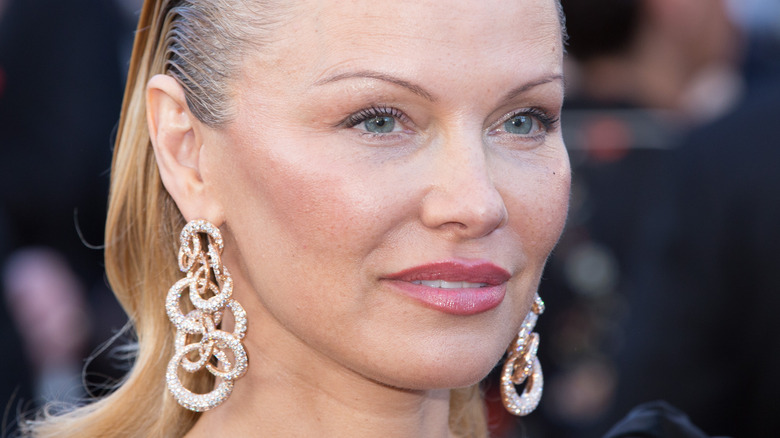 magicinfoto/Shutterstock
It's hard to understate the impact Pamela Anderson had on pop culture in the '90s. According to the Los Angeles Times, the legendary model and actor's career took off after she landed what were essentially simultaneous gigs for Labatt beer ads and Playboy magazine. But it wasn't until she starred in a 1991 episode of "Home Improvement" that she got her big break. Anderson then became a household name and an instant sex symbol after she was cast in a not-so-little NBC show called "Baywatch" alongside David Hasselhoff in 1992. "It was the best job in the world," Anderson gushed in a 2018 interview.
The popular series followed the lives of lifeguards in Malibu, California who were better known for their sculpted bods, bronzed skin, and red swimsuits than their dramatic rescues. At its peak, the Huffington Post said "Baywatch" was the "most-watched TV show in the world" with a weekly audience of 1.1 billion people in 148 countries. Therefore, it's perhaps not surprising that people were so fixated on its female lead, Anderson, that they forked out big bucks to "look exactly like her," as Dr. Mark Berman put it to ABC News in its 2001 piece titled, "Plastic Surgeons Salute 'Baywatch.'" It might even be fair to argue Anderson inadvertently set off the trend of fans going under the knife to look like their favorite celebs.
But Anderson, who has been candid about her plastic surgery, eventually came to dislike certain decisions she made in augmenting her body. 
Cosmetic surgeons said Pamela Anderson became a 'reference point' for cosmetic surgery
Pamela Anderson slow-motion running down the beach in her red Speedo swimsuit isn't considered iconic for nothing. The bouncy and busty blonde bombshell reportedly "revolutionized" the cosmetic surgery industry during the '90s. Reflecting on the past 10 years, cosmetic surgeon, Dr. Mark Berman, told ABC News in 2001 that "Pamela Anderson Lee became a reference point" for breast augmentation procedures. Dr. Leonard Grossman, another plastic surgeon speaking with the outlet, said that patients even used photos of Anderson in consultations for various procedures.
For Grossman, the Anderson boon was all positive. He told ABC News the industry was "blessed" with the NBC drama as it "brought our business to a whole new level," adding, "It is the most vivid form of advertising. It's like an hour long plastic-surgery commercial." Whether or not Anderson was the direct result, American "surgical and non-surgical cosmetic procedures" clocked in at 4.6 million in 1999, according to the American Society for Aesthetic Plastic Surgery (per ABC News). The same outlet noted that the following year, breast augmentation procedures rose by 51%, and were up "[500%] since 1992, when Americans still worried about the dangers of leaky silicone pouches."
Despite epitomizing beauty ideals back then, Anderson herself made the decision to remove her breast implants in 1999. Speaking with "Entertainment Tonight" (via the New York Post) about the procedure, the "Barb Wire" star said that she "just didn't feel like it looked very good."
Pamela Anderson felt 'self-conscious' about her breast implants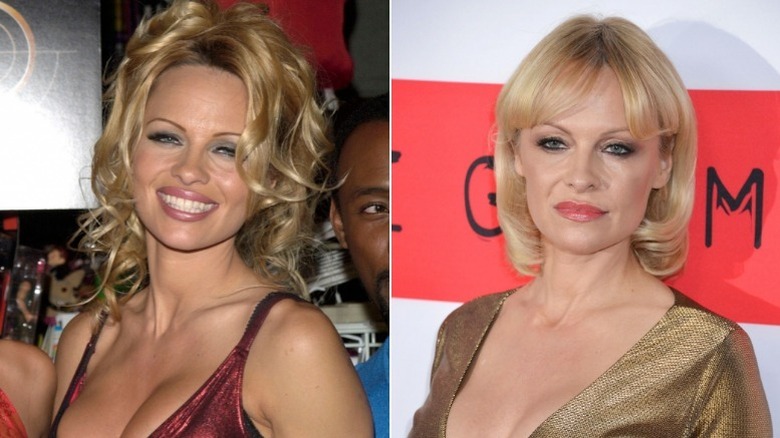 Shutterstock, Shutterstock
Pamela Anderson said her reasoning behind removing her breast implants was more about wanting her "natural body back" more than anything. Opening up about going under the knife yet again, Anderson told "Entertainment Tonight" in 1999 (per The New York Post) that while there were "no medical reasons" for the removal, it couldn't have come at a better time. "Actually when I did remove them they found a leak in one side," Anderson told ET. "I feel like I'm a petite person and just having these large breasts was, it just didn't feel right any more. ... I was really kind of being self-conscious of it." Anderson also admitted after having her two sons with ex-husband Tommy Lee, she was nostalgic about her former curves. "I think after having children and nursing I felt like I was Dolly Parton for the longest time and I thought 'I just want my natural body back.'" 
Since the '90s and early 2000s, Anderson's looks have shifted to align with the "Borat" star's apparent preference for the au naturale. The 54-year-old has toned down the bleach and heavy makeup for a fresher look. In 2016, she told W Magazine (via The Cut) that she "actually like[s] aging," and added, "I know it sounds like a cliché, but happiness has a lot to do with beauty."
It's also worth nothing Anderson's decision to temper her look didn't stop her from having a cameo in the 2017 "Baywatch" movie, even if she didn't put back on her iconic red bathing suit.