The Exact Moment Tom Ford Knew That His Husband Was The One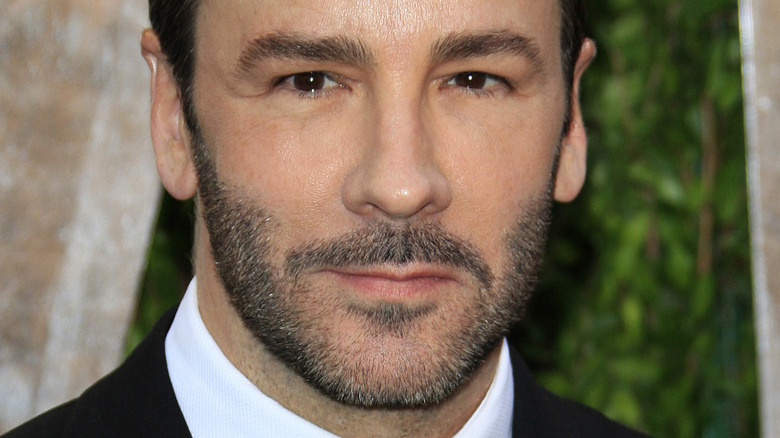 Joe Seer/Shutterstock
Tom Ford met the love of his life a lifetime ago, when he was in her early 20s. The iconic designer and former editor of Vogue, Richard Buckley, did not sign the papers that made them officially married until 2014, but they became each other's rocks 35 years ago. However, on September 21, Ford announced on his Instagram that Buckley had died at their Los Angeles home following a long illness. He was 72. Ford and Buckley shared one child, Alexander John "Jack" Buckley Ford, who was born on September 23, 2012 — 26 years into their relationship, per The Hollywood Reporter. Jack and Tom were both by Buckley's side when he died, per Instagram. 
Tom and Buckley first saw each other at a fashion show in 1986. They didn't talk that day because Tom felt intimidated by the silver-haired man with piercing eyes, he detailed in a 2011 essay he penned for Out. But their fates were intertwined — or so it seemed when they ran into each other again 10 days later. This time, Tom couldn't avoid Buckley.
Tom had enjoyed a wild early adulthood, engaging in plenty of casual encounters, he wrote. But that all changed when he met Buckley. Just a month after going on their first date, Buckley gave Tom a pair of keys to his apartment and he never left again, he told WWD. Buckley was the one and Tom knew it. Read on to learn about the fateful moment he knew. 
Tom Ford knew he would marry Richard Buckley upon meeting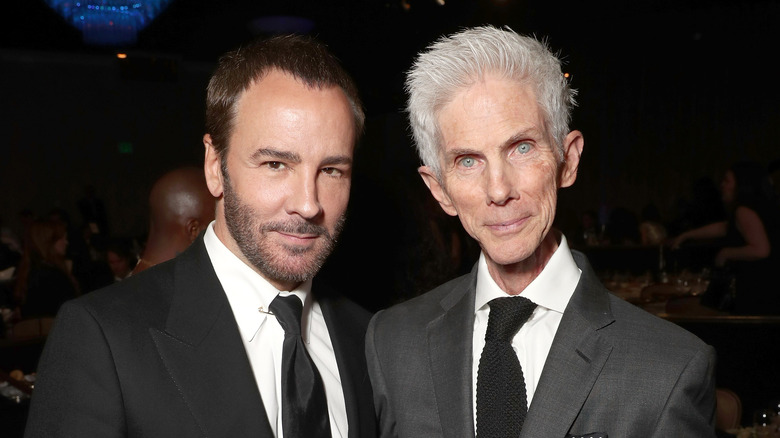 Todd Williamson/Getty Images
Tom Ford avoided engaging in conversation with Richard Buckley because, under his confidence and good looks, Buckley seemed "unapproachable," Ford wrote in Out. "His stare was so intense that it completely unnerved me, and when the show was over I literally bolted out the door and down the street to avoid him," Ford retold. A little over a week later, Ford had nowhere to look but straight into Buckley's eyes. 
Ford was sent to pick up clothes at Women's Wear Daily, where Buckley was the fashion editor. As fate would have it, Buckley was on the other side of the elevator doors and offered to take Ford to the right place. "He was adorable, and he was a complete fool ... I decided in that elevator ride that I was going to marry him. I'm very pragmatic, and I was, like, 'OK, there's some kind of connection here.' He ticked every box, and — boom — by the time we got to the floor, I was like, 'OK, sold,'" Ford wrote.
In his last column, published posthumously on Air Mail, Buckley described being struck by Ford's ambition on their first date, when Ford said he would be a world-famous designer and a millionaire in 10 years. "I sat there thinking, 'Poor thing. He will become so disillusioned when the system chews him up and spits him out.' That time, like so many others over the years, he would prove me wrong," he wrote.
Tom Ford fell in love with Richard Buckley's eyes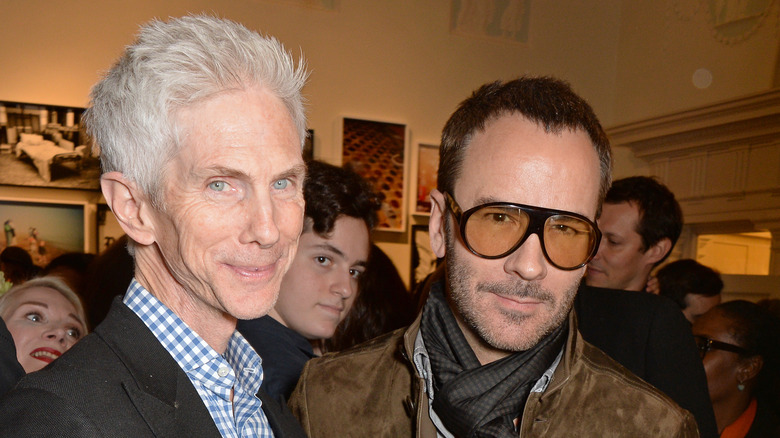 David M. Benett/Getty Images
The first time he really peered into Richard Buckley's eyes, Tom Ford felt he could read the man's soul, Ford detailed in Out. "He has the wildest eyes — like an Alaskan husky. They're not blue, they're not gray, they're a color you've never seen before — they approach silver. They give away absolutely nothing, yet they are completely mesmerizing," Ford wrote.
It only took them a few days to start telling each other that they were in love. "Now, we say it to each other every night before we go to sleep, and we say it at the end of every telephone conversation, and we write it at the end of every e-mail," Ford wrote. They met in November and before New Year's Eve, Ford moved in with Buckley. "Richard and I are bound together, and I think that's what that recognition is when you look someone in the eyes and you feel like you've known them forever," he wrote.
Their connection was so deep that Buckley took any negative criticism about Ford's work to heart. In his Air Mail column, Buckley described sobbing over the pages of a harsh review of one of Ford's shows — even if Ford wasn't fazed. Buckley enjoyed only one of Ford's shows in his life — in February 2020. "[T]he audience was there to have a good time no matter what he presented ... and I could, for once, let go and have fun," he said.