Why Kourtney Kardashian Never Tied The Knot With Scott Disick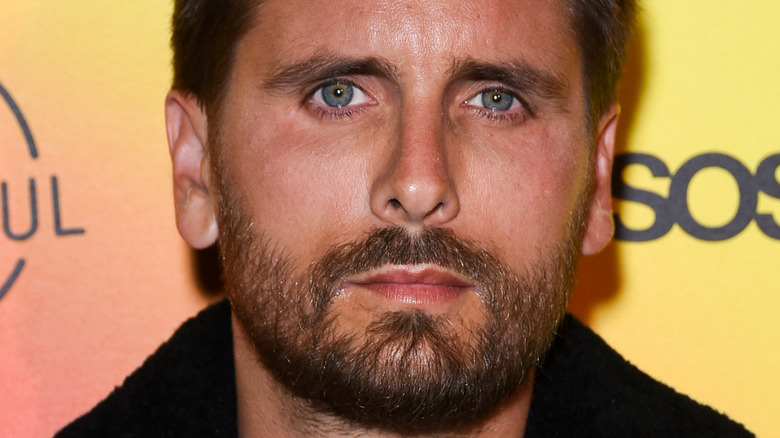 Presley Ann/Getty Images
Kourtney Kardashian has had many admirers over the years. We have seen a bit of her relationships on "Keeping Up With The Kardashians." One name that has constantly been associated with Kourtney is Scott Disick, who was also an active part of the TV show and its spinoffs.
The former couple met for the first time in 2006 at a party in Mexico and started dating (per Us Weekly). "KUWTK" debuted on TV next year in 2007 and marked new beginnings. In the years to come, fans would see Kourtney and Scott having an on-again-off-again relationship on the show. Fans also wondered if the couple had marriage on their minds. Scott and Kourtney had three children together, but never took their relationship to the next level. According to Us Weekly, they called it quits in 2015 after Scott was spotted hanging out with his ex-girlfriend, Chloe Bartoli, in Monte Carlo. That was the end. The two would then define boundaries in the years to come and co-parent their children while dating other people.
Kourtney and Scott never tied the knot, despite their chemistry and knowing each other intimately for several years. What was it that prevented the two from getting married? Clearly, there was Scott's cheating — but did the two fall out of love and decide it was best to stay friends and co-parent the three children they had together? Here's more on why Scott and Kourtney never got hitched!
Kourtney Kardashian was talked out of the wedding plans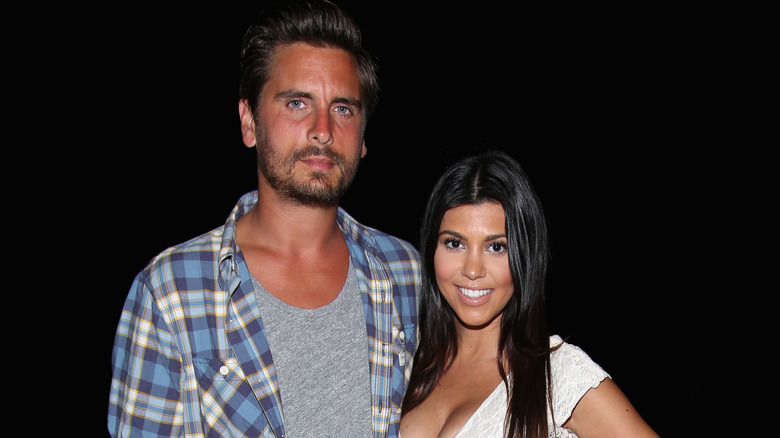 Paul Zimmerman/Getty Images
Things were intense when Kourtney Kardashian and Scott Disick started dating. They even planned to go to Las Vegas and have a shotgun wedding (per Cheat Sheet), but Kourtney's family talked her out of the sudden wedding plans. In the first season of the 2011 "KUWTK" spinoff "Kourtney and Kim Take New York," Scott hoped to propose to Kourtney over dinner, but decided otherwise after a conversation with her. "Why mess it up?" Kourtney asked him (per Us Weekly). "I just feel like right now I'm happy with the way things are." There was little progress after that.
Socialite Scott's life involved much partying, and according to Cheat Sheet, Kourtney could not entertain the idea of marrying him until he could figure out his priorities. "She's made comments to her family about how his behavior [with money and partying] is exactly why she never married him," an insider claimed (per Cheat Sheet). "He doesn't really have a job beyond his club appearances and paid Instagram posts and hasn't given up drinking."
But things did get better. In October 2017, Kourtney took to Instagram to post a picture of herself and her former flame enjoying the great outdoors on what appeared to be a hike. "MOM and DAD back at it again with the co parenting skills," the Poosh founder wrote.
The only constant in Kourtney and Scott's lives are their children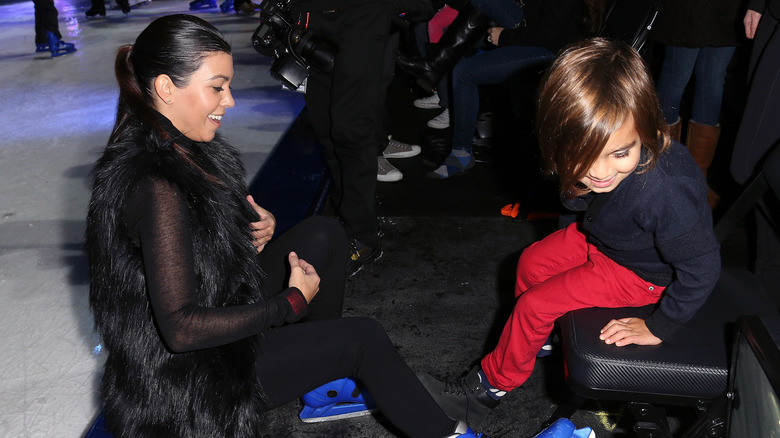 David Livingston/Getty Images
On her Poosh blog, Kourtney Kardashian admitted that her relationship with ex Scott Disick has "changed over the years." They went through some "challenging times" while co-parenting their three children — Mason, Penelope, and Reign. But despite the challenges, the friendly exes did their best and got better at taking care of their children.
One of the things that helped them achieve that was therapy. Kourtney spoke about the challenging aspects of co-parenting in one of her vlogs for Poosh. "The hardest part was when we both started new relationships. That caused fights between you and I about introducing the kids ... We had to literally go to therapy to talk to even get through to be able to communicate together," she said (via E! News). Kourtney also believes that getting along and having fun together is possible, which people can work towards. "I feel like I can show a message, too, of like parents can get along and work together and travel together. And I think it's a good message to show other people. I am not doing it for that reason but I think the positive things that we are doing is nice too," she told "Today" in 2019 (via E! News).
Now that Scott and Kourtney have moved on in their lives, they keep wishing that their co-parenting only gets better over time. Even though the two did not get married, years of familiarity have made their friendship possible.