Why Gisele Bundchen Regrets Getting Plastic Surgery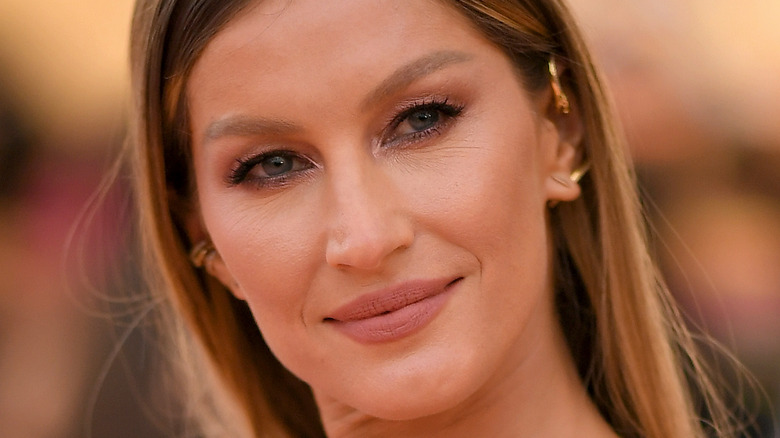 Neilson Barnard/Getty Images
It's been quite some time since Gisele Bündchen put her days of strutting down the catwalk behind her. During her glory days as a model, she managed to achieve supermodel status, even earning the title of the highest-paid model for years. Throughout her career, she earned nicknames that alluded to her unparalleled beauty. According to Vogue, she was anointed "The Body" by esteemed fashion designer Alexander McQueen and was deemed "the most beautiful girl in the world" by Rolling Stone when she graced the cover of the publication. She was also the bearer of "the return of the sexy model" as she became the gold standard of the models of her time.
To some extent, though, Bündchen is just like us. She also had her fair share of insecurities just like any other person. The model shared how she drew criticism when she was younger because of her unique facial features and stature. "I remember some people telling me my nose was too big or my eyes were too small, that I could never be on a magazine cover," she told People. "It made me feel insecure." She also got called the nickname "Olly," in reference to the "Popeye" character Olive Oyl. "I remember once walking into my classroom and seeing a poster that featured a drawing of a skeleton and underneath it someone had written, 'Has anybody seen Olly?'" she wrote in her book "Lessons: My Path to a Meaningful Life". However, there was another insecurity that led to regret.
Gisele Bündchen referred to her plastic surgery as one of the most "upsetting decisions" of her life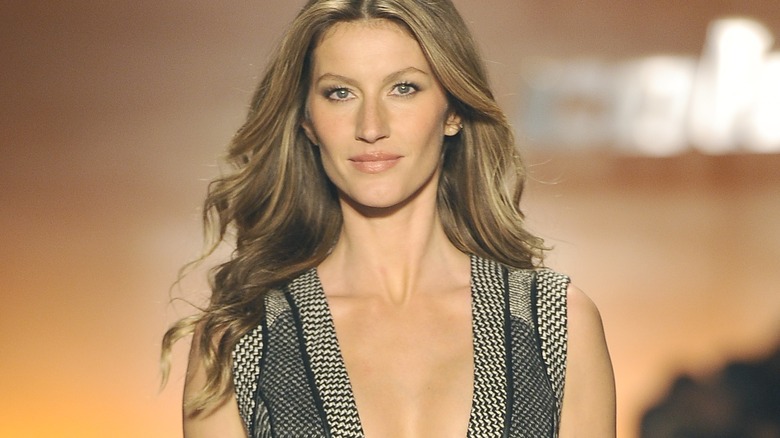 Fernanda Calfat/Getty Images
Gisele Bündchen has a body like no other. At one point, she was dubbed the "Boobs from Brazil" by several publications due to her enviable breasts, which apparently spawned a trend of breast augmentation surgeries in the country, per Entertainment Tonight. She loved her body, and in her book, she shared how she "felt ... at ease" in it.
It all changed when she gave birth to her kids Benny and Vivi and started her foray into motherhood. In her book, she divulged that while she thinks breastfeeding has been a special experience, it made her breasts smaller and lopsided. Since she banks on her body for her career, the changes in her body consumed the model.
"When I showed up for jobs, some people would make comments, indirectly or more pointedly. 'What happened to your boobs? they would say, or "your boobs have gotten so small!'" Bündchen wrote. "Suddenly I was very self-conscious about the way they looked. At the same time, I had always wanted to give my best, and I felt somehow I was no longer able to live up to the expectations that others had of me... Which led me to make one of the most upsetting decisions of my life."
Gisele Bündchen's experience with plastic surgery taught her an important lesson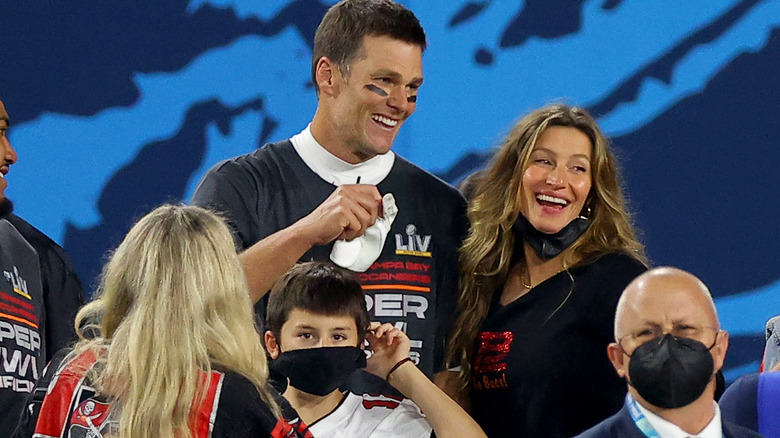 Kevin C. Cox/Getty Images
Before she received flak for the changes in her body, Gisele Bündchen had never once considered getting plastic surgery. Even during the time when people repeatedly made comments about her nose and eyes, she chose to ignore them and accepted what made her unique. Her outlook on plastic surgery only changed when she thought she no longer had "The Body" everyone expected her to have.
"[U]nfortunately, I chose to give attention to the comments I was hearing. I decided to get breast surgery," she wrote in her memoir. "My thinking was this: If I get my breasts enhanced, no one will make those comments anymore, and I will feel like myself again." But she later regretted that decision when she woke up and could no longer recognize her body. "I became uncomfortable with the size of my breasts. I felt angry and depressed. Why did I do this to myself?" she recalled.
Bündchen regretted how she gave in to what people kept saying about her instead of trusting herself. She had to learn it the hard way, but she knows better now. She has learned to understand trying to please others will do you no good. "The lesson here is to listen to yourself first, to be clear about what you want, before making decisions," she said. "After all, you will be the one living with the results."