Brad Pitt Opens Up About Divorce For The First Time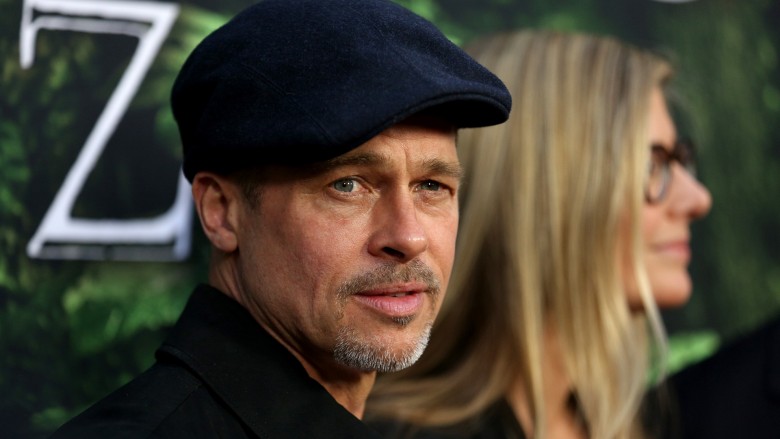 Getty Images
Brad Pitt didn't hold back in his first interview since Angelina Jolie filed for divorce in September 2016 following an alleged in-flight altercation. The actor and producer opened up about everything from alcohol abuse to his experience with Child Protective Services.
"You know, I just started therapy. I love it, I love it," he told GQ. "I went through two therapists to get to the right one."
Part of why Pitt, 53, sought help was due to his admitted struggles with substance abuse—namely with alcohol.
"I do remember a few spots along the road where I've become absolutely tired of myself. And this is a big one," he said of the past six months. "These moments have always been a huge generator for change. And I'm quite grateful for it. But me, personally, I can't remember a day since I got out of college when I wasn't boozing or had a spliff, or something. Something. And you realize that a lot of it is, um — cigarettes, you know, pacifiers. And I'm running from feelings. I'm really, really happy to be done with all of that," he admitted. "I mean, I stopped everything except boozing when I started my family. But even this last year, you know — things I wasn't dealing with. I was boozing too much. It's just become a problem. And I'm really happy it's been half a year now, which is bittersweet, but I've got my feelings in my fingertips again. I think that's part of the human challenge: You either deny them all of your life or you answer them and evolve."
He noted, "I mean, we have a winery. I enjoy wine very, very much, but I just ran it to the ground. I had to step away for a minute. And truthfully I could drink a Russian under the table with his own vodka. I was a professional. I was good."
Pitt admitted that part of his drinking problem stemmed from trying to numb himself from aspects of his own character.
"In the end, you find: I am those things I don't like. That is a part of me. I can't deny that. I have to accept that. And in fact, I have to embrace that. I need to face that and take care of that. Because by denying it, I deny myself," he said. "I am those mistakes. For me every misstep has been a step toward epiphany, understanding, some kind of joy. Yeah, the avoidance of pain is a real mistake. It's the real missing out on life."
Pitt also pointed out that many media reports surrounding his split from Jolie, 41, haven't made his family's transition to their new life easy.
"So little of it is accurate, and I avoid so much of it. I just let it go," he said. "It is a drag to have certain things drug out in public and misconstrued. I worry about it more for my kids, being subjected to it, and their friends getting ideas from it. And of course it's not done with any kind of delicacy or insight—it's done to sell. And so you know the most sensational sells, and that's what they'll be subjected to, and that pains me. I worry more in my current situation about the slideshow my kids have. I want to make sure it's well-balanced."
Pitt's newly single life also altered his perspective and his priorities as a whole.
"Family first," he said. "People on their deathbeds don't talk about what they obtained or were awarded. They talk about their loved ones or their regrets — that seems to be the menu. I say that as someone who's let the work take me away. Kids are so delicate. They absorb everything. They need to have their hand held and things explained. They need to be listened to. When I get in that busy work mode, I'm not hearing. I want to be better at that."
Vulnerability is also finding its place in Pitt's life. "I come from a place where, you know, it's strength if we get a bruise or cut or ailment we don't discuss it, we just deal with it. We just go on," he said. "The downside of that is it's the same with our emotion ... I'm much better at covering up. I grew up with a Father-knows-best/war mentality — the father is all-powerful, super strong — instead of really knowing the man and his own self-doubt and struggles. And it's hit me smack in the face with our divorce: I gotta be more. I gotta be more for them. I have to show them. And I haven't been great at it."
The breakup has taken a toll on the Allied (2016) star, but he refuses to become bitter or give up on the end-game—the health and well-being of his and Jolie's six children (Maddox, 15, Pax, 13, Zahara, 12, Shiloh, 10, and twins Knox and Vivienne, 8).
"I was really on my back and chained to a system when Child Services was called. And you know, after that, we've been able to work together to sort this out. We're both doing our best," he said of co-parenting with Jolie. "I heard one lawyer say, 'No one wins in court — it's just a matter of who gets hurt worse.' And it seems to be true, you spend a year just focused on building a case to prove your point and why you're right and why they're wrong, and it's just an investment in vitriolic hatred. I just refuse," he said. "And fortunately my partner in this agrees. It's just very, very jarring for the kids, to suddenly have their family ripped apart ... I see it happen to friends — I see where the one spouse literally can't tell their own part in it, and is still competing with the other in some way and wants to destroy them and needs vindication by destruction, and just wasting years on that hatred. I don't want to live that way."
As for how he'd explain the divorce to the kids, he echoed Jolie's first public statements on the split: Everything is for the health of the family. "Well, there's a lot to tell them because there's understanding the future, there's understanding the immediate moment and why we're at this point, and then it brings up a lot of issues from the past that we haven't talked about. So our focus is that everyone comes out stronger and better people — there is no other outcome," he said.
The grieving process for his divorce is ongoing, he said. "The first urge is to cling on. And then you've got a cliché: 'If you love someone, set them free.' Now I know what it means, by feeling it," he said. "It means to love without ownership. It means expecting nothing in return. But it sounds good written. It sounds good when Sting sings it. It doesn't mean f**k-all to me until, you know — until you live it."
He also confessed that living alone without his family hasn't been easy—and sometimes it's actually been frightening.
"It was too sad to be [in his own house] at first, so I went and stayed on a friend's floor, a little bungalow in Santa Monica. I crashed over here a little bit, my friend [David] Fincher lives right here," he said. "He's always going to have an open door for me, and I was doing a lot of stuff on the Westside, so I stayed at my friend's house on the floor for a month and a half—until I was out there one morning, 5:30, and this surveillance van pulls up. They don't know that I'm up behind a wall, and they pull up — and it's a long story — but it was something more than TMZ, because they got into my friend's computer. The stuff they can do these days ... So I got a little paranoid being there. I decided I had to pick up and come here ... This house was always chaotic and crazy [when the kids were around], voices and bangs coming from everywhere, and then, as you see, there are days like this: very ... very solemn."
Pitt's attempts to fill the void of his loneliness include artistic pursuits, including sculpting, he confirmed.
"I think everyone's creative in some way. If I'm not creating something, doing something, putting it out there, then I'll just be creating scenarios of fiery demise in my mind. You know, a horrible end," he said. "And so I've been going to a friend's sculpting studio, spending a lot of time over there. My friend [Thomas Houseago] is a serious sculptor. They've been kind ... But it's a very, very lonely occupation. There's a lot of manual labor, which is good for me right now. A lot of lugging clay around, chopping and moving and cleaning up after yourself. But I surprise myself," he said. "Yesterday I wasn't settled. I had a lotta chaotic thoughts — trying to make sense of where we are at this time — and the thing I was doing wasn't controlled and balanced and perfect. It came out chaotic. I find vernacular in what you can make, rather than giving a speech. I find voice there, that I need."