Who Is Winona Ryder's Boyfriend, Scott Mackinlay Hahn?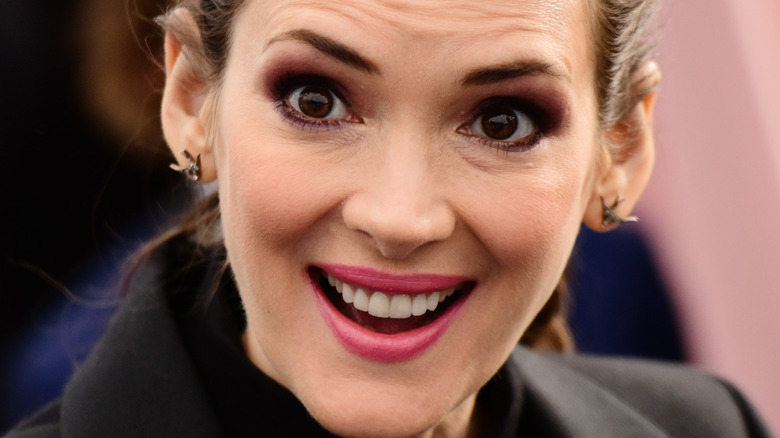 Chelsea Guglielmino/Getty Images
According to Hollywood's perpetual It Girl Wynona Ryder, she's probably married to Keanu Reeves. The two starred in "Dracula," and at the time, they had filmed a wedding scene which involved an actual priest.
"I swear to god I think we're married in real life," the "Stranger Things" star told Entertainment Weekly, per CNN. "[The director] used a real Romanian priest. We shot the master, and he did the whole thing. So, I think we're married." But while the rest of the world wished the two were actually an item, they have always been friends — best friends at that.
Ryder has yet to be hitched, but she has been in a relationship with the same man for a decade now. She's dating Scott Mackinlay Hahn since 2011, and from the looks of it, the couple is going strong. If this is the first time you're hearing of their relationship, it's cause they have done a great job in keeping things private. And if you're curious, here's what we know what Ryder's lover.
Scott Mackinlay Hahn isn't part of the entertainment industry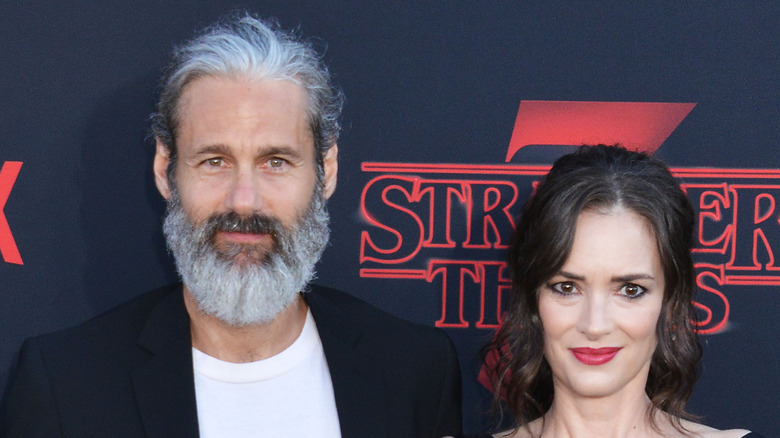 Tsuni-USA/Shutterstock
Unlike many of Winona Ryder's ex-lovers, Scott Mackinlay Hahn doesn't work in entertainment. Instead, he works in fashion. A fashion designer by trade, he co-founded the brand Loomstate, a socially conscious clothing line that produces sustainable apparel. In an interview with Time, he shared that the brand came about when he and his business partner Rogan Gregory discovered just how damaging cotton farming is to the environment. They then built a brand to focus on organic cotton. 
Hahn is not only a fan of Ryder, but is also Mother Earth's number one supporter. On top of founding a sustainable brand, he's also the chairman of the Sustainability Steering Committee for the Council of Fashion Designer of America (CFDA) and a board member of the Council for Textile Recycling.
Per Time, Hahn was also once the co-founder of the now-defunct brands ROGAN and Egan — the latter alongside Bono and his wife — but none of these companies zeroed in on being environmentally conscious. When he started Loomstate with his partner, he made it a point not to be wasteful. 
He doesn't want to compromise design, though, so he makes sure to prioritize it for the brand. "We err toward the design narrative because that's where people's attention is focused. But green fashion and the conversation is moving quickly from romantic and idealistic to a very technical and measured practice," he said.
Scott Mackinlay Hahn and Winona Ryder probably won't get married anytime soon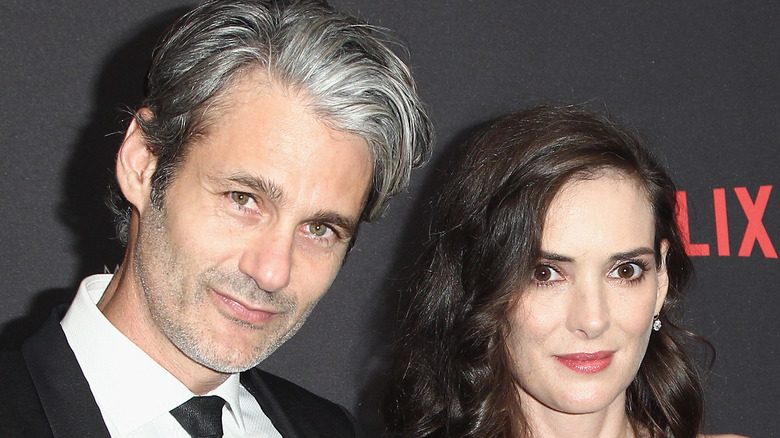 Tommaso Boddi/Getty Images
While not too much is known about his decade-long relationship with Winona Ryder — the entrepreneur doesn't have any public social media, and the two don't often talk about each other with the media — but he pops up from time to time at events to support his girlfriend. Now 10 years strong, you might be wondering if you'll hear wedding bells soon, but according to Ryder, marriage isn't in the cards for her.
"I'm a serial monogamist," she told The Edit, per People. "I'd rather never have been married than been divorced a few times. Not that there's anything wrong with divorce, but I don't think I could do it if that was a possibility. When your parents are madly in love for 45 years, your standards are really high. But I've been happily with someone for quite a while now."
That someone is most likely Hahn, and we wish them nothing but the best.