The Truth About Suni Lee's Family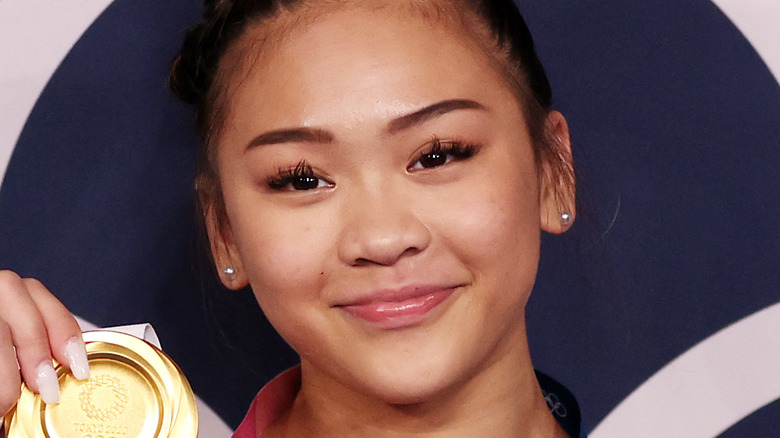 Jamie Squire/Getty Images
Sunisa "Suni" Lee made the world fall in love with her when she competed at the Tokyo Olympics. As the Team USA gymnast who had to step up in the absence of Simone Biles, Lee had big shoes to fill, but she ended giving a winning performance and proved that she was a force to be reckoned with. She took home the gold medal in the all-around, per The New York Times, and now we all know her as the shining star she is!
"I was telling myself nothing more, nothing less, just do the same thing that I always do, telling myself to breathe because my heart was beating so fast," Lee said after her win. "I was so nervous, I just tell myself to go out there and give it my all because at this point there is no turning back."
Lee's win was historic. Not only is she the first Asian American to win gold for the United States, but she also happens to be the first Hmong-American to compete in the Olympics, per TIME. While she is part of a big family, she is also part of an even bigger community — a community that she dedicated all her hard work to. That said, let's take a closer look at Lee's biological family. 
Suni Lee's parents were refugees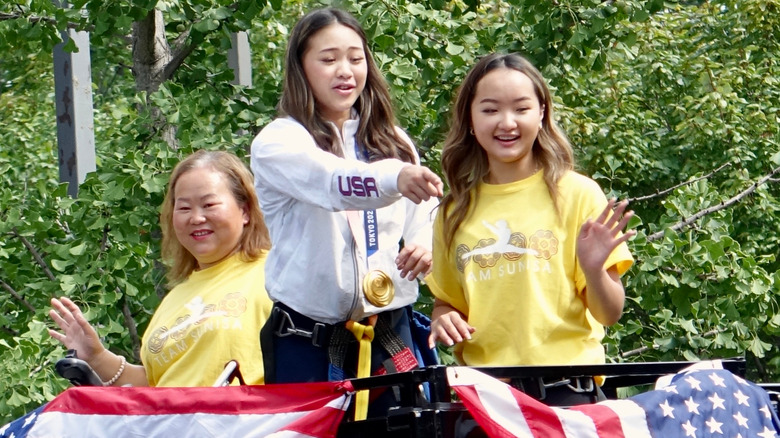 Marstar/Shutterstock
Suni Lee's heritage is vital to the community she hails from. According to NPR, her parents, John Lee and Yeev Thoj, were refugees from Laos. They were only children when they escaped to Thailand, and found their way to one of its refugee camps. Their families eventually made it to the United States along with thousands of other Hmong families and settled in a "small community," per NPR, in Minnesota.
The 18-year-old Olympic medalist is one out of six children. John already had two kids when he met Yeev and 2-year-old Suni. The couple then had three more kids — Evionn, Lucky, and Noah. And while they were never legally married, Yeev (seen above) told ESPN that it was Suni's decision to have John's last name. "She wanted his last name," mother Yeev said.
It was because of her father that Lee gained interest in pursuing gymnastics at a competitive level. Per Elle, he had built her a four-foot-long structure from a spare lumpy mattress that is still there today. He also taught her how to do flips, and was one of the few people who knew how to make her perform her best. "When Suni started competing as an elite, I traveled with her almost everywhere," John recalled (via ESPN). "I always talked to her before the competition, and sometimes I'd be hard on her and she'd get mad. When Suni's mad, she focuses a little better."
Suni Lee dedicated her win to the Hmong-American community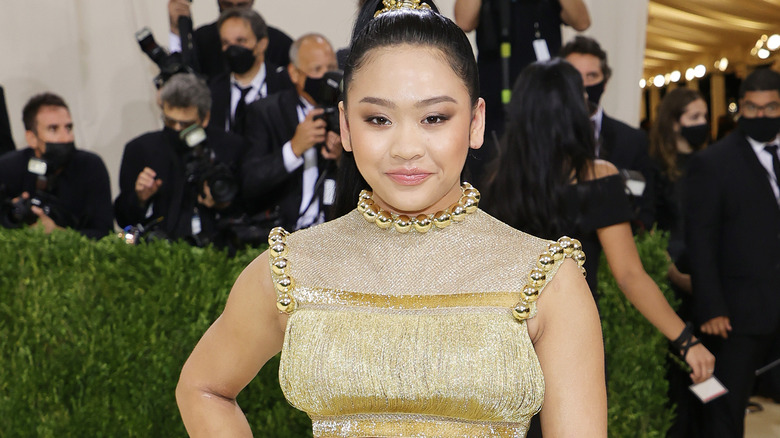 Mike Coppola/Getty Images
America is undoubtedly proud of Suni Lee, but probably not as proud as the Hmong-American community. On the day of her competition, her family had expected only about 50 to 100 people to come and watch together, but according to TODAY, between 300 to 400 people showed up to support the pride of their hometown.
"The people [I] do it all for. I LOVE YOU ALL," Lee wrote in a tweet, along with a video of her community cheering for her at home. In her feature in Elle, Lee said that her people have always made her feel loved and supported. "It's nice knowing I have them to fall back on." She also added that she's "trying to make the Hmong community more known."
Medal or not, the Hmong community would have been proud of her anyway. As a group that has a long history of being disadvantaged, the feats that Lee have achieved are nothing but unifying. "The Hmong community has had to unify over tragedy more than celebratory moments. And I think that's why it's just been so overjoyed ... Because we can't really remember a time when we've rallied around something so positive," Phillipe Thao, a writer and activist who also hails from the same Hmong community as Lee, told Slate. "We are people of diaspora. People are uniting over Suni Lee, even though their country isn't represented."