The Real Reason Tammy Faye And Jim Bakker Got Divorced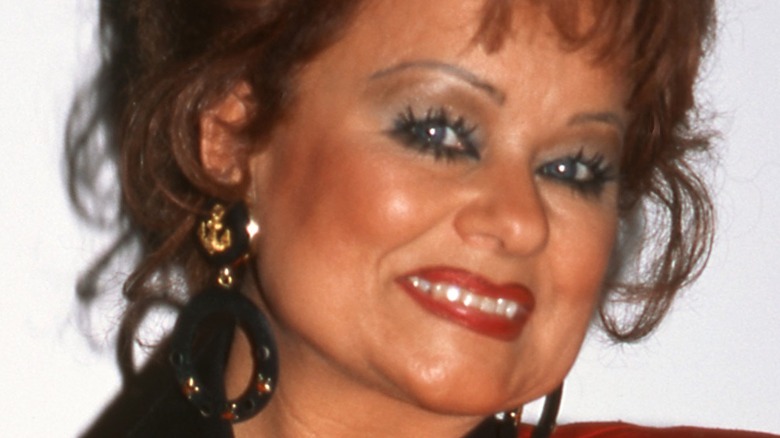 Donaldson Collection/Getty Images
Televangelists Tammy Faye and Jim Bakker have been back in the news. The new movie "The Eyes of Tammy Faye," starring Jessica Chastain and Andrew Garfield, is causing people to rethink what they know about the couple. The infamous Bakkers rose to fame in the 1980s as part of the PTL Network, a Christian entertainment television channel that doubled as a fundraising tool for their ministry. The initials PTL stood for "Praise the Lord."
According to Vox, the Bakkers' TV network drew 20 million viewers and raised millions of dollars. Tammy Faye and Jim turned their success for PTL into many other projects, including a theme park called Heritage USA, which Vox described as "a kind of Christian Disneyland that in the '80s was one of America's most popular vacation destinations." But the Bakkers fell from grace dramatically.
The outlet further explains that the televangelist couple's empire came crashing down in 1987, after allegations that Jim raped Jessica Hahn and then used PTL ministry money to pay her off. (According to ABC News, Jim denied the allegation and claimed the sex was consensual.) There had also been questions surrounding Jim and Tammy Faye's finances for years, with some saying that PTL stood for "Pass the Loot."
Controversy seems to follow Jim Bakker
Tammy Faye Bakker and her husband Jim Bakker got divorced in 1992. According to Deseret News, Jim signed his divorce papers in prison, while serving an 18-year sentence that was reduced down from 45 years when an appeals court "threw out the [original] sentence." He was originally convicted of fraud and conspiracy in the PTL ministry. 
Aside from the aforementioned rape allegations against Jim, ABC News reported that a hotel attached to the PTL theme park, Heritage USA, was part of Jim's financial scandal. To fund the construction of Heritage USA, Jim sold what were essentially timeshares that he called "lifetime partnerships," offering visitors a chance to stay at the theme park hotel a few days a year for $1,000. ABC News reported that the Bakkers sold 66,0000 of the lifetime partnerships, but the Heritage USA hotel only had 500 rooms.
Jim's prison time was further reduced to eight years, of which he served around four after being granted parole in 1994. However, the '80s televangelist might not have learned his lesson after prison. In March 2020, in the midst of the global pandemic, Jim got into hot water again for selling a fake cure for COVID-19. The televangelist's coronavirus "cure" backfired on him. National media, including NPR and HBO's "Last Week Tonight with John Oliver" called Jim out because he violated state and federal laws.
Tammy Faye Bakker changed after the scandal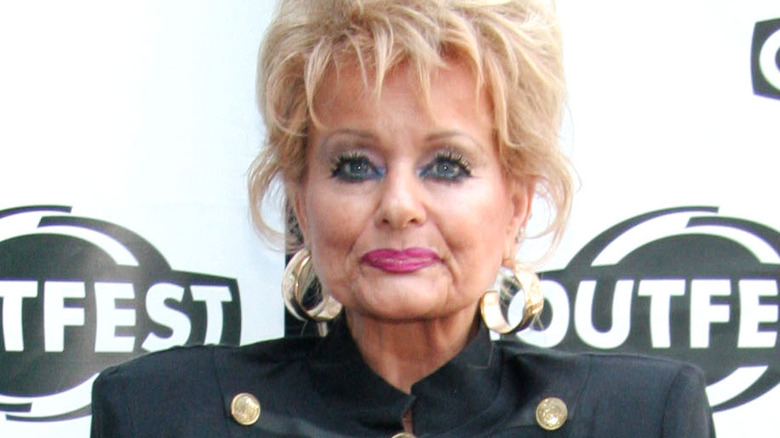 Marsaili Mcgrath/Getty Images
While it appears Jim Bakker might not have changed, his former wife, Tammy Faye Bakker, changed a great deal after the PTL scandal. In her 2003 book, "I Will Survive ... And You Will, Too," Tammy Faye revealed her decision to divorce her husband Jim. Tammy Faye wrote, "It took me three years to finally make the decision to divorce Jim. Three years of praying, talking to Christian psychologists, talking to my friends who know both Jim and me, and looking within myself ... I did not take divorce lightly." While the exact reason is unclear, it seems she was not content with the marriage any longer and she made the best decision for herself.
Tammy Faye remarried Roe Messner. In a 2003 interview with CBS News, she said,  "It's like what I always dreamed a marriage should be ... My new marriage is filled with such kindness and I just feel so lucky to have found Roe." According to Vox, Tammy Faye became a beloved gay icon for her support of the LGBTQ community. She guest-starred on "The Drew Carey Show" in the late '90s, she was interviewed on "Larry King Live," and was the subject of a 2000 documentary. Tammy Faye even tried her luck on reality TV, appearing on the VH1 reality show, "The Surreal Life," with other celebs, including Vanilla Ice.
Tammy Faye was diagnosed with colon cancer in 1996, which caused her death in 2007. Her and Jim's son, Jay Bakker, talked to Vanity Fair about "The Eyes of Tammy Faye," telling the outlet he's grateful the film lets people see his mother's compassion for AIDS patients.