The True Meaning Behind 'That's What I Want' By Lil Nas X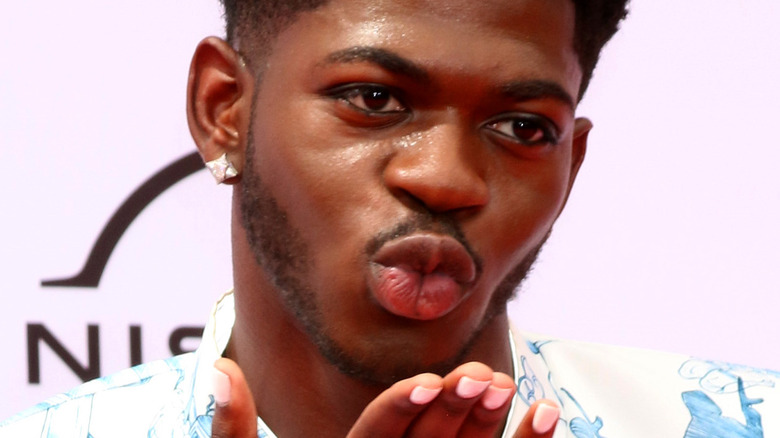 Kathy Hutchins/Shutterstock
Lil Nas X isn't afraid to let his personal life inspire what he creates in his professional pursuits. For instance, just take a look — or rather, a listen — to the songs that he included in his buzz-worthy "Montero" album. In "Am I Dreaming," which features fellow pop star Miley Cyrus, he reveals what it's like to deal with success, the spotlight, and struggles all at the same time. Fans will find that he got just as real in "Lost In The Citadel," which touches on how difficult it can be to walk away from someone you once cared about.
Of course, there's also "That's What I Want." With an accompanying video that shows Lil Nas X as a football player who finds a steamy connection with a fellow athlete, he seems to fall in love before something unexpected happens. But when you delve a little deeper into the lyrics, you realize that there's so much more going on when it comes to what the star is saying through his music and what he's apparently experienced in his romantic life.
Lil Nas X just wants someone to love
We all want someone to love — and Lil Nas X is certainly no different, especially in the romance department. In fact, he's got a lot of love to give and just wants to find someone to adore him back. That's something that he makes quite clear in "That's What I Want." Just listen to the first verse and you'll hear him sing, "Need a boy who can cuddle with me all night / Keep me warm, love me long, be my sunlight."
Although Lil Nas X does mention a certain someone — "That afro Black boy with the gold teeth / He dark skin, lookin' at me like he know me" — in the second verse, he adds that "you know it's harder to find in these times." In October 2020, the rapper revealed to CR Men Fashion Book that he was casually "dating someone ... on-and-off," but it later fizzled.
That person seems to be Colombian model Yai Ariza, who actually stars in the video for "That's What I Want." But as Lil Nas X revealed on SiriusXM on October 2, the two are no longer together — but they could reconcile. "We were dating," he explained, "and we're still on very good terms. We may date again, I'm sure."
Lil Nas X admits that he's been alone and lonely
In the second verse of "That's What I Want," Lil Nas X mentions what exactly he needs from that special person in his life, singing, "I need a baby while I'm in my prime / Need an adversary to my down and weary / Like, tell me that's life when I'm stressin' at night / Be like, 'You'll be okay,' and, 'Everything is alright.'" He also raps that he either wants "your loving, your body, and a little bit of your brain" from this person — or he wants nothing at all.
"These days, I'm way too lonely / I'm missin' out, I know / These days, I'm way too alone," he adds. And although there's certainly nothing wrong with being alone when you want to be, many people are surely able to relate to the fact that the star isn't just alone, but is "too alone" as well as "too lonely." But the star is also adamant about what he's looking for, revealing on the chorus, "I want someonе to love me / I need someonе who needs me...," he sings. "So I want someone to love / That's what I f***in' want."
Whether or not the rapper has found that someone in Yai Ariza, we're excited to hear the music Lil Nas X puts out as a follow-up. And, of course, we hope that he'll find someone to love and who loves him right back.