The True Meaning Behind 'My Universe' By Coldplay X BTS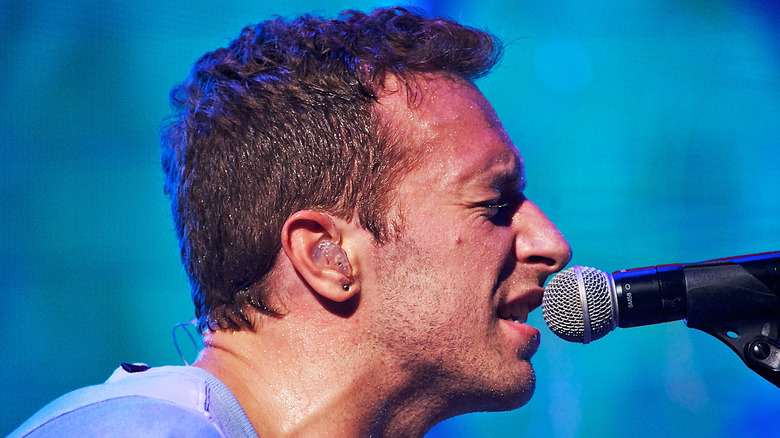 Brian Friedman/Shutterstock
When someone from the BTS team messaged Chris Martin about working together on a song, Martin initially thought that it would never work out. "They said, 'Oh, BTS want to do a song with you,'" he said in the "Coldplay X BTS Inside 'My Universe'" documentary. "And I said, 'How would that work?' I didn't understand how that could be possible." It's not because the Coldplay frontman wasn't a fan — quite the opposite; he actually loves their music — but because, for one, it was challenging to work on a song during a pandemic. For another, the band is located in South Korea and Martin lived on the other side of theworld. Add the fact that they also spoke a different language from each other.
But Coldplay and BTS, two of the biggest bands in the world, made the impossible, possible. Their joint single "My Universe" shot straight to the top of the Billboard Hot 100 for the chart dated October 9, 2021. Per Billboard, marks BTS' sixth No. 1 song and Coldplay's second.
"My Universe" topping the charts is indicative of how it was well-received not just by the BTS ARMY and Coldplayers, but also by casual listeners around the world. With the song containing both English and Korean lyrics, what is the track's real meaning?
At its core, BTS and Coldplay's 'My Universe' collab is about love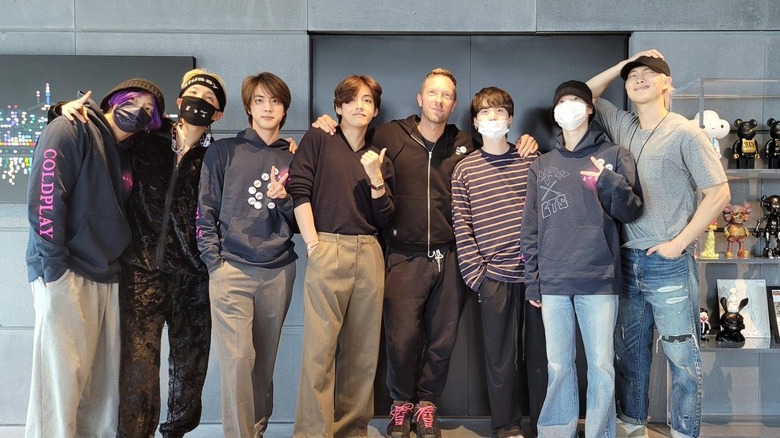 BTS/Twitter
Coldplay and BTS cater to different audiences and have distinct musical styles, but if there's one thing the two bands have in common, it's that their songs are often about love, togetherness, and other positive messaging. "My Universe" is the perfect embodiment of these messages, because, at its core, it's about love's power of transcending anything. "You, you are my universe / And I just want to put you first / And you, you are my universe / And you make my world light up inside," they all sing on the chorus.
"The song is about how the power of love transcends all things, borders, and rules, and genders, and race, and every sexuality," Martin said in the documentary. "If you look at people right now who are divided by a border or can't be together, that's what this song is about. About how nothing can really stop people loving each other." This very message was weaved into both the English and Korean lyrics: "I was more at ease in the dark / In the shadows that grew long / And they said that we can't be together / Because, because we come from different sides."
Other BTS members chimed in, too. "'The universe is created by you and me.' That's in line with the messages we've been trying to get across," Suga shared (per Georgetown Voice). "At the end of the day, he's trying to say, 'You're the one who created my universe," J-Hope added (via CheatSheet).
BTS dedicated 'My Universe' to the BTS ARMY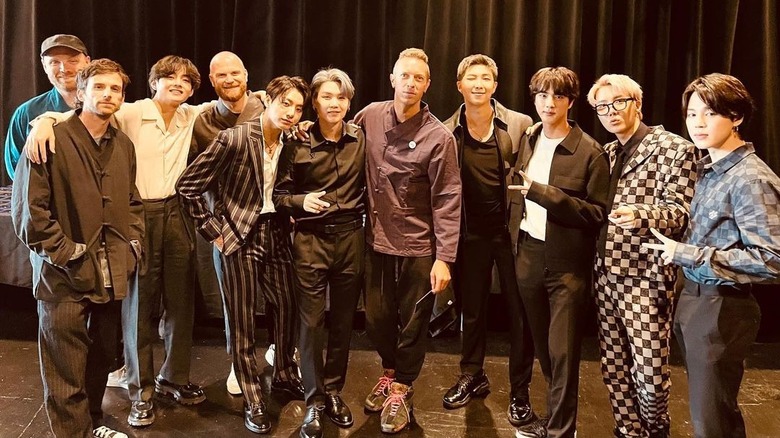 Coldplay/Instagram
While "My Universe" is ultimately about the unifying power of love, BTS said that said that it's also about connecting with each other to create something beautiful. "The song is all about us creating something together," said V in the documentary, according to CheatSheet. "That's why Chris came here in person and recorded with us as well. I really loved the theme 'not alone but together.'"
The two parties clearly had a wonderful time collaborating on this song despite the language barrier. "I love them, and we love them, and it's been such a joy," Martin told Apple Music's Zane Lowe, per NME. It's something you could look at so cynically, and we have at times, but anytime there's actual communication or music between us, it just feels so good."
While writing some parts of the track, RM said that he had the BTS ARMY in mind, the very people the band wants to dedicate the song to. "Chris said that this is a very personal song to him. A part of him is frustrated by the fact that Coldplay can't play live in a concert. I thought about how to make this relevant to BTS since the lyrics go 'you are my universe,'" the rapper noted, per CheatSheet. "This song should definitely be dedicated to ARMY. I wrote the lyrics while picturing the day we reunite with ARMY."