The Urban Meyer Inappropriate Video Scandal Explained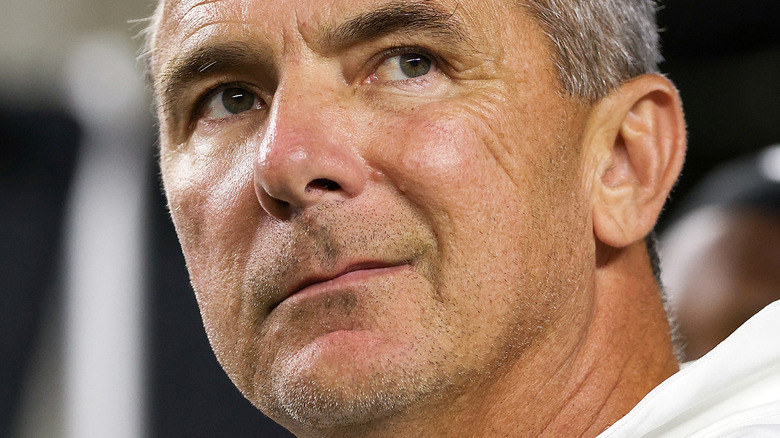 Dylan Buell/Getty Images
Even if you don't follow sports, you may have heard about the recent scandal involving Jacksonville Jaguars coach Urban Meyer. A video surfaced from a now-deleted Twitter account called @uh_oh_urban of Meyer receiving a lap dance from a young woman in a restaurant, reports The Wall Street Journal. But Meyer received a second punch shortly thereafter, when another video surfaced, this time shot from a different angle. The second video showed Meyer touching the woman's backside. The videos spread like wildfire, sending Meyer into Twitter's trending section, according to RedditCFB.
Meyer held a news conference where he apologized for his conduct. "It's stupid. I owned it," he said, per The Florida Times-Union. "I should not have myself in that type of position. I just apologized to the team and the staff for being a distraction." The Jaguars' owner Shad Khan came down on the coach hard in a statement, calling his conduct "inexcusable" and saying he must now "regain our trust and respect," via NFL.
Now, Meyer's family is weighing in. So what do they have to say?
Urban Meyer's family is "moving on"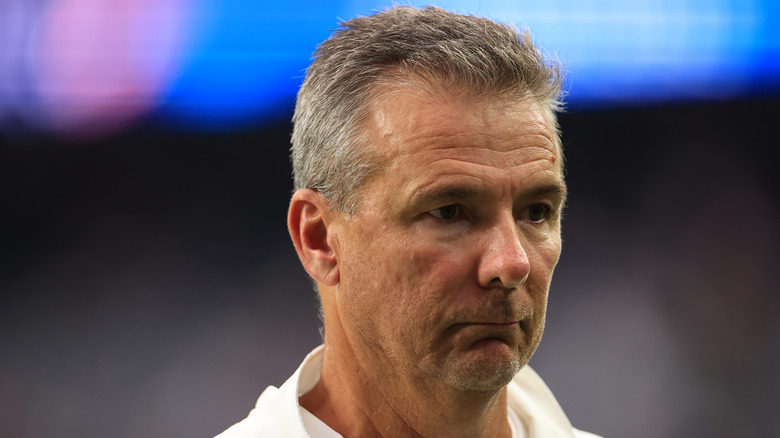 Carmen Mandato/Getty Images
Unlike Jaguars owner Shad Khan, Urban Meyer's family appears to be a bit more forgiving. The New York Post reports that his wife Shelley deleted her Twitter account, posting, "Frankly, I don't need the hate, vitriol, slander, trash that will @ me." She did go to share some sympathy for her husband, writing, "We all make mistakes. We are all sinners. If you think you aren't? Then cast the first stone." While she seemed to be forgiving, the Post also noted that she had liked a tweet reading "Urban Meyer doesn't deserve Shelley ..."
Meyer's daughter Gigi also took to her Instagram story — which was captured on Twitter — to address the controversy. "We're good. As a family, we're good," she said. "You know, and the reality of it is, like, as much as our lives might seem different than everybody else's, we're still human." She went on to say, "We've all decided we're gonna move on. We're moving on and life is good."
The head coach also seems confident that his antics will ultimately not be the downfall of his marriage, saying, per the Post, "This speed bump won't affect 37 years together."