Carrie Fisher's Sister Joely Opens Up About Their Last Conversation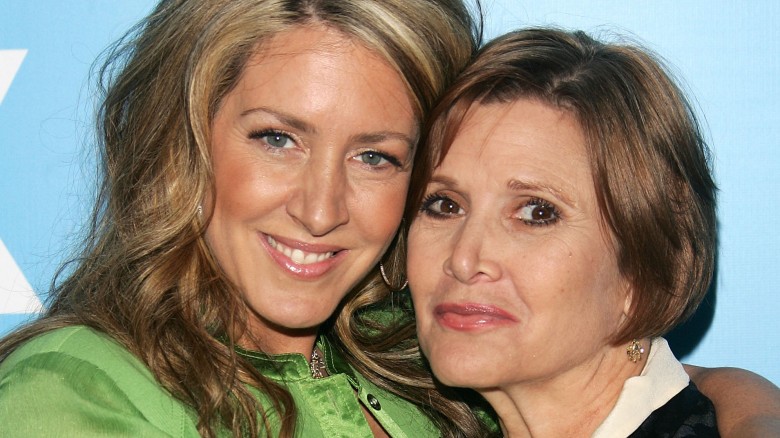 Getty Images
Months after Carrie Fisher's death, touching tributes to the iconic Star Wars actress are still pouring in.
The latest comes from Carrie's half-sister Joely Fisher (They share a father, Eddie Fisher), who spoke with Dr. Oz about the last chat she had with her sister before Carrie's untimely passing on Dec. 27, 2016.
"Well, I saw her in November for her birthday and we had a grand time, the typical Carrie party," she said, according to People.
Joely also shared that she had a text change with Carrie before her massive heart attack aboard a flight on Dec. 23, 2016. "They were from the night before she got on her fateful flight and I've saved them, screen-shotted, backed them up onto, you know, other hard drives because I don't ever want to lose them," Joely said.
"We talked about politics. We talked about our mothers, who were frail, both of them, and our children, and promised to see each other at Christmas, which I upheld. I was there ... I think she knew I was there," she continued.
Shortly after Carrie's death, Joely wrote a guest column for The Hollywood Reporter, in which she also shared her last memories of her sister. "Throughout the holiday, I sat by her side in a hospital room filled with a cacophony of sounds made by the machines keeping her barely alive. Debbie [Reynolds, Carrie's mother], of course, was there as well. She told me that she'd been praying for more time. More time for Carrie, for herself and for Connie [Stevens, Joely's mother]. I knew if those prayers weren't answered, Debbie might very well join her daughter."
Debbie Reynolds died of a stroke on Dec. 28, 2016, one day after the death of her daughter.
Joely also told Dr. Oz that she's still grieving. "They say seven stages of grief. I think it's more like 77," she said. "I'm a mother of five people and I am an actress and I'm directing my first movie and I'm doing many things so I have to go on with life. But I do find myself seeing those pictures just now ... I miss that. I miss her around. I miss being able to call and, you know, make a joke about politics, frankly, anything," she continued.
She also promised to carry on her beloved sister's legacy of perseverance and humor. "I'm finding that, not only were people fans, they looked to her for solace and for finding the funny and for knowing that if she could survive, that they could. And with her not surviving, they're looking for me," she said.
In her Hollywood Reporter column, Joely teased a possible book, again aiming to follow in her late sister's footsteps, as Carrie had become a successful author in addition to her acting career. "You can't 'right' this s**t, but you can 'write' it. And do I have a hell of a book in me," Joely wrote.
Obviously Carrie's spirit—Or should we say "force?"—lives on.