Are Sean Murray And Pauley Perrette Friends?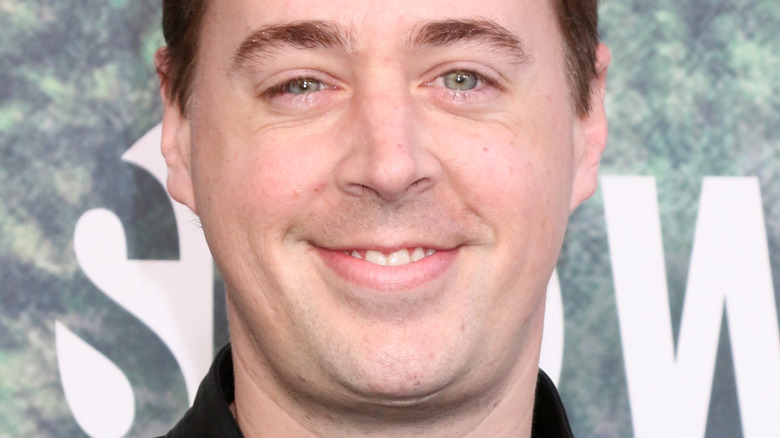 Kathy Hutchins/Shutterstock
On "NCIS," Pauley Perrette's character, the tattooed forensic specialist Abby Sciuto, loved gothic clothing and slept in a coffin bed. Her wild style, energetic personality, and unconventional sleeping arrangements made her an odd match for the mild-mannered Timothy McGee (Sean Murray), a socially awkward, suit-wearing special agent with a passion for gaming. However, they did enjoy a brief fling during the crime drama's first season.
McGee and Abby ultimately didn't make a love connection, but they did forge a special friendship. When Perrette exited "NCIS" in 2018, McGee even made a valiant attempt at putting Abby's hair in pigtails during her final episode. "Getting pigtails to be symmetrical is harder than it looks!" he said, per E! News. Perrette spoke about the evolution of McGee and Abby's relationship during a 2015 appearance on "The Talk." "They're not boyfriend and girlfriend anymore, but they adore each other," she said. "And the rule for everyone in the world is this: You don't have to be creepy when you're somebody's ex."
So, we know that McGee and Abby remained friends as long as they were working together, but were Perrette and Murray best buddies when the cameras weren't rolling?
The special way Sean Murray paid tribute to Pauley Perrette
When they appeared on "The Talk" together, Sean Murray and Pauley Perrette spoke about their shared passion for rescue animals. Perrette shared a story about a cat that followed her home one day while she was walking her dogs. The lucky feline, Buddy, eventually found himself living with Murray. The actor later adopted another rescue from Perrette, and he named that cute kitty after her "NCIS" character. "I love her death," Murray said of Abby the cat. "She's like my little girlfriend."
Murray revealed that he and Perrette instantly clicked when they met for the first time, and they remained friends even after she left "NCIS." "It's hard to not work with your friend. It's sad," he told CinemaBlend in 2019. Perrette and Murray's Twitter pages are filled with sweet little tributes to their friendship. When Perrette tweeted about her new series, "Broke," in 2019, Murray responded by writing, "Awesome P!" And, in 2014, Murray expressed his adoration for his co-star after a fan asked him what he had in common with McGee. "I love me some @PauleyP," read one of his responses.
As for Perrette, she described her friendship with Murray as "Legendary," and she tweeted that he was "so cute" in a 2014 photo. A year later, she doubled down on this assertion by informing her Twitter followers that Murray "is even CUTER than you think!" She added that he is an "Adorable, Amazing Human."
How Pauley Perrette helped Sean Murray when he was struggling
When Sean Murray worked with Pauley Perrette on "NCIS," he did not simply gain a friend — he also learned a helpful acting trick. During a 2021 interview with The Chicago Tribune, Murray revealed that Perrette came to his aid when he was struggling to memorize "mountains of dialogue" for scenes that required him to spout a lot of technobabble. "I remember feeling panicked and looking at Pauley after rehearsal and saying, 'I'm not going to remember a word of this. I can't do this,'" he recounted.
"And Pauley just kind of smirked and she said, 'Sean, we've all had that happen,'" he continued. Her advice was to write his lines down on paper and tape them to a computer on the show's set. "'And I want you to read it as if you're saying it to me,'" he recalled Perrette telling him. The simple fix helped him make it through the scene, but he admitted that it made him feel "like the worst actor in the world."
Murray was not the only "NCIS" star who developed a close bond with Perrette, though. In 2018, Brian Dietzen told CinemaBlend that she had "been a really close friend for a really long time," and Michael Weatherly was such a good pal that he took to Twitter to let Perrette know that he was willing to sacrifice one of his VHS tapings of "Friends" to ensure that he did not miss seeing her on "Broke."