Black Ink Crew Chicago's Ryan Henry On Whether He's Repaired His Friendship With Anthony Lindsey - Exclusive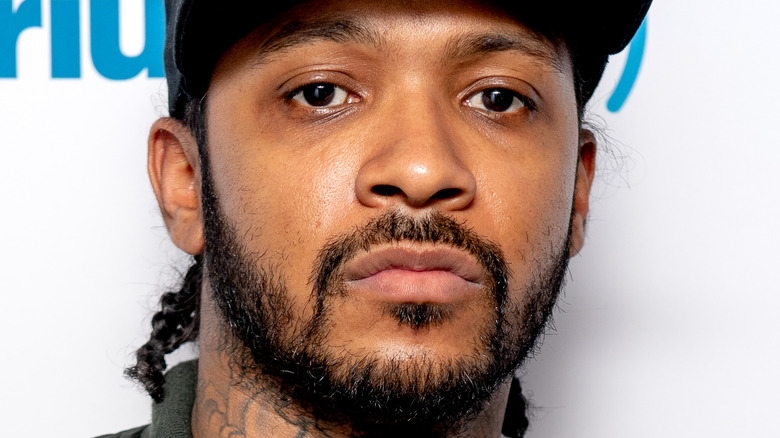 Roy Rochlin/Getty Images
As a reality TV star, Ryan Henry often finds himself thrust into the spotlight for all the wrong reasons. While the "Black Ink Crew Chicago" star, tattooist, and 9Mag tattoo studio owner has been able to share his many successes with viewers, some of the lower points of his life have also been aired for all to see. More recently, that includes his very public falling out with close friend Anthony Lindsey.
"I feel like from this first episode and from this season, being our seventh season, viewers can expect to see us in a newer light coming out of the pandemic, coming out of the changes and the hardships that we endured during the pandemic and afterward, and the growth that we've had from that and over the entire time," Henry told Nicki Swift about the new episodes of "Black Ink Crew Chicago." As for his friendship with Lindsey, Henry said, "I think what they hinted at in the preview was we were able to get to a point of talking to resolve some confusion of the situation at hand."
Nicki Swift caught up with "Black Ink Crew Chicago" star Ryan Henry to find out all about Season 7 of VH1's hit reality show, and where the tattooist stands with former best friend Anthony Lindsey now.
Ryan Henry is finding a new way forward with Anthony Lindsey
Understandably, dealing with personal issues in the public eye is anything but easy, and that's something that "Black Ink Crew Chicago" star Ryan Henry has learned all too well. Discussing whether or not viewers will see him mend his friendship with Anthony Lindsey, Henry explained, "I could just contest to the fact that it's not about reconciling a friendship, but more about addressing the accountability. If I was accountable or responsible for the fallout, then as a man, me being able to address it and me being able to give another man clarity on where it would be unclear for, as harsh as the situation was taken, then that in a nutshell can be the limit to it." He continued, "It doesn't always have to end and resolve a reconciliation of friendship. You'll see, there was a lot more to that friendship that was to be seen."
Regardless of whether or not Ryan Henry and Anthony Lindsey are friends again, it was important for the tattooist to find a way forward from their very public drama. "Yeah, sometimes it's not always about what would be right," Henry told Nicki Swift.
Ryan Henry is taking responsibility
As for what Ryan Henry hopes will happen now between him and Anthony Lindsey, the "Black Ink Crew Chicago" star is looking forward to setting the record straight. "For me, this happened a year ago today, actually. And the people only got it at the level of what social media would have taken it as," he told Nicki Swift. "There was a lot more to be seen, a lot more to be told, because at that time, I was working on me, and I didn't owe it to social media to explain at the level that he felt he had to display it at."
"I wouldn't be a man if I tried to bury it and just move on, moving forward," Henry continued. "I have people who support me and people who deserve certain explanations for them to continue to support me for the character that they supported. ... They would have to see the ups and downs of all of that." 
Fans can watch all of the drama unfold on "Black Ink Crew Chicago" Season 7 on VH1 on Monday nights.