The Queen Was Just Spotted In A Pink Ensemble With An Accessory That's Causing A Stir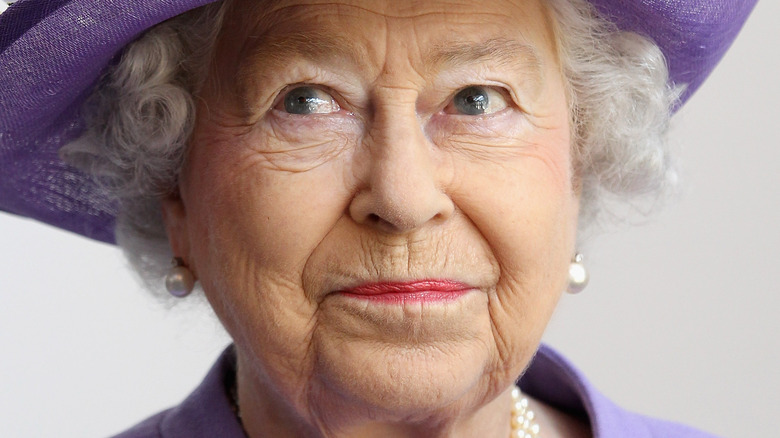 Chris Jackson/Getty Images
There's no doubt that Queen Elizabeth is the center of attention wherever she goes, and that included her October 14 trip to Wales. Showing up tp Cardiff, the capital city of Wales, to attend the opening of the Senedd (the Welsh Parliament), she was accompanied by both Prince Charles and his wife, the Duchess of Cornwall, per Wales Online.
While many people were surely happy to see the monarch, others were likely wondering about a couple of her accessories. Or rather, one accessory that she had and one that she didn't. When it comes to the latter, while Charles — who was diagnosed with COVD-19 in March — and Camilla were both wearing masks to the event, the queen was not, even when inside the Welsh Parliament building. This was apparently also the case on October 2 when she was present at the opening of the Scottish Parliament. When Wales Online reached out to Buckingham Palace, they were told, "Having worked closely with the palace, all arrangements for this event comply with current Welsh Government Covid regulations and guidance."
Granted, as we mentioned, that was only one of the reasons why the queen's outfit was causing a stir. Keep reading to find out what else caught the public's eye.
The Queen was using a walking stick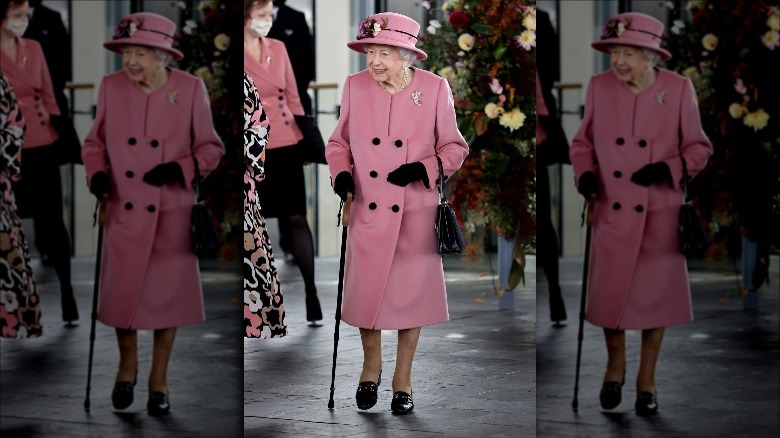 Chris Jackson/Getty Images
When the public spotted Queen Elizabeth in Wales, any fashion lovers in the crowd likely adored her pink coat that boasted big, black buttons. They also surely noticed her matching hat that was adorned with flowery details and perfectly coordinated shoes, a bag, and gloves. She also added a stunning broach to her outfit as well as one other thing that was both stylish and practical: a walking stick.
The queen — who the Mirror notes is 95 years old as of writing — was given the walking stick after exiting her car as a video from The Royal Family Channel shows. She had it while both entering and leaving the event; however, she did not appear to be leaning on it too heavily. The Mirror also pointed out that the royal was using the same walking stick two days earlier while celebrating the Royal British Legion's 100th anniversary.
Before this, the queen previously used the walking stick at the beginning of 2004 after she had undergone an operation on her knee. It's unclear this time around if she's had another surgery or if she just feels like she needs a little extra support, although the Daily Mail reported it was simply a measure "for comfort." Either way, she's definitely setting a good example by not shying away from using a mobility aid that may help her out.