For Every Time DaBaby Has Been Controversial, This Moment Stands Above The Rest
DFree/Shutterstock
The following article contains mention of violence.
Emerging from relative obscurity, rapper DaBaby's popularity seemingly skyrocketed overnight. Bursting onto the scene with the 2019 hit single "Suge," DaBaby — real name Jonathan Kirk — has portrayed himself as a top contender in the modern hip-hop scene. With his punchy delivery, quick bars, and unmatched braggadocio, DaBaby has cultivated a persona unlike any of his other contemporaries.
Through his music, DaBaby comes off strong with his massive personality and unapologetic nature. But although those were the intangibles that allowed for his meteoric rise, such attributes are a double-edged sword. For as quickly as DaBaby rose, so he fell. In July, after making several disparaging remarks regarding the AIDS epidemic and the LGBTQ+ community, DaBaby's career was sent into a tailspin. With festival appearances getting canceled left and right and a swift backlash from society, the rapper was sent into damage control mode — ultimately issuing a now-deleted apology, per Rolling Stone.
But as his career came to a screeching halt, DaBaby didn't give up — he appeared at Kanye West's "Donda" release party (via Insider) and dropped the single "Lonely" featuring Lil Wayne. And although the Rolling Loud controversy has been the talk of the town, there's one controversial moment in DaBaby's career that doesn't get enough attention. And controversial is putting it mildly. 
DaBaby's 2018 weapons case is shrouded in mystery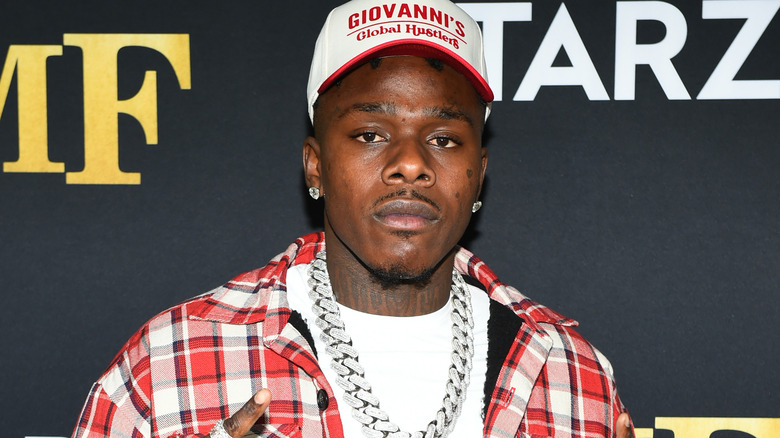 Marcus Ingram/Getty Images
Just one year prior to DaBaby's mainstream breakout with "Suge," the rapper was the center of a murder case that saw the death of 19-year-old Jaylin Craig. The incident occurred in a North Carolina Walmart when Craig and a friend spotted DaBaby, who was up-and-coming at the time. Eager to meet the rapper, the situation quickly turned deadly when DaBaby discharged his weapon and shot at the two, leading to Craig's death.
According to the Charlotte Observer, DaBaby was shopping with his partner and two children, ages one and five at the time, when he was approached by an armed assailant, claiming they pulled a weapon and "tried to take my life." After the altercation, DaBaby dropped a profanity-laced video detailing the incident (via XXL), stating, "If them gunshots ain't go off... my f*****g daughter could've got hit, son could've got hit, me. ... Two n****s walk down on you and your whole m***********g family, threaten y'all... let me see what y'all gon' too," he concluded. The outlet noted the rapper claimed self-defense and Walmart's security camera footage backed those claims up.
The rapper's case for carrying a concealed weapon was dropped thereafter. In an email to the Charlotte Observer, the Mecklenburg County District Attorney's Office confirmed the case was dropped "because a key civilian witness was unavailable." They continued, "Without that witness, the State could not proceed, and as a result, dismissed the charge."
Jaylin Craig's family speaks out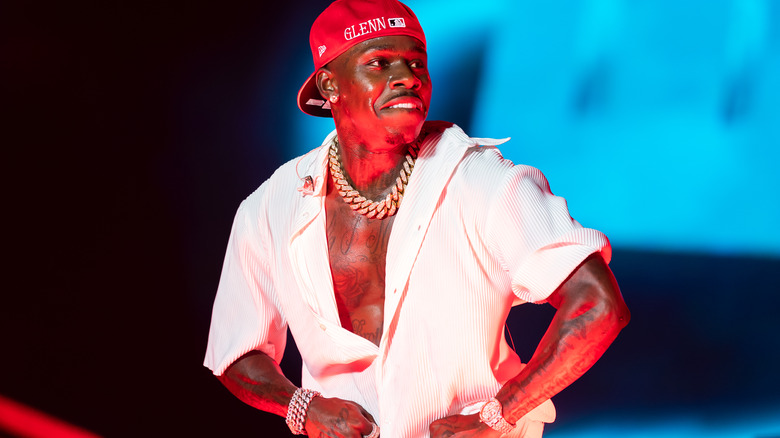 Jason Koerner/Getty Images
Following DaBaby's Rolling Loud controversy in July, the family of Jaylin Craig opted to speak out against the embattled rapper. Representing the 19-year-old who was killed at the hands of DaBaby (Jonathan Kirk), Craig's supposed cousin took to Twitter to lambast him, calling him a "killer" and a "menace" in the process (per HotNewHipHop).
"My cousin,Jaylin Craig, was shot and killed by D*B*by on 11/5/2018. He lied and said that Jaylin was trying to rob him and that he shot in self-defense. Shortly after he blew up on the scene and had the nerve to brag about it in his songs," Craig's cousin stated. This is evidenced in DaBaby's September track, "Lonely," where he states, "I can use the murder for therapy / I can make the news with it, break the internet / Have 'em all nervous and scared of me / Then get away sneaky clean, never seen a thing" (per Genius).
Craig's cousin went on, noting that after "Kirk [DaBaby] became agitated... A scuffle ensued." Offering more details, the cousin stated, "Jaylin attempted to diffuse the situation and break up the fight. Kirk's girlfriend punched Jaylin in the face. While still entangled ... Kirk fired a shot from his illegal and unregistered gun as Jaylin turned to run. Ballistics and physical evidence show that Jaylin was shot in the back/side of his torso while he was trying to flee." DaBaby was ultimately not charged with the murder of Jaylin Craig.