Why Whoopi Goldberg And Oprah Didn't Speak To Each Other For Years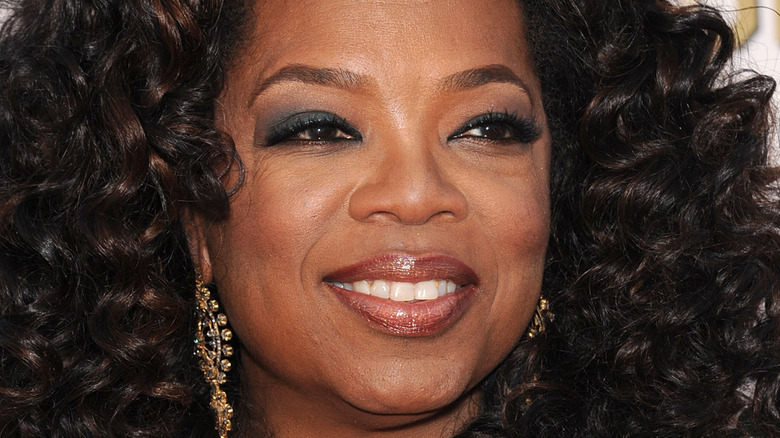 DFree/Shutterstock
Oprah Winfrey and Whoopi Goldberg have been knocking down barriers and making history as influential Black women in the entertainment industry for decades. They showed their trailblazing power when they joined forces in Steven Spielberg's 1985 film adaptation of Alice Walker's Pulitzer Prize-winning book "The Color Purple," a feminist work that brought the struggle for empowerment of Black American women to the mainstream, as New Republic pointed out.
Winfrey and Goldberg met on the set of "The Color Purple," a film that put Goldberg firmly on the map and earned her first Oscar nomination, but their bond didn't last long. According to O, The Oprah Magazine, Winfrey and Goldberg went years without talking to each other. While celebrity feuds tend to be very publicized and often include public disses, Winfrey and Goldberg's was relatively low-key, with both remaining tight-lipped about it. It seemed to be a known fact that the two weren't on speaking terms, but nobody seemed to understand why. 
"I feel like it's been in the zeitgeist that you and Whoopi don't speak ... I'm not trying to make a mountain out of a molehill, but the truth is you didn't," Sheri Salata, then-executive producer of "The Oprah Winfrey Show," told Winfrey in 2011. Clearly, it wasn't exactly a secret that Winfrey and Goldberg weren't having each other over for mimosas on Sunday mornings. In 2010, the two iconic entertainers came clean about their supposed feud during an emotional encounter that, honestly, sounded like it should have happened decades ago. 
The Winfrey-Goldberg feud was a misunderstanding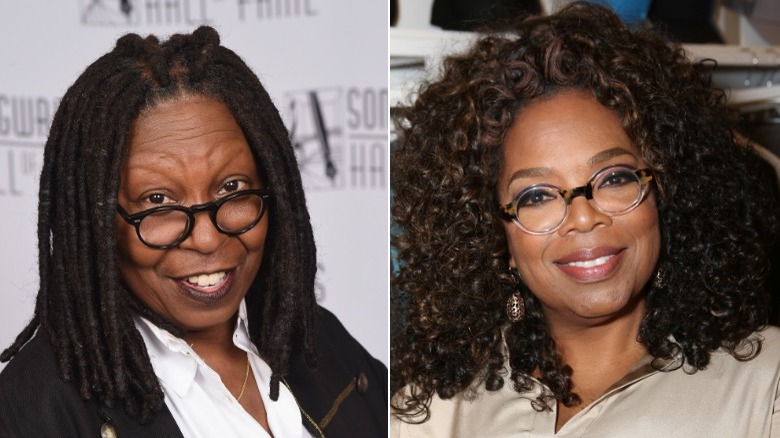 Gary Gershoff/Getty Images, Ari Perilstein/Getty Images
Oprah Winfrey believed Whoopi Goldberg "had issues with her" since "The Color Purple," which led her to disconnect from her former co-star, Newsweek noted. In a video shared on the Oprah website, Winfrey admitted that she often turned down her team's ideas of having Goldberg on her show or any other collaboration with the actor and "The View" moderator. "I'd say, 'Don't bother Whoopi. I don't think she wants to have anything to do with me,'" Winfrey said. 
Goldberg was apparently going through a similar thought process. Speaking on "The Oprah Winfrey Show" in 2010, Winfrey described how the two finally addressed the elephant in the room while eating collard greens at Tyler Perry's house that summer. It was a "divine moment" for Winfrey. "Whoopi came up to me and she said ... 'Can I just ask you something? Did I do something to you?' And I said, 'What are you talking about?' And she says, 'All these years, you know, we've been disconnected, and I just want to know, did I do something?'" Winfrey said, tearing up as she remembered the moment. 
Winfrey was shocked. She had the same reaction. "All these years I thought you were mad at me," Winfrey recalled. Goldberg hypothesized that, because they weren't close, the media assumed something was going on. If Goldberg had ill feelings toward Winfrey, she would have been clear about it, she assured Winfrey. "I don't hide my stuff. You know, I don't play that," Goldberg said.
Whoopi Goldberg is often mistaken for Oprah
While Whoopi Goldberg made it clear she never had any reason to dislike Oprah Winfrey, she has been candid about her frustrations regarding being mistaken for Lady O. Speaking with Advocate magazine in 1995, Goldberg noted that people often approached her to ask for an autograph thinking she is Winfrey. "Here's the thing that makes me crazy: You go in, they all know it's you, and suddenly someone rushes over and goes, 'Oh, Oprah, I just love you!' And you say, 'No, I'm not Oprah; I'm Whoopi.' And they say, 'No, you are Oprah!'" Goldberg added that, in those situations, she would sometimes sign the autograph as Goldie Hawn.
Goldberg might have been joking, but the truth is that people do mistake her for Winfrey. It happened as late as 2016. While covering the Oscars that year, the website Total Beauty shared on Twitter a photo of Goldberg wearing an off-the-shoulder dress that exposed her dragon tattoo with the accompanying caption: "We had no idea @Oprah was #tatted, and we love it."
Gayle King shared Winfrey's reaction to the gaffe on her Instagram. She posted a photo of the TV host making a confused face while holding up a phone displaying said photo of Goldberg. "@Oprah & favorite daughter watching #Oscars & seeing @totalbeautyeditors snafu! We all love @whoopigoldberg but we don't all look alike Jeeeze!" King captioned the post. Total Beauty apologized and vowed to donate $10,000 to charity, The Guardian reported.