The Real Meaning Behind Summer Walker's 'Ex For A Reason' Ft. JT From City Girls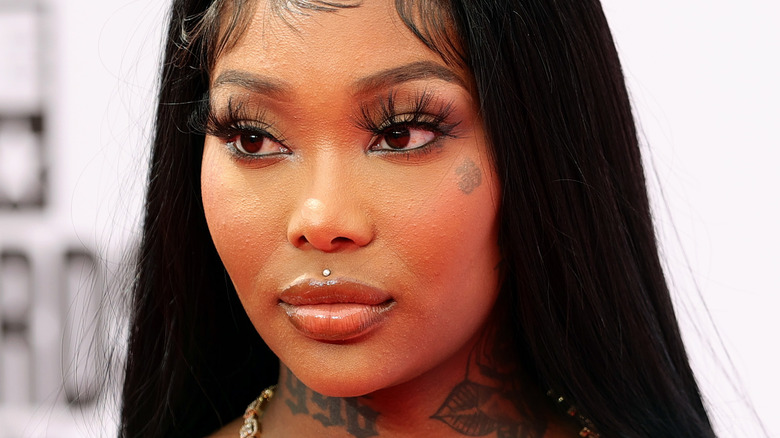 Rich Fury/Getty Images
After a one-year hiatus, Summer Walker just blessed fans with a new single. Released on October 15, the track is titled "Ex For A Reason" and features JT from rap duo City Girls. Walker first announced the song via a teaser video, in which the R&B singer calls up JT, who is portrayed as incarcerated. "I can't wait 'til you get out, we're gonna have so much fun," she tells the rapper. "You already know how it is when we get together," JT responds.
So, when "Ex For A Reason" finally dropped, fans were excited to hear the collaboration ... though some fans think the song, well, isn't all that great. "[G]onna pretend i didnt hear that summer walker and [JT] joint ngl," one disappointed fan wrote. "Summer walker ... gurl what the f*** was that," another asked. "Summer Walker's new joint isn't giving what I thought it would give tbh," a third fan admitted. "[M]e listening to the new Summer Walker song: maybe we do need London on da track idk," another commented, referencing the singer's past collaborator (and ex-boyfriend).
Whatever you may think of the song, what's certain is that it's gaining traction, as it turned the singer into a trending topic on Twitter. But what is "Ex For A Reason" really about?
Summer Walker and JT send out a warning to their men's exes
Co-produced by Buddah Bless, Sean Garrett, and Boobie, "Ex For A Reason" sees Summer Walker and City Girls' JT complaining about their respective men's exes. The R&B singer, for example, suspects that her man might be still keeping in touch with her. "Is she on your mind? / You can gon' and do with y'all n****s always do and don't tell me," she sings in the pre-chorus (via Genius).
Then, Walker sends out a warning to the woman. "She better understand the consequence, she f****n' with me / 'Cause tonight I'll end it all." JT, meanwhile, says there's no comparison between herself and her boyfriend's past lover. "He got a b**** with a check now," JT raps in her verse. "You the help and the service he don't need no more." 
As the rapper is currently dating Lil Uzi Vert, it may be safe to assume that she's referring to his ex, Brittany Byrd. Especially since JT and Byrd had beef on Twitter earlier this year. "B**** has nothing to show for that long pointless a** relationship just drip pics & text messages," JT tweeted back in May (via HotNewHipHop). "You not a baby mama wife [or] nothing move on animated grasshopper." Summer Walker and JT's "Ex For A Reason" comes ahead of the singer's second studio album, scheduled to arrive next month.
Fans can't wait for Summer Walker's new album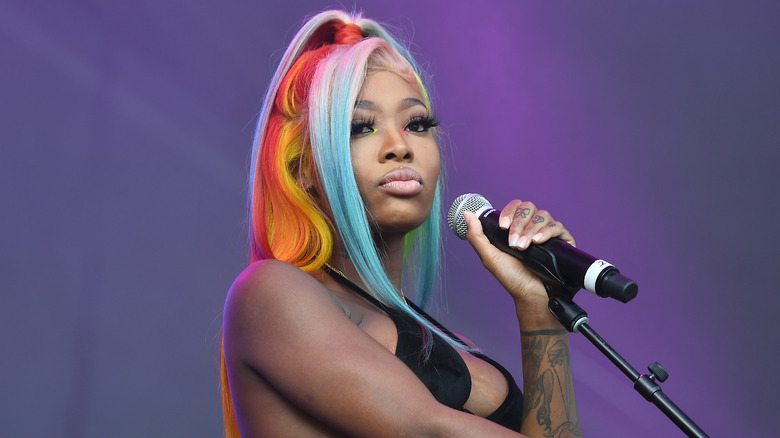 Paras Griffin/Getty Images
Summer Walker's "Ex For A Reason" is the lead single off of her anticipated second album, "Still Over It." Scheduled to drop on November 5, per Pitchfork, the project will act as a sequel to her debut album, "Over It." And, judging by all the social media reactions, fans are even more excited now that Walker's recent lead single is out. "We need the whole album Summer Walker," one fan tweeted after the release of "Ex For A Reason." "Whatever summer walker goin thru I'm goin thru it too wen that album drop idgaf," another one joked. 
To promote the album, Walker has also teased the partial tracklist for "Still Over It" on Instagram. "'Still over it' is a story," Walker wrote in the caption. "And every story has its beginning!" So far, the album is confirmed to include "Bitter" as well as an outro track, "Ciara's Prayer," narrated by the iconic singer herself ... and fans are here for it.
"Oh b**** we about to cry foreal," someone admitted. "Why I feel like Ciara's prayer about to hit," another replied. Some even think the album is already iconic for including Ciara. "Summer Walker got Ciara's prayer as an outro? Yea 'Still Over It' already a CLASSIC," someone wrote. Walker's album is also rumored to include a feature from SZA, as the two were in the studio together in June. We can't wait to hear it!